For this production of Five Guys Named Moe, the newly built Marble Arch Theatre has been fashioned into a New Orelans jazz saloon.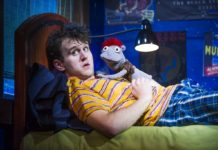 One messed-up family, one girl who just wants to help, one school bully, one man of the church offering comfort. And one Hand puppet who is out of control.
Top Hat has become a West End hit with its old school glamour and charm. Lucy Woods reviews.