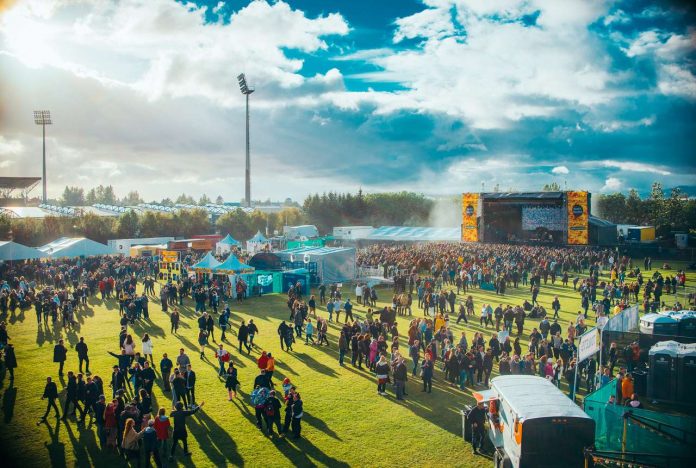 What
During 96 hours of straight sunlight in the world's most northerly capital city of Reykjavik, Iceland's Secret Solstice music festival announces a line up including All Day I Dream, Lee Burridge and YokoO, Dubfire, Bjarki, plus more local Icelandic acts and the all new geothermal pool party.
Where
Laugardalur & Laugardalshöll, Engjavegur 7, 104 Reykjavík, Iceland.
READ ALSO: What to do on a long stopover in Reykjavik?
When
Iceland's Secret Solstice Festival takes place in 2018 between 21-24 June.
How much
Geothermal Pool Party with 'All Day I Dream' 2018 at Hreppslaug on June 22 costs $145 USD.
The Lava Tunnel on June 23, and June 24 2018 costs $236 USD.
Into The Glacier on June 23, 2018 costs $318 USD.
Opening Concert on June 21 costs $96 USD.
Saturday Festival tickets cost $145 USD.
Festival passes to Secret Solstice Festival 2018 start at $241 USD. Camping, and VIP tickets including Odinn and Package of the Gods are also on sale.
All tickets are available from Secret Solstice website.
What's on
All Day I Dream will make its Icelandic debut on Friday, June 22. A further addition to the lineup, this event features as one of their bespoke offsite events. Lee Burridge and YokoO's vibe will compliment the magical surroundings of Hreppslaug, a geothermal swimming pool. Pool party ticket holders can look forward to complimentary drinks and lunch as well as weaving melodic melodies and infectious grooves under a sun that refuses to set.
On Saturday, June 23, Into The Glacier ticket holders will dive deep into Langjökull, Europe's second largest glacier in a rare chance to catch Dubfire throw down his heavy-hitting techno 80 feet below the surface in a stunning blue ice cave deep inside the glacier.
For those looking for something more downtempo, The Lava Tunnel offers the perfect opportunity to explore the magic hidden inside Raufarhólshellir, a 5,200 year old lava tunnel filled with natural ice sculptures and stalactites soundtracked by some of Iceland's leading acoustic artists. Saturday, June 23 will see soulful singer/songwriter Una Stef play to the sold out crowd, pop rock and folk singer Birgir and up and comer GDRN with her soothing and hypnotic vocals take to the intimate Lava Tunnel stage. On Sunday, June 24, 6 piece electro indie band Valdimar, the "Norah Jones of Iceland," songstress Ása and local folk singer and feel good legend Teitur Magnússon will showcase their talents to The Lava Tunnel pass holders in what is sure to be a standout experience of the entire festival.
Rounding out the latest additions to the international lineup are the United Kingdom's Maxxi Soundsystemback by popular demand, Anton Fitz & Martin Loose-Cuts, DJ Caspa, Cole, Colin Perkins, Daniel Hamilton, Dino Gardiakos, Get Funky DJs, Just William, Martin Marson, as well as Iceland's Ateria, Intr0beatz, Mókrókar, Orang Volante (Live), PJ Glaze, Rix, Röskva, Skrattar, and Þorri.