When people talk about Western Canada, the first place they usually think of is Vancouver Island and the Pacific Coast. But in British Columbia and the Rocky Mountains you will find vast expanses of national parks and other wildernesses, underpopulated and completely unspoilt.
If you love the great outdoors and want a varied, stunningly beautiful destination where you can try all sorts of different activities, Western Canada should be top of your list. Let our "Top 10" inspire your own Rocky Mountain adventure.
1
Drive the Trans-Canada Highway
The Trans-Canada runs 4,990 miles across the entire width of Canada, from the Atlantic to the Pacific. The dramatic western section goes from Horseshoe Bay through the Fraser Valley, crossing passes, bridges, and gorges. It's a fantastic road trip with plenty to see, and the road links together many of the other sites on this list.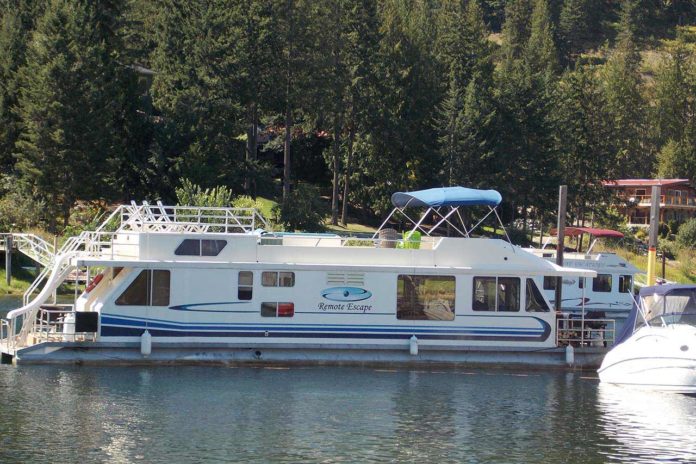 Ron's houseboat
Shuswap Lake is one of the most picturesque settings in British Columbia, and you can sleep onboard many of the comfortable houseboats. Typically sleeping 10, the boats are based in the marina but sail out across the lake to various spots where you can swim, sunbathe, and relax. The boats vary from basic to pretty luxurious: some even have a hot tub!
Read also: Kamloops, Shuswap and the North Okanagan, British Columbia, Canada
At 2,133 m, Mt. Norquay is by no means the highest peak in Canada, but it is easily accessible and from the summit you'll have breathtaking views across the Banff National Park. You can hike up to Mt. Norquay (the name of both the mountain and the ski resort on its slopes) from Banff town in a few hours or, if you aren't feeling too energetic, take the chairlift instead.
4
Soak in Sulphur Hot Springs
There are naturally occurring hot springs across the Rocky Mountains: the water is heated as it forces its way up through the Sulphur Mountain Thrust Fault, and once mixed with snow melt the water temperature is a bath-like 38°C. There are nine hot spring sites in the Banff National Park, but the most developed of these are Banff Upper Hot Springs, where you can sit in the hot pool looking out across Mt. Rundle.
5
Raft on the Lower Thompson River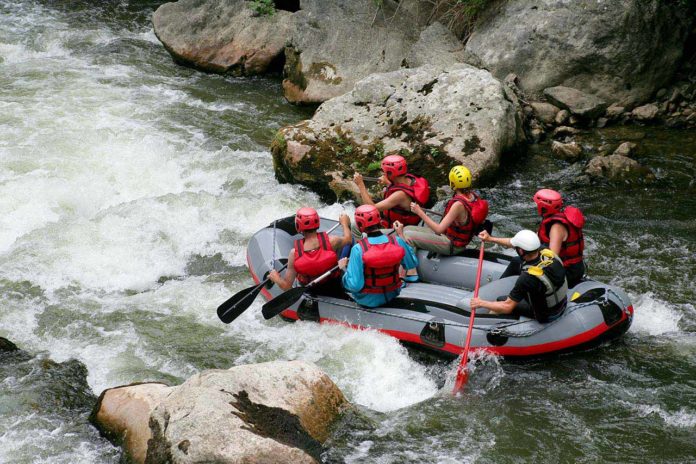 rafting
Western Canada's mountain rivers offer numerous possibilities for white water rafting, but one of the best sites is on the Thompson, a tributary to the much larger (and more famous) Fraser River. Here you can take a motorised rafting trip with a guide through the class 3 and 4 rapids, including a rafting through a river feature known ominously as the Jaws of Death.
Lake Louise is a glacier-fed jewel, sparkling in turquoise and surrounded by mountain peaks, hiking trails, and pebble beaches. Camping on the riverbank you'll have the lapping of the water as your soundtrack, and an extraordinary canopy of stars overhead by night.
7
Traverse Columbia Icefield
Columbia Icefield is the largest ice field in the Rocky Mountains, crossing into both the Banff and Jasper National Parks. The glaciers here were formed some 200,000 years ago, and they are surrounded by some of the Rockies' highest peaks. You can walk out on the Glacier Skywalk, a glass walkway suspended 280 m above the ice fields, and also ride on a purpose-built Ice Explorer, purpose built for travelling across glaciers.
8
Explore Banff National Park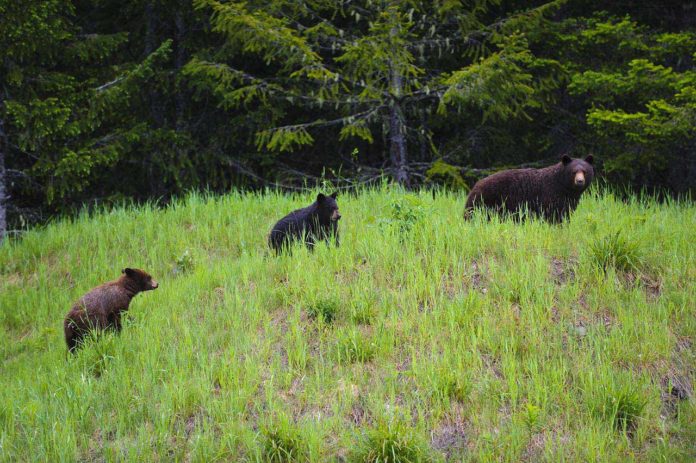 Black Bear Mother and Cubs feeding on grass and clover in the rain
Lonely Planet voted the Banff National Park as the world's #1 natural site, and quite justifiably so. It's the oldest national park in Canada and is home to grizzly and black bear, cougar and lynx, moose, big horn sheep, and golden eagle, amongst numerous other species. Come for the wildlife watching and the hiking, climbing, skiing, and horse riding.
9
Canoe on Clearwater Lake
At Clearwater Lake you can canoe or kayak through the wilderness, and it's here you'll have the greatest sense of adventure. There are no signs of human development here at all, and so you can paddle at peace along the shoreline, spotting wildlife, and finding the perfect spot to pitch your tent and wild camp for the night.
10
Horseback ride in the Cariboo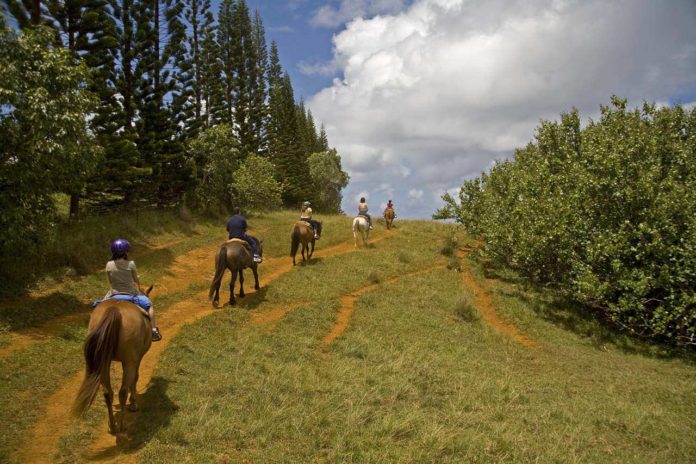 horseback riders
In Caribou Country you'll find Canada's cowboys and ranches, in stark contrast to the wilderness of other areas. Experience cowboy culture first hand by horseback riding along trails through the rolling hills from ranch to ranch. Saddle up, cowboy, and get ready to discover Canada!
FACT FILE
Best time to go: The best time to visit British Columbia and the Rocky Mountains is in summer, from May to September. There's still snow on the mountain tops and glaciers, but it's warm enough for hiking and camping in the great outdoors.
Getting there: Air Transat is a budget Canadian airline with direct flights from London Gatwick to Vancouver from £415 return. UK passport holders must apply for an Electronic Travel Authorization (eTA) before travelling to Canada. This costs CA$7 and is valid for five years.
How to do it: West Coast specialists West Adventures includes all these sites and more on their 15-day BC & Rocky Mountains Spectacular tour, which starts and finishes in Vancouver. There are regular departures from May to September, and prices start from CA$2,809 per person. Accommodation (hotels, camping, and a houseboat), local transportation, guide and driver, activities, and some meals are included.
You may also like: 24 hours in Vancouver, Canada