It was a sad day for UK regional travel when Flybe entered Administration on 5 March 2020. The already beleaguered airline blamed the Coronavirus outbreak as the final blow.
Flybe, which started flying 1 November 1979 (as Jersey European Airways), may have been a small airline, yet it was the third biggest UK airline.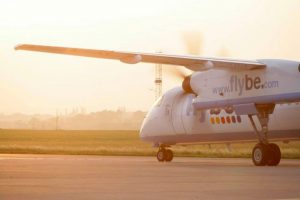 It had hubs at Birmingham Airport Manchester Airport Exeter Airport and operated 210 regional flights mostly out of Southampton, Exeter and Belfast. It also linked regional airports with European destinations. Its collapse has far-reaching effects on businesses for whom the regional flights acted as a lifeline.
The UK government said it would work with other airlines to replace services. Air transport expert John Strickland said Flybe is
"small in the scale of the UK market as a whole, but if you're flying out of Exeter, Newquay or specifically Southampton it really is one of the only airline choices… so a number of regional groups will risk not being served".
Scottish regional carrier, Loganair, plans to service 16 of Flybe's 120 routes including Aberdeen, Edinburgh, Glasgow, Inverness and Newcastle which represents around 400 weekly flights.
Belfast City airport is particularly hard hit as 77 per cent of its routes were operated by Flybe. The airport is currently in talks with several airlines.
Eastern Airways, who formerly operated under franchise with Flybe, is planning to relaunch itself as an independent scheduled airline, taking over the routes. It will also take over Aberdeen-Birmingham, Southampton-Manchester and Southampton-Newcastle routes. The airline also said that it will honour tickets sold by Flybe on its services, for travel between now and Monday 9th March.
Tony Burgess, managing director of Eastern Airways, said:
"We do extend sympathy to all Flybe staff and their families following the sad news that Flybe has ceased trading.

"As a former franchise partner of Flybe, this will not impact on any flights and routes operated by Eastern Airways. Revised booking facilities on Eastern Airways services will be advised on easternairways.com, which includes the quick recovery on Aberdeen-Birmingham, Southampton-Manchester and Southampton-Newcastle routes.

"Eastern Airways remains fully committed to providing regional connectivity with business links to capital cities and industrial centres."
Blue Islands, who are also worked on a franchise agreement with Flybe are continuing to operate. Do get in touch with them to confirm your travel.
Will the cost of that flight be refunded?
Anyone who bought a ticket directly from Flybe will not be covered by ATOL and so will not be able to claim a refund from the airline. The Civil Aviation Authority (CAA) says it believes very few Flybe passengers are ATOL-protected. This means that most will have to make their own arrangements.
For a chance of retrieving the cost, approach your credit or debit card provider for a refund. However, the fare will have to have been £100 and over. This is known as section 75 protection and is part of the Consumer Credit Act. If the amount was less than £100 you may still be awarded a refund under the chargeback system. This is not a legal right and your claim may not be successful. Otherwise, check your travel insurance.
If you bought the flight in conjunction with a hotel in one place, such as a travel agent, you may well be covered.
What went wrong with Flybe?
Flybe suffered difficulties in 2019 coping with annual losses of £20m a year. Reasons given were fuel costs, tiny margins and a highly competitive market.
It was saved by a consortium spearheaded by Virgin Atlantic. This initiative, it seems, just delayed the collapse, and almost went bust in January 2020. The new owners hey would pump £30m into the business to keep it afloat, but appealed to the government for additional support.
It didn't help that Flybe was paying more tax than other airlines. This is because many routes were within the UK which means that APD (Air Passenger Duty) must be paid for each passenger on any flight taking off in the UK – in other words, paid on both legs of a return flight. Those flights carrying passengers abroad only have to pay on on the outward leg.
The £100m a year cost was something Flybe had complained about and the government was considering a cut. This would have come into effect next year after the Brexit transition period, but too late to be of any help to Flybe.