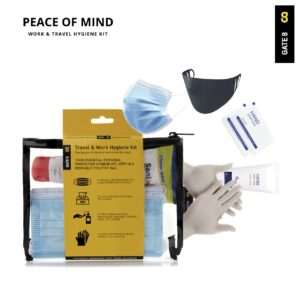 The GATE8 range of professional Hygiene Kits are packed (in a TSA approved wash bags) with enough items for a trip lasting from one to seven days. Complete with a re-useable Face Mask, medical-grade disposable masks, hand gel, gloves and sanitising wipes, the kit keeps you safe in the office and on the road.
The GATE8 range of Travel Hygiene Kits range from £4.99 – £19.99 LESS your Travel Magazine exclusive discount – see link below. Neatly packed for storing in your backpack, laptop bag, sports bag or handbag.
EACH KIT INCLUDES:
Washable face covering: Double layer fabric face covering, non-medical and ideal for general workplace use. Fabric binding allows the product to be washed and reused again.
5 x 3-Ply non-woven disposable face masks: Intended to cover the nose and mouth in order to minimise the incidence of cross-infection in surgical, medical, dental, food preparation and other clean or sensitive environments. Latex-free elasticated loops to minimise allergic reactions.
50 ml professional hand disinfectant/sanitiser: Alcohol content 70%. The product has been classified and labelled in accordance with Regulation (EC) No 1272/2008.
2 pairs of nitrile medical gloves (en455-1.2.3 certified): Vinyl is a synthetic material made of polyvinyl chloride (PVC). Its elasticity is lower than acrylic and latex, giving it a more loose fit and a smooth, comfortable feel. Helps prevent allergic reactions latex protein
Disinfecting wipes with 75% alcohol: Packed 10 pieces per bag.
Enjoy 20% off GATE8's Hygiene Kits by using the code "travelmagazine" on GATE8Luggage.com.