Bon Sol is a most unusual property comprising a hotel and a set of villas that cascade down a verdant hillside into a tiny cove in the upscale area of Illetas. You can see their whitewashed walls peeking out between the pine trees along the descent into Palma Bay.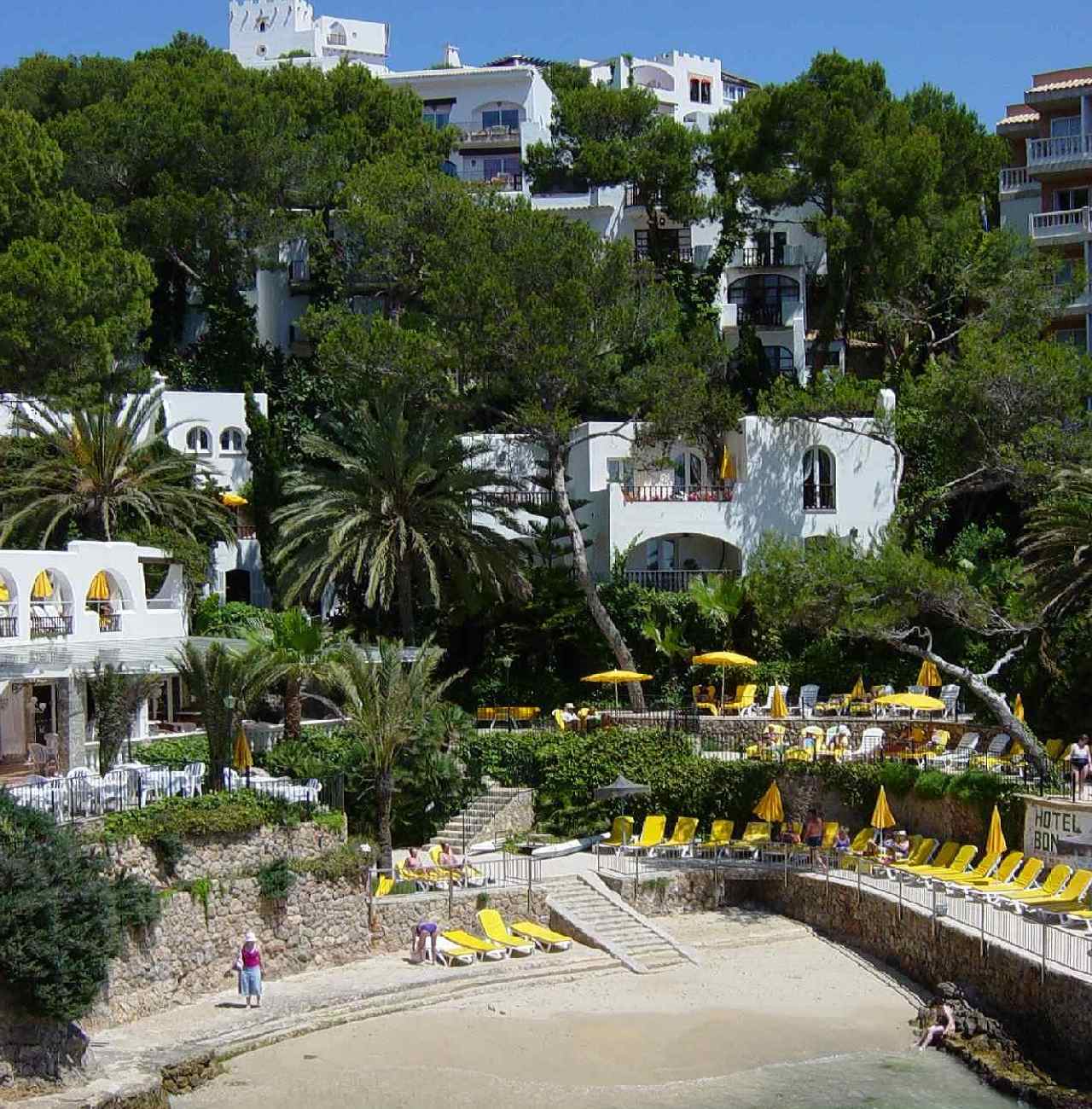 Bon Sol started life in the 1950s. A bit of gossip is that Errol Flynn the swash buckling actor was also a bit of a lager lout. He stayed at Bon sol in 1953 and trashed his room. Nevertheless the Xamena family, who still own and run it today, welcomed him back. They have continuously expanded their property reaching some 130 rooms and villas making this a very expansive resort, yet somehow the family remain hands-on. At any time you could bump into Martin or his wife Loraine or their son Alejandro, who always stop to pass the time of day.
You can see them dining with their guests and chatting as if old friends. It feels as though you are staying in their rather large family home.
Décor in some of the communal parts is not so much old-fashioned, more verging on medieval. Red carpeted staircases leading to various lounges and cosy corners, suits of armour standing to attention over antique furniture, sultry colours, paintings and porcelains acquired as they travelled the world. These are the kind of things that you might find in any castle worth its salt.
Who for
Bon Sol seems to attract the over 40's – couples and perhaps extended families celebrating a special anniversary or birthday. However there is a kids club and interconnecting rooms ideal for families too.
Accommodation
Bon Sol hotel cascades into a bay. There are 90 hotel rooms and 50 villas by the pool area. There are some stone stairs to tackle that lead to the restaurant and the bay.
All are bright and airy and the colour scheme tends to follow the easy-to-live in pink and beige theme and Mallorcan furniture. All rooms have a balcony and often a sea view too.
Facilities
There's plenty to keep you occupied at Bon Sol including finding your way around since facilities are found on different levels (remember the hotel is built on a cliff side).
However once orientated you will find a couple of swimming pools (one heated), two tennis courts, squash, crazy golf, table tennis, pool , volleyball, petanque, fitness room, saunas, spa, turkish bath, thalasso and physiotherpay. In the mornings there's a yoga class in ambient candle lit surroundings and in the evening there's dancing to easy listening music by the bar.
Food and drink
There are three restaurants. One is on the sea edge which offers a delightful al fresco buffet style or a la carte dining experience with a sea view backdrop.
Fine dining is available at Las Antorchas. This is a formal affair with live music most nights and one that you would dress for, and where the decor follows the medieval style seen in other areas. Expect Spanish dishes such as Frito Malloquin – a dish made with offal (mostly liver), potatoes, peas, a little red pepper and chilli pepper, whole garlic cloves and fennel. There are plenty of veggie options.
There's a large bar area that serves snacks and nibbles. It comprises two parts – a flowery alfresco terrace and a room of dark wood and burgundy chairs. By day it's a nice chill-out zone but at nightfall it morphs into a dance floor with dimmed lighting and the rhythms of live singers churning out easy-listening music.
Wi Fi available?
Yes, its free throughout the property.
Value for money
Rooms from £240 a night including breakfast in the summer months. You get a lot of bang for your buck and indeed the hospitality is exceptional.

What's nearby

Within five minutes walk there are several bars and restaurants and three sandy beaches. This is a coastal area and it's fun to explore the marinas and resorts along the stretch. Just outside the hotel is a bus stop and the bus takes you into town (Palma) around five miles or eight km away.
Make sure you also read: Things to do and visit in Mallorca, Spain
Getting there
The nearest airport is Palma de Mallorca and is well served by a myriad of airlines.
PACKAGE DEAL: Classic Collection Holidays offers 3 nights/ 7 nights at Bon Sol from £677/£1202 per person this September. Priced based on 2 adults sharing a classic room on a half board basis and includes return flights from London Gatwick (other UK departure airports available) to Palma and private transfers.