Although Kefalonia remains a magnet for lovers of Captain Corellis Mandolin, the Petani Bay Hotel is off the fabled beaten track and as such promises the very essence of tranquillity. Set on a hill amidst a riot of olive trees, the air is salty and the herby breeze softly balmy while the tinny clank of distant goat bells is about as noisy as it gets.
Think panoramic views of an azure Ionian Sea, soaring white cliff faces and, in the evenings, the burnished gold of a Hollywood sunset. One which draws day trippers from across this Ionian Greek island.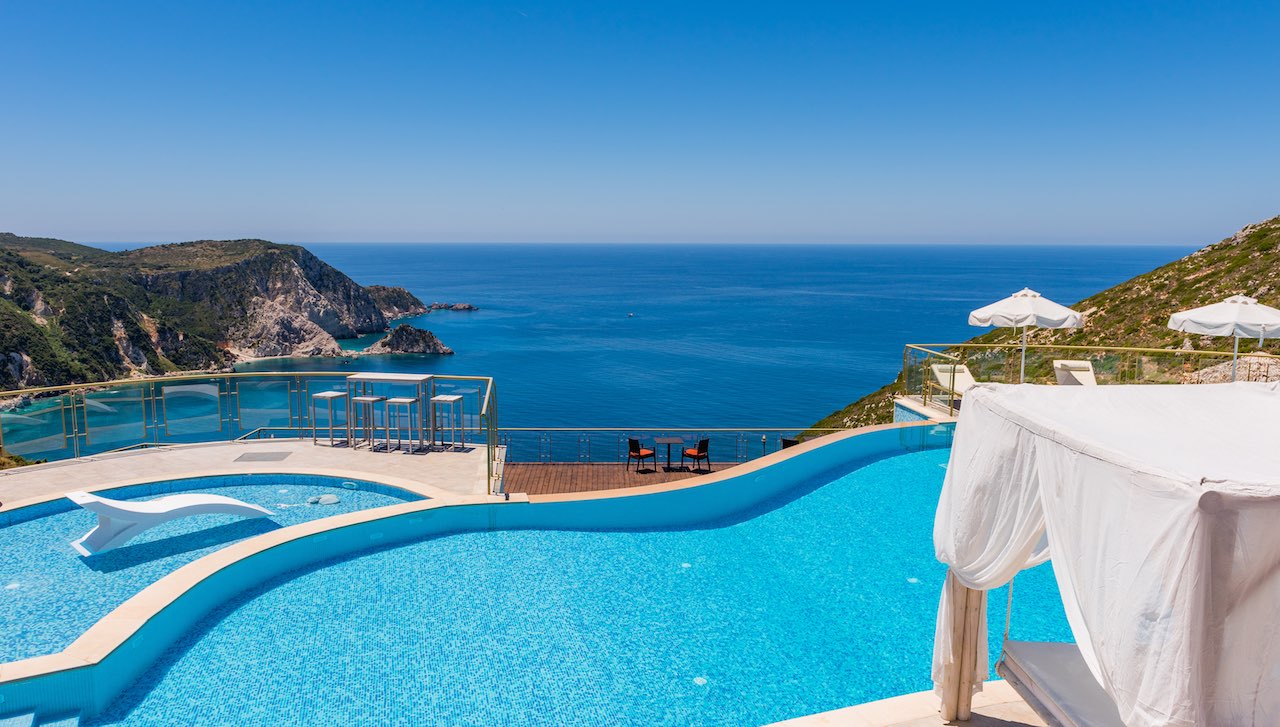 If you are under 16, you cant come. But would you want to? This kind of exercise in nothing to do would be hell for a teenager. And  absolute heaven for the rest of us.
Who for
The initial response would be, well, adults only. But not all adults may relish the pin-drop quiet of this sleepy corner of the Ionian island group.
However in our case, the Petani Bay was just the ticket. Our children – aged 14, 20, 23, and 25 – were all diverted by their own holiday plans, so we were free to do our own thing. But since our youngest is still at school (although spending her vacation at a young camp) we were still limited to the confines of the summer break calendar.
So, if you aren't travelling with children, but are limited to high season, why would you want to share a pool with inflatable dolphins or listen to whining toddlers whilst trying to enjoy your freshly scrambled eggs?
Accommodation
The hotel comprises 14 suites with balconies set amongst a riot of herbs and wildflowers (at night the scent of lavender is like a cheap sleeping drug!). We stayed in a Suite Superior with a sea view which consisted of a spacious lounge area and separate bedroom and bathroom. A kitchenette area includes a small microwave which offers the opportunity to warm up snacks rather than cook meals in the room.
A huge fan in the lofty high wooden ceilings kept our accommodation beautifully cool. Meanwhile the muted neutrals of the minimalistic  décor added to the feeling of space.Not that all rooms are like this. Another suite, known as the Suite Gea, has a pillar box red wall and freestanding Victorian style claw bath within the bedroom. Little wonder it's said to be a firm favourite for honeymooners and romantics alike (after 27 years of marriage, that was a no from us).
Food & Drink
The hotel is bed and breakfast, and each morning we geared ourselves up to over indulge on the freshly made home cooked food. As well as the usual buffet fare of eggs and mushrooms, there were tiny triangular cheese pastries – a Greek speciality – gorgeous seed breads, delicious biscuits and cakes and, of course, an abundance of fruit. The cannon ball sized peaches were especially irresistible.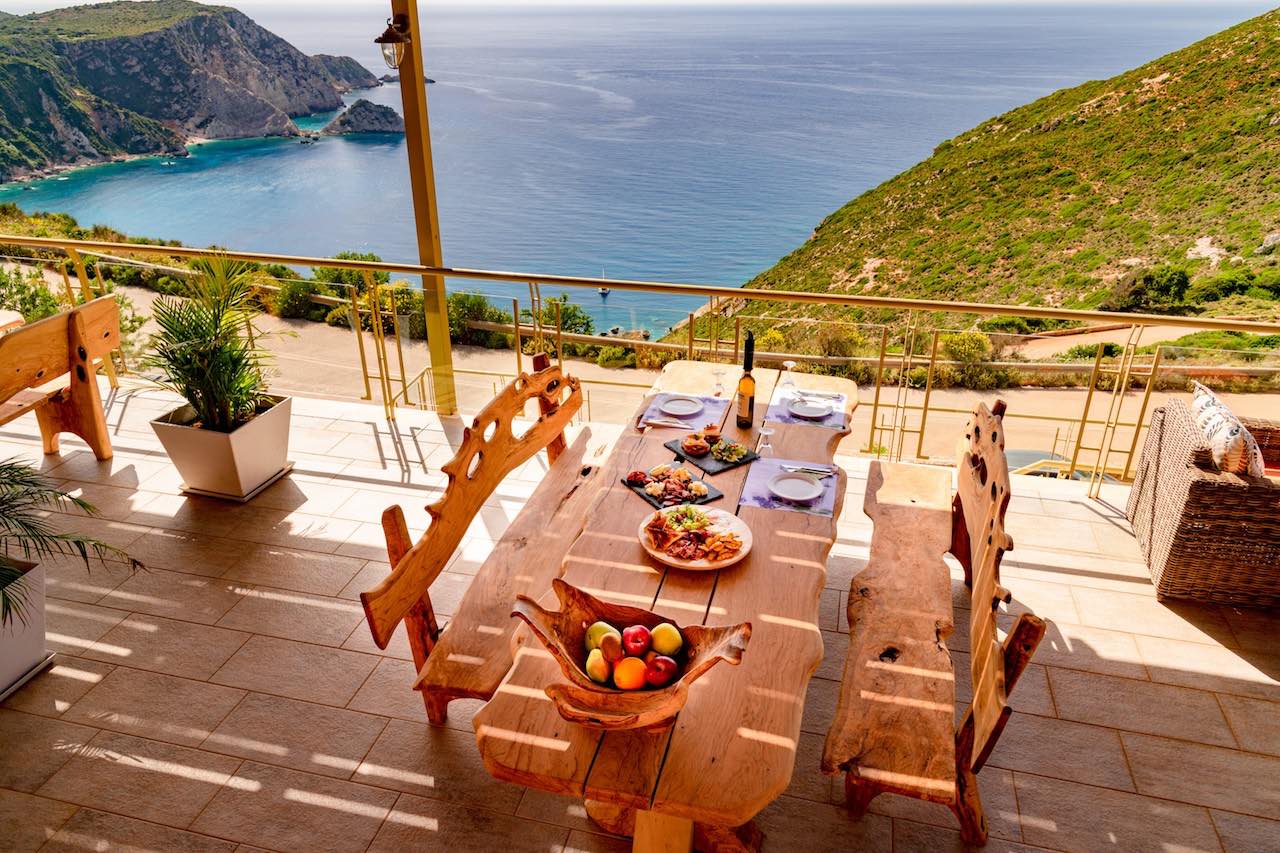 Food is available during the day from the poolside bar. But eating out isn't an issue in the evening, with local tavernas dishing up reasonably priced food. And the charismatic owner, Voula, is always on hand to make reservations. One evening our meal of crispy grilled sea bream served with Greek salad (me) and a garlicky tomato pasta dish plus bread (him) came in at less than 22 Euros.
Facilities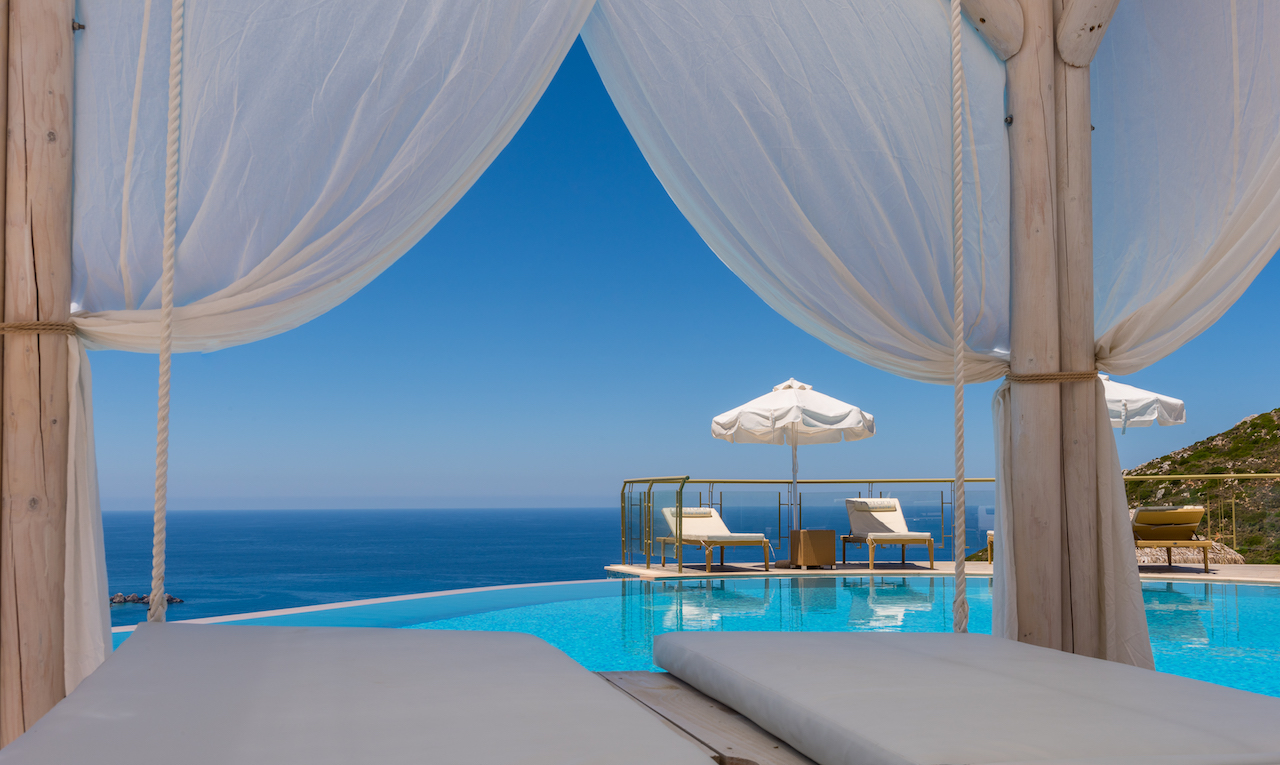 There is very little to do on site other than, well, relax. Certainly we spent hours at breakfast, nursing freshly made coffee and drinking in the spectacular view. The hotel has a striking infinity pool which seems to spill into the bay below, as does a decking area just below this. Frankly, if you don't fancy negotiating the endless hairpin bends to get down to Petani beach (technically walkable but easier to reach by car) and you need to reboot, sitting by the pool is just lovely. With no shops or bars in earshot, there's nothing to do but inhale the wild flowers and just relax.
WI-Fi available
Yes
How much
Starting prices around 180 Euros per night.


What's nearby
After a day of doing nothing, we stirred from our bone-melting lethargy to see something of Kephalonia. As a larger island there's a lot to see. But we decided that to avoid getting stressed over driving around too much, we limit our journeys to around 50 minutes each way.
And so our day trips included Melissani Lake, a patch of water based in a cave and accessed by boat. When the sun spills in from breaks in the rock overhead the water seems to splinter into countless colours.  Or – to continue the troglodyte theme – we also visited the 150 million year old Drogarati Cave with its fine stalactites & stalagmites.
An earthquake on the island in 1953 created a natural balcony overlooking a chamber with about 100 square meters of floor, making it possible to hold concerts for up to 500 people in the cave. Worth the view – despite the fact you have to clamber down and then back up 118 steps.
On other days, we just headed for a pretty village. One of the most picturesque is Assos. With its horseshoe bay and pastel pretty houses, it`s at least as lovely as anything the Amalfi coast can dish up (and a lot less busy).