Italy has closed the Venice Carnival three days early and has put 11 towns into lockdown, affecting the movements of around 50,000 people, to contain the spread of the coronavirus outbreak.
On Friday, Italy became the first European country to announce a death from coronavirus. Two more died over the weekend as well as an elderly person on Monday morning. More than 150 people have been infected.
All sporting events – including football games such as Inter Milan v Sampdoria and Torino v Parma, Verona v Cagliari and Atalanta v Sassuolo – have been cancelled and schools are closed for around two weeks.
Austria, which borders Italy, may introduce border controls. The country has already refused entry to a train travelling from Venice to Munich after Italian State Railways informed Austrian train operator OBB there were two people with fever symptoms on board. However, Austria's Interior Minister Karl Nehammer later confirmed to the BBC that the pair tested negative for coronavirus.
The UK Foreign Office said the Italian Government has introduced:
extraordinary measures that allow regions to implement civil protection measures in response to Coronavirus'. This includes the isolation of 10 small towns in Lombardy and1 in Veneto. The regions of Lombardy, Veneto, Friuli Venezia Giulia, Piemonte and Emilia Romagna have implemented measures including the suspension of public or private events, the suspension of schools and higher education and the suspension on the opening of museums and cultural institutions for seven days.
The situation in Italy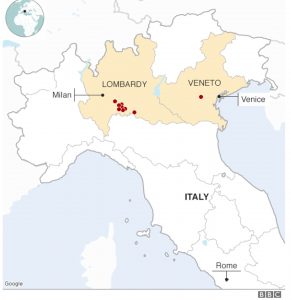 Italy has imposed strict quarantine restrictions in two northern "hotspot" regions close to Milan and Venice.
Prime Minister Giuseppe Conte said that "extraordinary measures" would come into force to try to stem the rising number of coronavirus cases. These are expected to last until March 1.
Angelo Borrelli, the head of Italy's Civil Protection Department said that 110 of the confirmed cases were in Lombardy, with 21 in Veneto with others in Emilia-Romagna and Lazio. Officials remain uncertain about the source of the virus in Italy.
Note: The new strain of coronavirus is believed to have mutated from a version in bats and originated last year in Hubei province in China. It causes a respiratory disease called Covid-19. China has seen more than 76,000 infections and 2,442 deaths.