When Jo Johnson discovers that her latest beau is in fact married to someone else, it's not surprising that an offer to manage a lodge in an Indian tiger reserve suddenly sounds appealing. After all, there's little to keep her in England.
Having moved from Yorkshire to be closer to the love-rat, she has few friends, a job that no longer inspires her and, as everyone keeps reminding her, an ageing problem. Yes, she's not getting any younger.
Taking herself off to India might be just what she needs to keep her away from men while she heals her cynical heart. Having to learn how to survive in the Indian jungle, without WiFi, her mobile phone or even electricity might take her mind off things. But then she meets Abishek, and her resolve to stay single suddenly comes under threat.
Escape To India is a funny, contemporary and feisty tale of one woman's search for meaning, independence and tigers.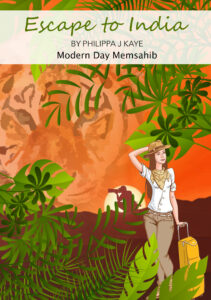 About the author
Philippa Kaye is a traveller, writer, adventurer, self-confessed Indophile, experiential and sustainable travel specialist and consultant to the Indian travel trade. She has spent thirteen years living in and travelling extensively throughout India, writing about her experiences on the go; periodically for Times of India and Travel Mint and regularly on her blog www.memsahibinindia.com.
She has ridden priceless Marwari horses, been to royal weddings, trekked mountains, rafted white-water, been wined and dined by maharajas, drunk chai in remote villages, driven vintage cars and got caught up in Holi and ended up with hair dyed a permanent shade of green.
Wildlife is one of her passions, has also spent a considerable amount of time in the jungles of central India, which were the inspiration for her first novel, Escape to India.