Huntington Beach on Highway One is a small town yet it has wide-open soft sand beaches, a vibrant beach life – even at night – that's egged on by a sunny Mediterranean climate. This is a surfing city with steroids. Whereas most would walk their dogs, here they surf their dogs.
And as it is just 35 miles from Los Angeles, Huntington Beach is so worth a stopover when you visit California.
It's self-proclaimed nickname "Surf City USA" is so apt. It all started in 1910 when real-estate developer and railroad magnate, Henry Huntington, brought the Hawaiian-Irish surfing star, George Freeth, to town to give demonstrations.
Fifteen years later legendary surfer Duke Kahanamoku moved here and Huntington Beach achieved iconic status as a surf destination.
The West Coast Surfing Championships, now known as the US Open of Surfing, have been held here since 1959. Yet anyone can do it and everyday enthusiasts grab their surfboards and head into the sea. Medium-sized waves roll in and out so consistently that all you have to do is remain poised on your surfboard and the next thrill will be along momentarily.
Get there in September (this year on 18th) for the annual Surf City Surf Dog event where dogs compete in a surfing competition. Yes really.
But if surfing is not for you Huntington Beach can offer so much more.
Must stay
The recently renovated Hyatt Regency Beach Resort is a sprawling metropolis of a resort with 514 rooms and several courtyards.
Also Read: Hotel review of Hyatt Regency Huntington Beach Spa & Resort
It is in a fantastic location in the heart of town and just steps away from the beach. It comes with its own high end very fancy spa, retail outlets a couple of pools (one gated outside pool), several fountains and a walkway to the beach. Rates start at $255, but check for specials.
For something a little smaller but just as vibrant is the Shorebreak Kimpton Hotel. It has a boutique atmosphere, a courtyard where you can enjoy s'mores and games and it's within a minute's stroll from the pier.
Also Read: Hotel Review of Shorebreak Kimpton Hotel
Must enjoy yoga on the beach
An early morning hour of yoga on the soft sand is a brilliant way to start the day especially as those meditative yoga moments are accompanied by the calming sway of the waves.
To arrange this experience nip into the Hyatt Regency Huntington resort where Toes on the Nose retail outlet is located. Don't miss this.
Must lunch at Pete's Sunset Grille
Must take a private harbour cruise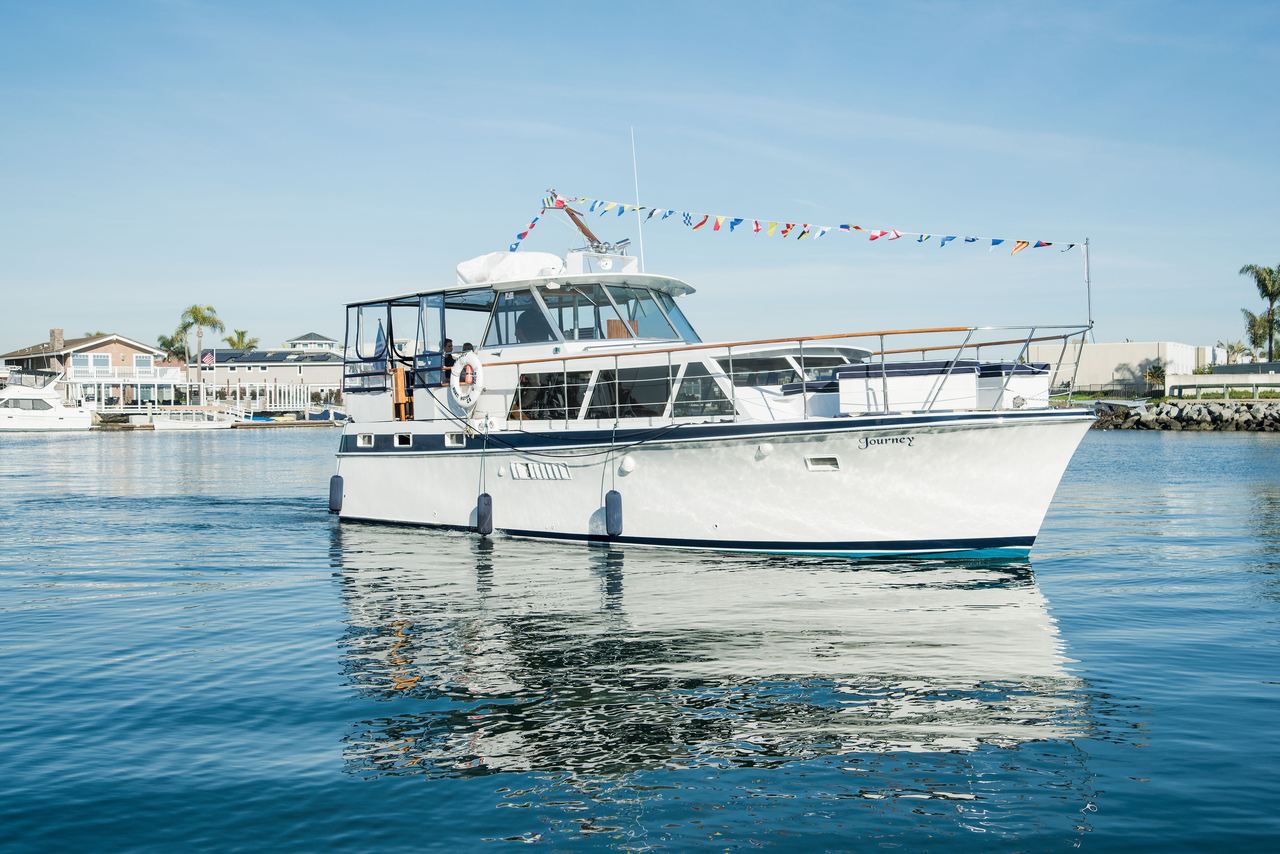 Prince Charters LLC offers private harbour cruises guided by a licensed captain. Choose between a restored classic wood boat (up to 12 passengers) or a vintage yacht (up to 30 passengers) and sail around Huntington Harbour.
Just imagine the cool ocean breeze ruffling your hair under the watch of the glorious Californian sun lighting up the harbour views. Add a glass of craft beer, wine or a glass of champers to hand and some great background music.
More info: surfcityusa.com and visitcalifornia.com