Spring is the perfect time to enjoy a stay at one of three Historic House Hotels all of which were donated to the National Trust. See the spring gardens in bloom, and beautiful historic interiors at all of the Houses.
During a stay, you will be able to explore and enjoy their spectacular gardens. The gardens are managed according to a long-term plan for their conservation, taking into account all their history, influences, qualities and contents, together with constraints that affect them.
In Buckinghamshire, Hartwell House sits in over 90 acres of parkland. In York, Middlethorpe Hall is set in over 20 acres. Bodysgallen Hall near Llandudno, North Wales, is at the heart of over 220 acres of gardens and parkland.
Hartwell House Gardens – Buckinghamshire
Designed at the start of the 18th century and landscaped by a follower of Capability Brown, one Richard Woods, the gardens at Hartwell House offer guests plenty to explore.
You can spend hours discovering the grounds which include a Gothic Tower, a Statue of Hercules, a Bridge which comprises the central arch of James Paine's Kew Bridge, Lime Avenue; a mile-long double avenue of limes and the Canal Temple home to 10,000 daffodils.
A kitchen garden used by the chefs features apricot, peach, pear and plum trees. Guests can follow a trail around the grounds with a copy of their TreeMap, to identify 10 prize specimens, from a Horse Chestnut and a London Plane tree to a Giant Sequoia (an 87- ft domed conifer which bears cones all year round). Several all weather tennis courts are also available for guest use.
Stay: B&B is priced from £250 at Hartwell House per room per night.
More Info: www.hartwell-house.com
Middlethorpe Hall Gardens – York
Middlethorpe Hall is set within 20 acres of gardens and parkland, which have been extensively restored and replanted since the 1980's.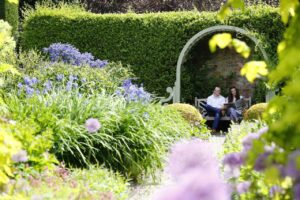 Walks were re-created with urns providing eye-catchers and paths allowing guests to discover wildlife including roe deer, beehives and various nesting birds around the lake.
The walled kitchen garden produces not only a beautiful display of flowering shrubs, magnificent herbaceous borders but holds herb beds and has been planted for fruit: apples, pears, plums, peaches and greengages, all of which are used by the Chef to create wonderful puddings.
The team of Gardeners has also created an organic 'potager', producing a wide selection of vegetables. Guests can follow a special tree trail around the grounds of Middlethorpe Hall, with a copy of their 'The Gardens and Trees of Interest' Guide and Map, to identify prize specimens. Guests should head toward the English Oak; a tree planted some 200 years ago. From here they can enjoy spectacular views of Middlethorpe Hall.
Stay: B&B is priced from £219 at Middlethorpe Hall per room per night
More info: www.middlethorpe.com
Bodysgallen Hall Gardens – Near Llandudno, North Wales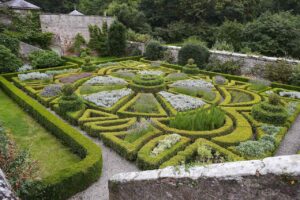 Seventeenth century Grade I listed Bodysgallen Hall enjoys a privileged location in North Wales with spectacular views of Conwy Castle and Snowdonia.
Bodysgallen Hall has Wales's greatest gardens in a hotel. Featured are the rare C17th parterre of box hedges filled with sweet-smelling herbs, natural limestone outcrops, a rockery with cascade, walled gardens, a lily pond and several follies.
There is also a formal rose garden and a variety of well-established specimen trees and shrubs, including medlar and mulberry.
Several woodlands walks enhance the outdoor experience, including a dramatic terrace to the South of the main garden with wonderful views of the river, mountain and castle.
Another highlight is the kitchen garden which provides the freshest of ingredients for the table, with an abundance of seasonal foliage for in house arrangements.
Stay: B&B is priced from £225 at Bodysgallen Hall per room per night
More info: www.bodysgallen.com
About Historic House Hotels: In 2008, Historic House Hotels Ltd and all its interests became the property of the National Trust, by donation, with all profits benefiting the houses and the charity. This was the largest gift the National Trust had ever received.
Each stay, meal and spa experience support the National Trust. All annual profits generated from the three hotel operations directly support the Trust's ongoing work. The hotels operate as a self-sufficient commercial hotel operation under the existing management of Historic House Hotels. It is a unique and beneficial relationship, although not part of the standard member offer, which offers much value to the National Trust through raising funds to support the ongoing work of Historic House Hotels and the charity.
Each Historic House Hotel welcomes families with children over six years of age, and selected suites welcome dogs when arranged at the time of booking.
Special breaks: 3 nights for the price of 2 / 4 nights for the price of 3 / 7 nights for the price of 5