With everyone from families to couples and groups of friends all scouring the internet for the very best destinations to visit on home soil, finding the perfect spot (that isn't already booked up!) isn't an easy feat. To aid in the search, here Sweetcombe Cottage Holidays has revealed the ten most showstopping stays up and down the country.
Secret Water Beccles, Suffolk
A stunning two-bedroom hideaway, this unique glamping pod is nautically themed throughout with simple yet chic interiors, complete with timber walls and porthole windows. The large outdoor decking area gives its visitors splendid views towards Old Beccles bridge and quay and has been designed specifically for guests to get the most out of the sunrise and sunset. It is perfect for enjoying water life in a comfortable and unique way. Find out more here
Home Farm Porthleven, Cornwall
This truly incredible property is just minutes from the coast in a secluded wooden valley set in extensive gardens, complete with incredible design-led interiors, hot tub and snug room with a 50" TV. Home Farm is a beautifully restored Georgian home, perfect for luxury-lovers and larger families or groups to enjoy the abundance of space. The huge property is complete with a magnificent marble fireplace paired with traditional Georgian features, oak flooring, and a free-standing roll-top bathtub – just wow! Find out more here.
The Round House Bury St. Edmunds, Suffolk
Nestled in an enchanting woodland glade just around the corner from Fairy Lake, (yes, that is its real name), is this fable-like rotunda cottage. A mini version of the larger Ickworth rotunda close by, this property is a spacious, quaint cottage accommodating up to six people and two dogs. Around the estate, you will find walking trails and a dog-friendly outdoor café on your stroll. Find out more here.
This property is perfect for people who cherish the outdoors and humble, folky interiors.
Bubble Dome County Fermanagh, Northern Ireland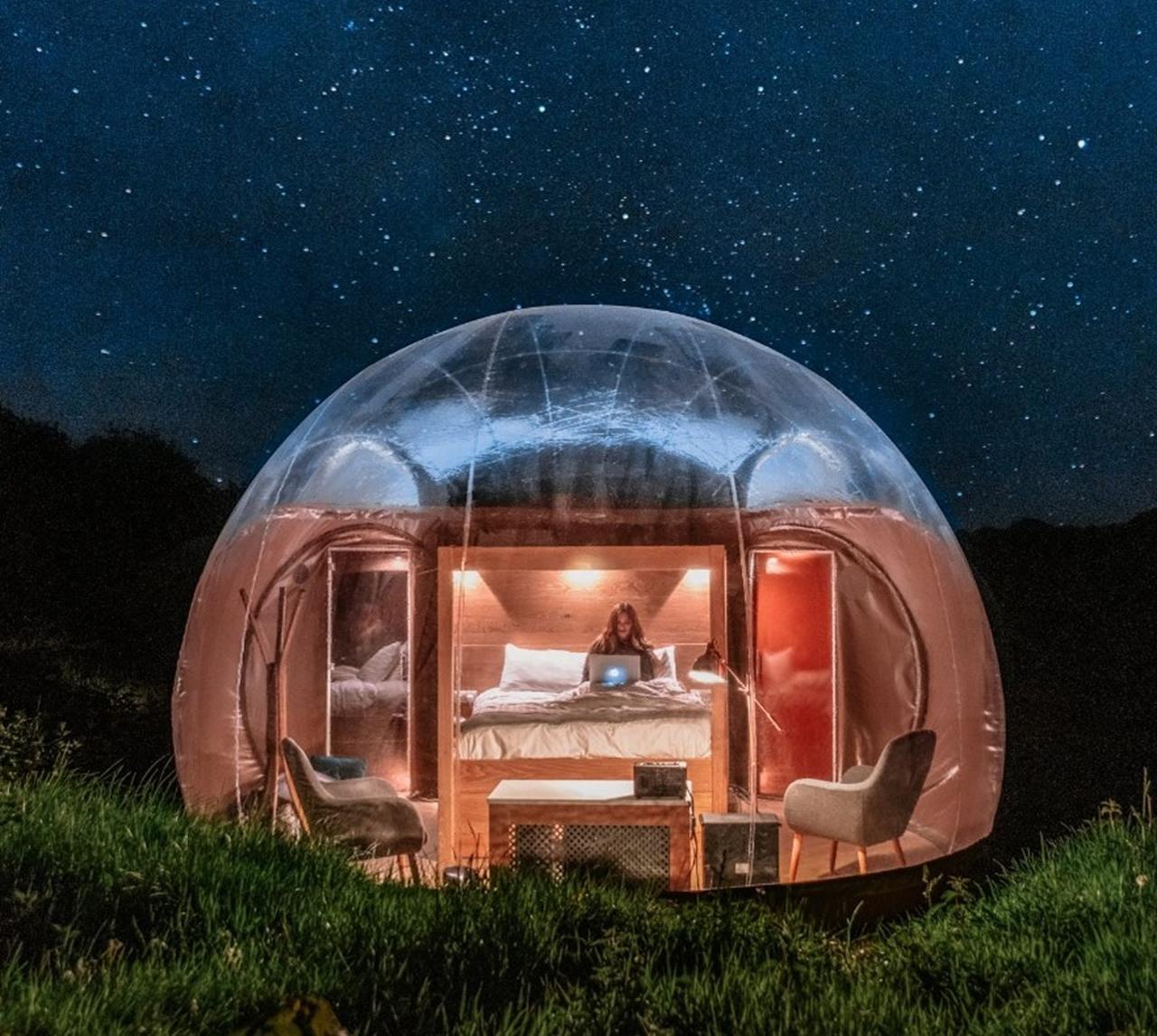 Located in the secluded forest in Fermanagh, The Forest Bubble Domes are truly a magical experience like no other. Featuring 180° transparent walls, this is a perfect retreat for sleeping under the stars on a romantic break for two. This unique stay features a hand-crafted four-poster bed with breakfast included, which you can enjoy surrounded by wildlife and an unlimited view of the sky. Find out more here.
Beacon Hill Farm Luxury Treehouse Morpeth, Northumberland
This property is truly unique; the Beacon Hill Farm Luxury Treehouse is a super stylish, modern retreat located on an award-winning farmland estate amongst 360 acres of rare, unspoilt rural views of Northumberland greenery. The ultra-modern design makes it a must-visit property for those looking for cool, design-led architecture. The structure is elevated within the trees on steel columns, complete with huge glass windows, with a balcony and dining patios for al fresco dining and relaxing. Find out more here.
Thanks to Sweetcombe Cottages for this round-up