Despite their reputation as tea aficionados, Britain is fast becoming a nation of coffee drinkers, consuming around 55 million cups a day. Coffee does more than battle a hangover and keep us alert – it has also been linked to productivity in the workplace. Then there are the social benefits: who doesn't love a good old natter over a hot cup of coffee?
With the coffee scene in Britain thriving, it should come as no surprise that Brits are also on the hunt for their caffeine fix abroad. However thanks to our general ineptitude for languages, this can sometimes be trickier that it seems.
International coffee experts, FreshGround, have come up with a clever "International Flavours of Coffee" tool to help you order a coffee in the local language and learn some fun facts about coffee cultures from around our world. Making even a small effort to learn some of the local language is a great way to connect with people and build a rapport.
The interactive tool provides you with the correct phrase to order your coffee, its phonetic spelling and even an audio guide, so you'll never be at risk of ordering an "expressed" in Italy when all you wanted was an espresso (un caffè is the correct term).
CLICK HERE to try out the International Flavours of Coffee tool
To help you get inspired, here are some of our favourite coffee cultures from across the globe.
Italy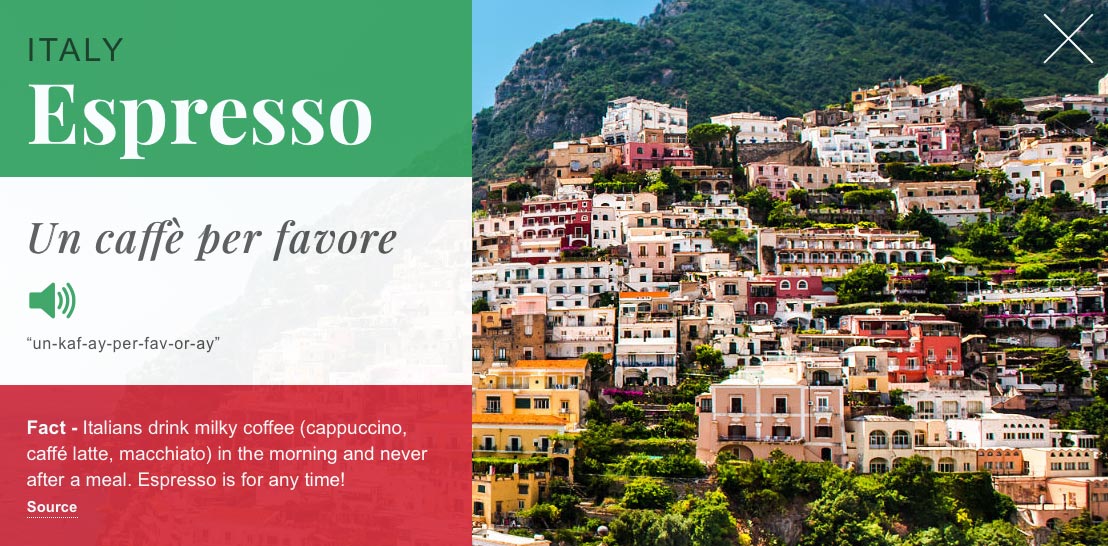 How do I order my coffee: Un caffè per favore ("un-kaf-ay-per-fav-or-ay")
Coffee culture: Coffee is so much a part of Italian culture that admitting you don't drink the stuff will earn you some serious raised eyebrows. The nationwide love for coffee also comes with its own set of rules. For example, milky coffee (cappuccino, caffé latte, latte macchiato) must be consumed in the morning and never following a meal. Jazzy coffees are generally frowned upon, so don't bother ordering a skinny mocha Frappuccino if you want to keep your dignity in tact.
Coffee of choice: The beloved espresso can be consumed at any time of day and Italy produces the best of the best. Just make sure you order "un caffè" as "espresso" is a technical term in Italian.
Finland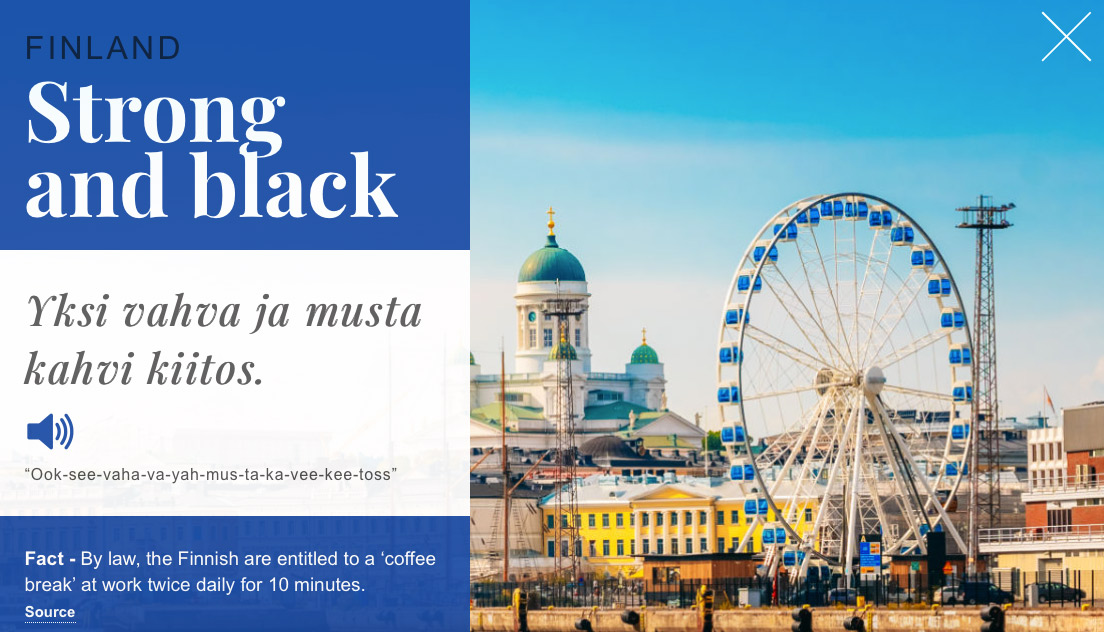 How do I order my coffee: Yksi vahva ja musta kahvi kiitos ("Ook-see-vaha-va-yah-mus-ta-ka-vee-kee-toss")
Coffee culture: There is little doubt that the Finns love their coffee. Consuming around 12 kilos of coffee per person per year, they have earned the impressive accolade of the biggest coffee drinkers in the world. In fact, coffee forms such an important part of social interaction that by law, Finns are entitled to a coffee break twice a day for ten minutes.
This is great news for travelling coffee lovers, as you'll be in no short supply of coffee shops catering to all preferences. Hunaja Café in Helsinki serves organically grown coffee and a delicious range of Vegetarian and Vegan dishes.
Coffee of choice: Do as the Finns do and order yourself a strong black coffee, made from light-roasted beans.
Brazil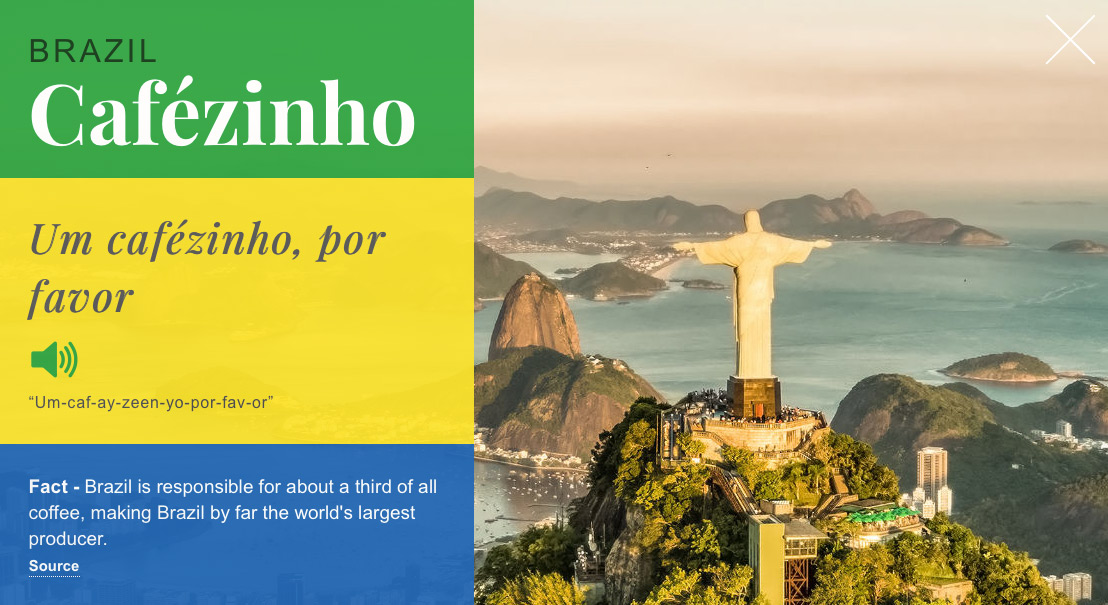 How do I order my coffee: Um cafézinho, por favor (Um-caf-ay-zeen-yo-por-fav-or")
Coffee culture: While the Finns may drink the most black stuff, Brazil is the world's largest producer, and is responsible for about a third of the world's coffee. Brazilians are also big coffee drinkers and tend to drink numerous small cups of good quality coffee throughout the day. Because the coffee beans here are produced at lower altitudes than your average coffee plantation, they can have quite a bitter quality to them. As such, Brazilians tend to have their coffee quite sweet.
Coffee of choice: A cafézinho is a general term that translates to "small coffee" and it tends to be filtered and served very hot. Wherever you travel in Brazil, you will likely be offered a cafézinho as part of a friendly welcome.
Vietnam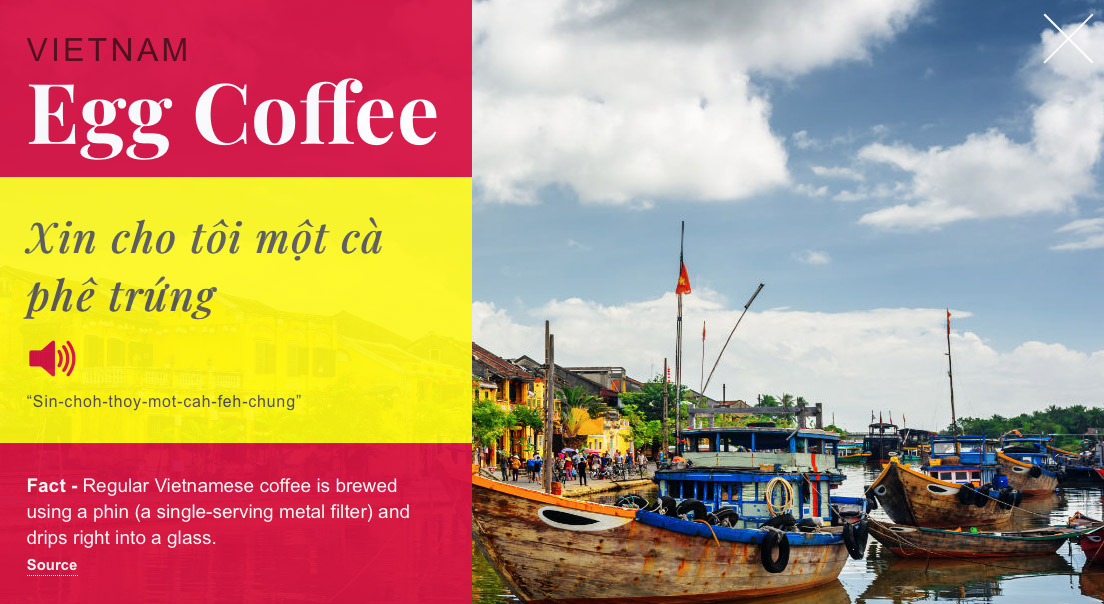 How do I order my coffee: Xin cho tôi một cà phê trứng ("Sin-choh-thoy-mot-cah-feh-chung")
Coffee culture: As a former colony of France, Vietnam has a long tradition of coffee production and consumption. If you want to learn more about this, you can visit one of the coffee plantations in Dalat, which cultivate coffee made from the Robusta plant.
If you're travelling to Ho Chi Minh City, there are plenty of coffee shops where you can order a freshly roasted brew – try The Old Compass Cafe and Bar which serves great coffee and regularly hosts live music events.
Coffee of choice: Try the egg coffee, which is traditionally prepared with robusta coffee, egg yolks, sugar and condensed milk. It is particularly popular in Hanoi.
---
Disclaimer: this article was written in partnership with FreshGround
READ ALSO: 12 best coffee houses in the UK