Morcambe and Wise, turkey and cranberry sauce and winding country lanes and the Mazda Mazda MX-5 RF 2.0 184ps GT Sport Tech convertible. Some combinations are just meant to be.
This compact, two-seater, front-engined, manual, rear-wheel drive, open-top sports car has a certain simplicity and purity of purpose that gladdens the heart.
It has a purity of purpose that gladdens the heart.
We took the car on a trip from London to Palé Hall Hotel in Gwynedd on the edge of Snowdonia National Park. It's a lengthy journey of around 230 miles that comprised three boring hours of motorway cruising made easy by the cruise control and adjustable speed limiter.
Then it was one amazing hour of thrilling, exhilarating, undulating country lanes. Finally, the little MX-5 could shine.
It hugged the curves of those twisty lanes even if its four-cylinder 2l engine lacks the low down grunt of a lazy V8 and the manual box is a little notchy at times.
Yet the pleasure from the short throws of the gear stick, hitting the torque curve at mid-revs and quick and precise steering made this car Fun (with a capital F) on those narrow, winding Snowdonian roads that sometimes took us on mountain passes with heart-pumping sheer drops.
The styling of the MX-5 has evolved over the years from a simple cigar shape when first introduced in the 1980s to something a little more interesting now with creases and curves that add sophistication. The hardtop roof version now even has smart, rear buttresses reminiscent of the Mk2 Lotus Esprit and the long-forgotten Lancia Montecarlo.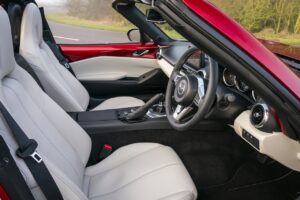 The roof retracts at the flip of a button and there's always theatre seeing a convertible roof collapse like origami and fold neatly into the boot and this was no exception.
Of course, all those mechanicals severely eat into boot space in an already compact car but who cares?
This car is singularly focused on open-top driving to the exclusion of practicality and it's all the better for it.
In any case, trying to be all things to all people often pleases no-one and, switching from one hairpin bend to another, amid the stunning Welsh scenery with the wind in our hair was just the tonic from the stresses of London life.
I'm going to miss the little Mazda but until the next trip to the countryside, I'll console myself with Eric, Bernie and turkey sandwiches.
Who for:
For middle-aged somethings, the Mazda makes the perfect weekend escape car. For twenty-somethings a great first proper sports car after graduating from hot hatches and for anyone in between a fun second car to just enjoy.
Value for money:
Really, for what it is, the on the road £30,570 price tag may seem a little steep but then, when looking at the limited field of alternatives, such as the Porsche Boxster, the cutsie Mazda looks good value.
Tech as standard
The Mazda comes with heated front seats, climate control air-conditioning, cruise control and adjustable speed limiter, single CD player with 6 speakers, 7" Colour touch-screen with Mazda Connect infotainment, wireless Apple CarPlay and Android Auto (wired connection), and an integrated navigation system.
More info: Mazda UK