Latent Spaces is the latest multi-sensory exhibition held at Illusionaries in Canary Wharf, London. Markos Kay, a disabled multidisciplinary artist and director, expresses this artistic concept over four rooms, each offering a unique experience.
On entry, feel your mind distort by the hanging, beaded lights, which make the walls seem closer than they are. Hear the lights conkering together as you stroll through them, accompanied by atmospheric music. The changing colours harness different moods and add to the meditative corridor.
Markos Kay's new concept combines art and science through screen-based media, moving image, painting and print. His work has been published in art, design and science outlets, including VICE and National Geographic. A theme he tends to explore is the investigation of computational paradigm in modern science and culture. Plus, its effect on knowledge-making. Kay's artwork is accompanied by relaxing music composed by Jessica Solomon Clark.
Step into the first room, 'Formations Space', a mirrored cube that isolates you from the rest of the world. Light, sound, reflection and AI are used to display biological creations, inspired by the inception of the first cells. This room promotes self-reflection by offering you a safe and open space to move around, sit and admire the changing patterns or even lay and look up at the hypnotising reflections on the ceiling. At the end of your visit, you're encouraged to re-enter your favourite room – this was my chosen one.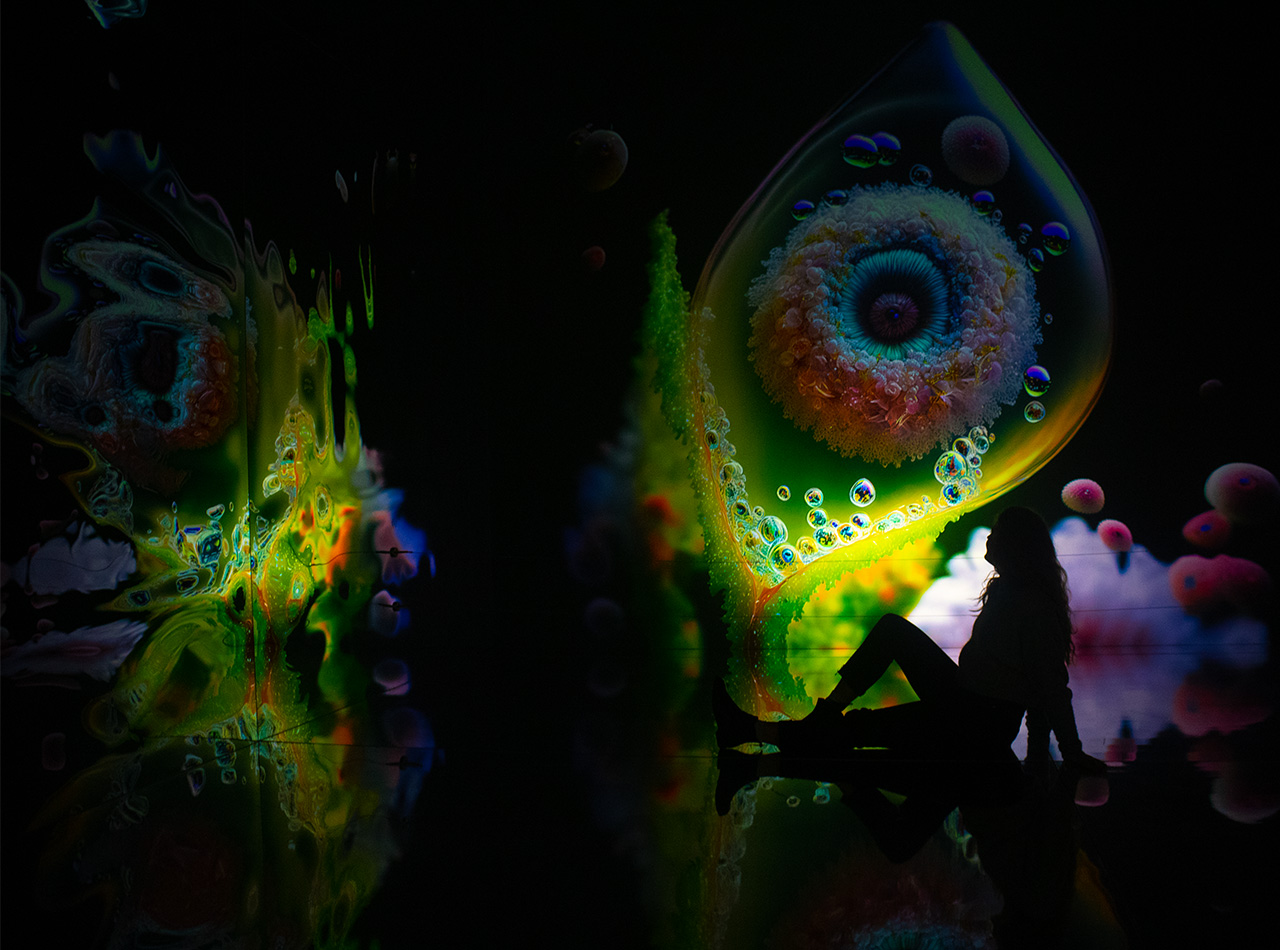 'Complexity Space' boasts 360° visuals of never-seen before lifeforms and environments. Breathtaking animations peer at you from all sides of the room, the curious creatures pulling you away from reality. Get as close as you want to the screens for a moment of hypnosis or stand in the centre of the cinematic room for the ultimate panoramic experience. Kay's aim for 'Complexity Space' is for the audience to challenge whether sentience is an appropriate measure of value and how our subjectivity can limit our answer.
Expand your imagination in 'Agents Space' as you look into the eyes of utopian beings; faces filled with wires and microchips, heads buried in lush green leaves, and robotic bodies will transport you into the future. The use of computer technology makes their eyes blink and flicker in the same way that ours do. The humongous faces are displayed across three walls, so you can't avoid looking at them. Perhaps a symbol of our ignorance for what's to come.
'Breathing Spaces' offers the most spa-like experience and channels all of your senses. Open the door and step onto the black pebbles, feel them roll beneath your soles as you wander over to the large cushions that look like stone. The room immerses you in nature, from the comfort of the indoors. I felt like I was sitting on a beach at night; the only lighting coming from the large screen, which played multidimensional creatures, formed by AI. The subtle pulses of the colourful animations, guides you unconsciously through a meditation practice that slows your breathing down. The images are captivating as they switch between intriguing and cute. You'll want to keep watching to see what will appear next. From a strange, alien-like bug to fluffy, bunny-like pets with wide eyes, Markos Kay, knows how to allure his audience.
Kay's exhibition is like no other. It's unique in every way and perfect for families, a romantic date night, a solo date to unwind, or friends wanting to take fun, Instagrammable photos. Latent Spaces' diversity offers a space for anyone to enjoy.
The exhibition will be open until the 24th of December, so book your tickets quick!
Location: Crossrail Place, Canary Wharf, London, E14 5AR.
Head over to our Instagram: @travelmagazine to see more visuals from our time at Illusionaries.