Just over two hours flight from the UK, the Costa del Sol is the popular short-haul option thanks to more than 300 days of sunshine a year. Nowhere else on earth can you find beaches, history, culture, sports, fantastic cities, the great outdoors and even skiing, all in one compact destination. Here's our roundup:
Skiing and sunbathing in one place
We all associate the Costa del Sol with the sparkling Mediterranean Sea lapping against fantastic sandy beaches, and it's certainly a great place to soak up the sun and enjoy world-renowned nightlife. However, what many people don't know is that Andalucía as a region also offers Europe's Southernmost ski resort, with great skiing from December to the beginning of May.
This winter wonderland is just a stone's throw from the Costa del Sol and on a good day, you can even see the sea from the slopes. In fact it's so close that you could combine skiing with a day on the beach to recover before you head home. It's even possible to be on the slopes in the morning and then enjoy a long afternoon of warm sunshine on the coast within two hours drive.
The Sierra Nevada (Snowy Mountain Range) near Granada offers plenty of sunshine, good snow and a varied mix of runs for beginners and intermediates, plus a handful of more challenging runs. Although it is not a huge resort, there are wide slopes, quick and efficient lifts, and good restaurants and bars to rest those weary feet. The après-ski is quite legendary too!
Terrific towns and picturesque pueblos
This area of Spain has been slammed for its concrete tower blocks and non-existent town planning. However, for every Torremolinos there are several stunning white villages nestled into the hillsides, not to mention vibrant, Spanish towns and cities with great architecture.
Marbella is a fantastic town with lots of charm, a predominantly Spanish population, a beautiful beachside promenade and tons of bars and restaurants. It is often confused with the nearby Puerto Banus and thought to be an expensive, flashy place, but in fact this is a very real, working Spanish town and merits a visit.
Marbella's hidden gem is its historic and picturesque Old Town, or casco antiguo. This has changed little over the centuries and still features ancient architecture, a maze of narrow cobbled streets with charming white washed houses, and beautiful plazas adorned with fountains. At the centre is Orange Square, a beautiful Andalucian square, full of orange trees and sweetly scented tropical plants.
The Old Town is full of unusual shops and galleries, little chapels and churches, not to mention a fantastic selection of bars, cafés and eateries, and is a great place to explore.
Read also: Top 10 things to see and do in Marbella
The picturesque Pueblos Blancos white villages are typically Andalucian features and have been well-preserved yet little explored by most tourists. If you are able to hire a car, then you can spend several days driving around the stunning countryside, exploring these little villages and stepping back into Andalucia's past.
One of the most breathtaking places to visit is the mountaintop city of Ronda, located less than an hour's drive from the coast. This city is set above a gorge (El Tajo) giving dramatic views and the stone bridge that spans the gorge offers the perfect place to take in the stunning scenery. The old town dates back to Moorish rule and is full of history and charm.
Closer to coast and more popular with tourists is the beautiful village of Mijas Pueblo. Located just a 20-minute drive inland, this village has remained relatively unspoilt by tourism maintaining its Spanish charm and offers spectacular panoramic views of the coast from its many view points. Wander the cobbled streets and sample the local delicacies, there are also many specialist shops around the town including handmade leather and ceramics. Every Wednesday the town hall puts on a popular flamenco show at midday in the main square.
High Octane Fun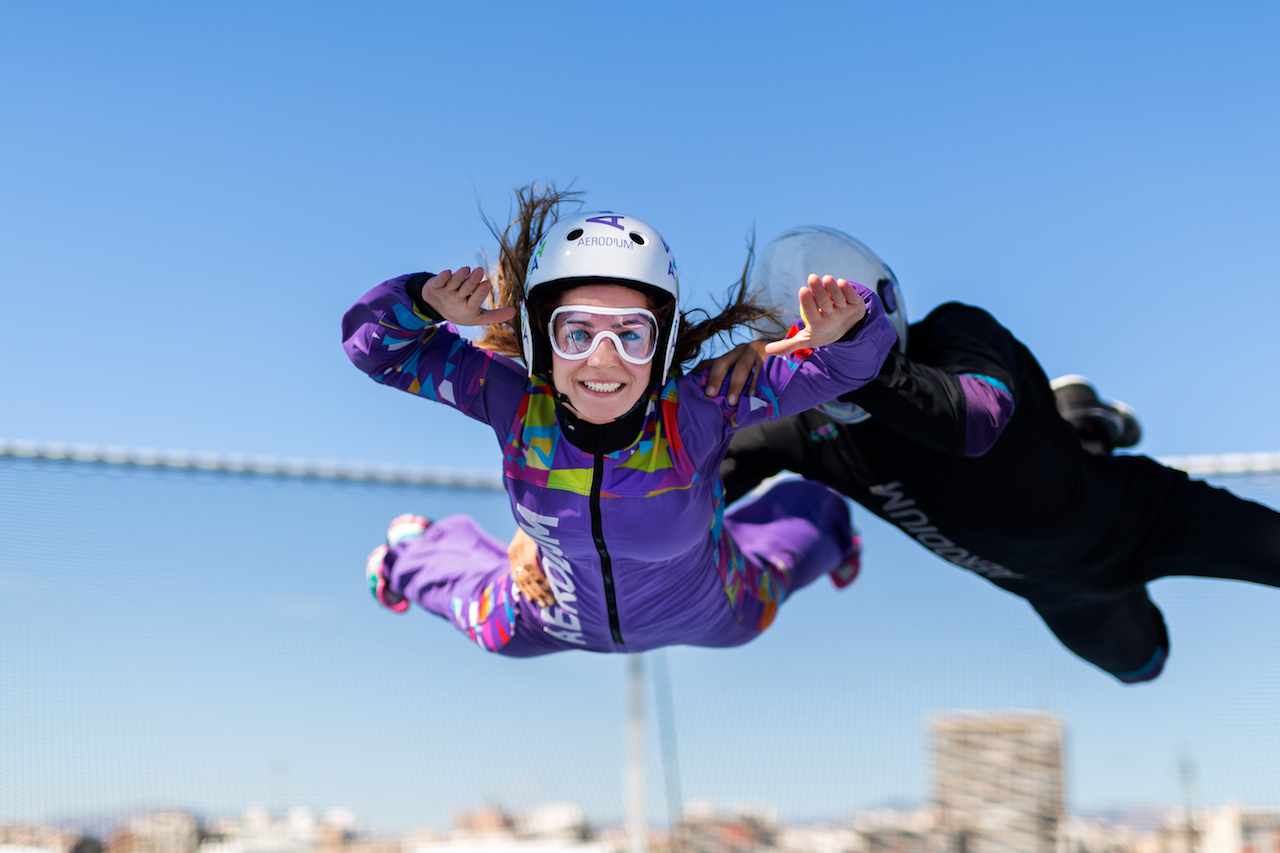 If you're a fan of outdoor adventure activities, there's plenty to get your adrenaline pumping in the Costa del Sol. Think quad biking, go-carting, hiking and every watersport imaginable. The newest adventure on the block is Fly4Real's outdoor skydiving simulator. Situated above the municipality of Campillos in Malaga, it is suitable for anyone aged five to 95.
The Fly4Real simulator recreates the freefall portion of a skydive by allowing you to fly on a column of air. Guided by professional instructors, you will learn to hold your body in the air as the wind rushes up at you. As the experience is outdoors, you will also be able to get some fabulous Instagram-worthy shots as you soar in the sunshine.
Various skydiving packages are available, ranging from a 24,000 ft freefall (one hour experience, two minutes in the air) to a 72,000 ft freefall (two flights, six minutes in the air). The first flight experiences will be available from May 2019. Prices start at €52.
A Sportsperson's Dream
For golfers, it features more than 70 fabulous golf courses, which has earned Costa del Sol its nickname of Costa del Golf. With year-round sunshine this is a golfer's paradise. The coast is host to some high-profile big prize tournaments such as the Volvo Matchplay.
If you like tennis, there are many fantastic tennis clubs and many outdoor courts attached to hotels and urbanisations. Many international tournaments are hosted in the Marbella area.
The region is a perfect place for mountain-biking and hiking in the nearby hills and mountains. For the more adventurous a hike up the iconic La Concha is a must, but as it is as high as Ben Nevis it isn't to be underestimated.
Read also: Horse riding holiday in Sierra Nevada, Spain
There are also a host of water sports to take advantage of the warm Mediterranean Sea, such as sea-kayaking, windsurfing, scuba diving, kite surfing or even learning to sail. Or if you want something potentially less wet, you can take to the sea for a spot of fishing, or enjoy a catamaran cruise to try and spot some of the native dolphins.
Andalucia's unique cultural treasures
Andalucía boasts some of the most amazing architecture and the most breathtaking sights to be seen anywhere in the world.
There's the narrow, bustling cobbled streets and ancient architecture of the Jewish Quarter in Seville; the harmonious blend of two thousand years of Christian and Muslim religious history in the stunning Mezquita in Cordoba; the world-famous Alhambra set against the snow-covered peaks of Sierra Nevada in Granada, and the golden dome of Cádiz cathedral shimmering high over the white-tipped waves of the blue Atlantic ocean.
Read also: 24 hours in Granada, Spain
These cities' treasures are no more than two or three hours away by car from the Costa del Sol and make fantastic day trips to spice up any Costa del Sol holiday itinerary.
Spain's capital, Madrid, is also within easy reach of the Coast now, with a two-hour journey by high-speed train bringing all of the city's immense heritage right to your door.
Even closer to the coast is the lovely and often overlooked city of Malaga. Malaga is so much more than an airport. Its long history has left a host of beautiful monuments such as the Cathedral, Gibralfaro Castle, the Alcazaba and the Roman Theatre. There are also a selection of beautiful historical gardens, and over 20 different museums to choose from.
However, the city's artistic heritage is its biggest claim to fame. Malaga was Picasso's birthplace, and has the fantastic Picasso Museum to honour and celebrate the city's most famous son. This gallery has over 200 examples of works by Picasso on permanent display, including oil paintings, sculptures, drawings, sketches, etchings and ceramics housed in a stunning 17th century Renaissance building.
Family Fun
Spain is a very family-friendly place, and kids are welcomed wherever you go. The Costa del Sol has a whole host of fun places to go and things to do, ranging from days spent on the beach, swimming and playing ball games, to great amusement parks like Tivoli World in Benalmadena and the Parque Acuático Mijas water park in Mijas-Costa.
For animal lovers there's the Bioparc Zoo (Fuengirola), SeaLife centre (Benalmadena), Butterfly Farm (Benalmadena), Crocodile Park (Torremolinos), and the Selwo safari park in Estepona.
The cinema in the Fuengirola's Miramar centre shows English films and other activities include a large crazy golf park with bbq restaurant (Fuengirola) and Costa Jump, a huge indoor trampoline park.
Eating and Drinking
One of the many pleasures of a visit to the Costa del Sol is the fantastic food. The chiringuitos -a bar selling drinks and tapas – on the beach are great and an excellent way to sample some of the local Spanish fare. You don't have to walk far to find a good restaurant, the main problem is knowing which one to choose.
---