The Birmingham-based airline Flybe has collapsed for the second time. The first time was in March 2020, barely three years ago during the Pandemic.
All flights have been cancelled. Passengers received emails letting them know, but the disruption to holiday and travel plans is bound to hurt those affected as well as the 277 staff who find themselves without a job,
The beleaguered airline ran 530 flights per week across 23 routes including between several UK towns and routes to Amsterdam and Geneva.
I am due to fly, what can I expect?
Around 2,500 passengers were due to fly today and a further 75,000 going forward. Those who booked through a travel agent should start there, however, passengers have been advised not to travel to the airport unless they have arranged a flight with another airline.
What is the likelihood of a refund?
As Flybe is in administration there isn't much hope of any refund. There may be hope though for passengers who booked their flight directly with the airline and paid for the ticket using a credit or debit card. Credit card users who spent more than £100 should be protected under Section 75 of the Consumer Credit Act 1974. Visa debit cards should also be protected.
Another go-to place is your travel insurer. Your policy may cover airline failure.
Your ground is less firm if you booked through an agent when it comes to credit or debit card protection, but it is still worth asking your provider.
You may also have hope of a refund if your flight was part of a travel package arranged with an ATOL holder. If so, your agent will make alternative arrangements.
A final avenue of opportunity is that if you bought your flights from Flybe and also bought another service from the airline, such as a hotel, you have made what is called a linked travel arrangement. You must buy the two within 24 hours of each other as separate transactions after being prompted by the same provider. You will not get any help if you are abroad as you would with Atol protection, but you should get a refund.
I am away and cannot get back due to Flybe's collapse. What should I do?
If you booked through an ATOL travel agent, contact them to arrange passage. If not this means you will have to find your own way home.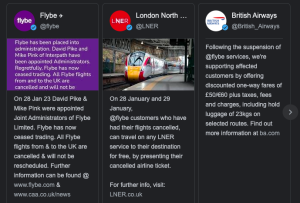 Flybe tweeted: "We are sad to announce that Flybe has been placed into administration. David Pike and Mike Pink of Interpath have been appointed administrators. Regretfully, Flybe has now ceased trading. All Flybe flights from and to the UK are cancelled and will not be rescheduled."
Several companies have offered discounts. British Airways is offering discounted one-way fares to help people get home at short notice.
Passengers travelling between London and Belfast, Newcastle or Amsterdam can buy tickets for £50, or €60 from Amsterdam, plus tax.
Train line LNER has said Flybe customers whose flights have been cancelled can travel on any service for free on 28 and 29 January by presenting their boarding pass.
EasyJet is offering rescue flights for £49 for domestic routes and £79 for international routes, to travellers quoting their Flybe booking reference.
Ryanair's "rescue fares" for those affected by the cancellation said routes from Belfast to East Midlands, Manchester and London Stansted were available online from £29.99 for travel from Sunday 29th January.
What went wrong with Flybe?
When Flybe collapsed in 2020 it was rescued by a hedge fund presumably to sell off their Heathrow slots when travel picked up post-pandemic. On April 13th, 2022, the new Flybe operated the first flight, between Birmingham, where the airline has its headquarters, to Belfast.
Unfortunately, didn't pay off because perhaps flying between the UK airports has not reached pre-pandemic levels. Or perhaps that companies are less inclined to pay for business travel when zoom meetings will do. There's also competition from Ryanair to consider, who offer cheap flights from Gatwick.
The result is that Flybe's Heathrow slots are not as valuable as predicted and the hedge fund owner, Cyrus Capital, is unwilling to invest any further.
Flybe has appointed Mike Pink and David Pike of Interpath Advisory as their administrators and they blame late deliveries of 17 aircraft, insisting demand for the regional carrier was there. For this reason, they are maintaining essential elements of the carrier's operating system for a rescue transaction to remain possible
Mr Pike said indicated that he is willing to sell the Flybe business as a whole and not the Heathrow slots alone.