ADLER resorts and lodges are known for their relaxed luxury and while each property is noticeably different, there is an almost tangible feeling they all share. Owners the Sanoner family like to describe it as 'leggerezza'. Broadly, this means lightness.
And the word applies to the informal but respectful way you are treated, the interpretation of the local cuisine, and the general feeling you are left with once you've succumbed to the ADLER way, particularly after a treatment or two at the spa.
The ALPE doesn't bother with the formalities of the reception area. All the tiresome business of check-in and check-out is done quickly and efficiently at a small desk in a corner of the shared lounge and restaurant area.
And while this shared area is impeccably designed and furnished, it doesn't try to compete with the view (despite a 40-foot-high totem, the creation of famous wood sculptor Adolf Vallaza).
Floor-to-ceiling windows frame the mountain tops and lush green pastures (or ski slopes, depending when you visit) allow you to feel part of nature without leaving the comfort of the Lodge.
Who for
ADLER Lodge ALPE is great for a detox/spa break and as a luxurious base for people wanting to use the mountains for sport. There are enough hiking, biking and skiing options to keep even the most active satisfied. In the winter, you can ski in and out of the Lodge.
Facilities
Staff are friendly and relaxed while remaining respectful and discreet. Which is just as well – it's hard to relax in ultra-formal surroundings.
The spa is in the loft of the main building and has a hay sauna and a fitness centre with large panoramic windows revealing the rolling meadows and sharp Dolomites peaks. Staff are available to advise guests on the best treatments for their needs – from facials, peels and massages to body wraps and wooden tub baths. The relaxation room has a glass ceiling allowing guests to stargaze in a warm and luxurious environment.
There is a range of activities available at ADLER Lodge ALPE including yoga, horse-drawn carriage rides, snowshoeing, mountain biking and swimming in the heated indoor – outdoor infinity pool. Treated with therapeutic Dead Sea salt, the pool resembles a mountain lake, especially early in the morning as the mist rises in the crisp clean air.
Accommodation
ADLER Lodge ALPE has 18 suites in its main building and 12 private wooden chalets scattered around the resort.
Suites have all the facilities you would expect of a five-star residence and are furnished in natural spruce version of Tyrolean traditional style with added comfort.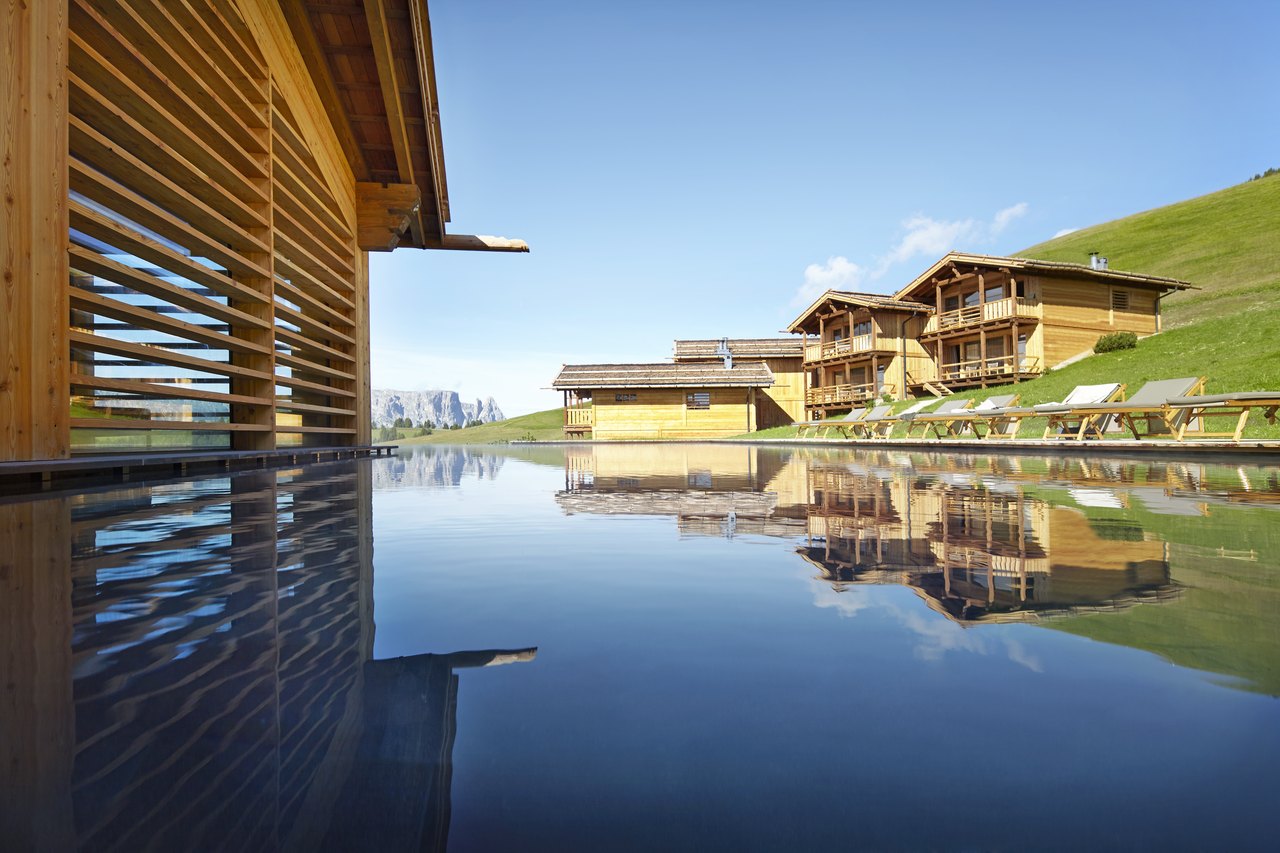 Chalets share the same style but with extra living space. Over two floors in natural larch throughout, the sleeping area is on the first floor. They all have private terraces and can be configured for family use.
Food and drink
ADLER Lodge ALPE is a full-board hotel, but if that brings up visions of a sweaty buffet deteriorating through the day, banish them. This is more about the casual materialisation of delicacies and proper kitchen to table service.
The chef at ADLER Lodge ALPE is Denny Mair who focuses on quality products from South Tyrol, directly sourced from local farmers.
The use of local ingredients supports local farmers and producers and reduces carbon emissions by avoiding delivery miles. The resort serves mountain fresh water (still and sparkling) to reduce the use of plastic bottles.
Alcohol is included in the full-board terms.
Is Wi Fi available?
Yes and is free.
Value for money
The Lodge is not cheap, but when you consider the facilities and the constant availability of food and drink, it is very good value for money.
See ADLER Lodge ALPE on Tripadviser
What's nearby?
ADLER Lodge ALPE is set in the heart of the Alpe di Siusi, a UNESCO World Heritage site that would take a lifetime to explore thoroughly.
Ortisei, the village below can be reached by cable car and it has a great selection of boutiques and restaurants.
Nearest airport
Innsbruck and Verona airports are less than two hours' drive. ADLER has a discount agreement with Sixt car rentals at both airports. Alternatively Lodge staff are happy to arrange transfers.