Take a tropical rainforest hill, plant 67 luxurious Villa rooms, add in a couple of swimming pools – one on the beach one on the hillside – set up three restaurants, two spa centres, and throw in a championship golf course for good measure and you have the key ingredients for Banyan Tree Bintan.
Bintan located on Tanjong Said Bay was one of the first Banyan Tree properties to open in 1996 and being 27 years old and set in a rainforest means that the hotel has "weathered in" over time but this and the local style of building architecture gives off an air of comfortable romance.
Check-in at the hotel comes to you, complete with a welcome drink, cake bites and your own hotel host, who is there to help with anything and is contactable via WhatsApp. We were greeted by the excellent Sofyan -who never seemed phased by anything we asked about and whose manner seemed to typify the cheerful and attentive service.
Who for
Banyan Tree Bintan is for those who want to get away from it all and really relax in a tranquil setting with understated luxury and friendly first-class service. It is also unspeakably romantic.
Accommodation
Our villa room was the entry-level "sea view," but it was lovely, with a 15' ceiling and very spacious. A fully netted, canopied super king-size bed, chaise long, and large day bed that overlooked the sea from our bay window all helped to give it a sexy vibe – something further enhanced by incense sticks and a candle-powered incense oil burner at the bedside, which were topped up daily. A writing desk and big flat-screen TV remained largely untouched throughout but the Nespresso machine saw more action. The bathroom featured twin sinks and a sunken walk-in shower.
The terrace, which also overlooked the sea, gave us a table and chairs, two large sun beds and a plunge pool with a jacuzzi at one end.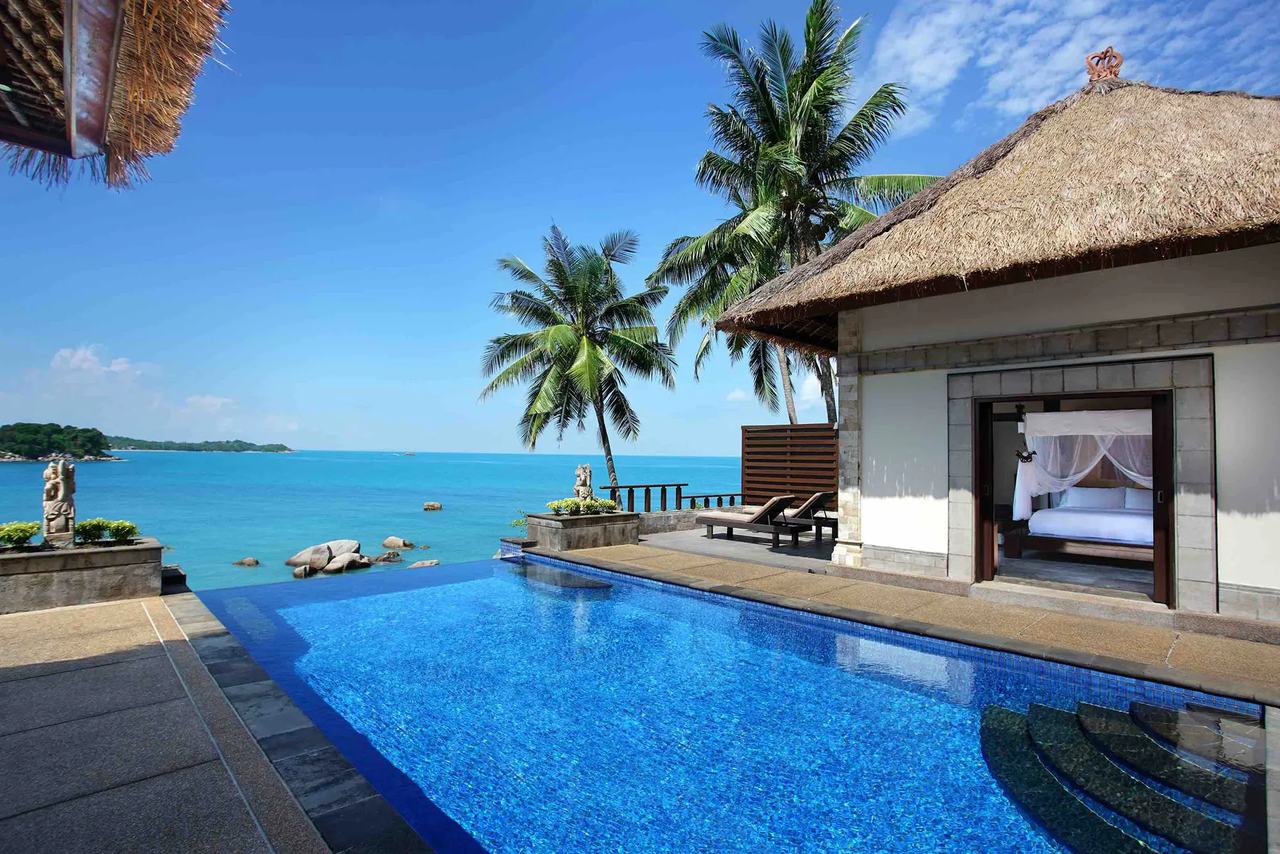 Others are bigger, have separate living areas and some are more suited to families or groups – the style is all very much of the region and it all seems truly at ease with its surroundings.
Facilities
Banyan Tree has been winning awards for its spas for a very long time and the dual-location spa at Bintan is top-notch. Our package included a one-hour couples full body massage and it was wonderful – so much so that we came back for more.
Both swimming pools are set in gorgeous locations with breathtaking views from in and around the infinity pools – one on the hill and one directly overlooking the beach with its wide sweeping bay front. Both are relatively small and secluded – perhaps because there are pools in each villa.
There were neat little touches everywhere and the provision of sachets containing insect-repellent cream poolside was truly a godsend. The golden sand beach is well maintained and there are usually a host of water sports available – however, an infestation of jellyfish, while we were there, meant that many of these were curtailed.
Banyan Tree has a programme for nature preservation, sustainability and wellness and employs environmental naturalist Henry Ali Singer and his team, who look after various animal welfare projects both on the complex and in the local environment.
This team also includes interns from colleges and universities and, for guests, it means that you can go on guided birdwatching and animal spotting tours and can see their turtle preservation programme in action (almost 6000 bred to date). It's really worth doing because the bird and animal life is spectacular – and it is also a zero-cost option.
The complex is surprisingly compact, but being set on a hillside can involve a lot of gradients and most people get around by golf buggies, which can be summoned (by phone usually).
Food and Drink
Food is largely Asian and as a pescatarian and vegetarian, there was plenty of choices and they were more than happy to adapt meat dishes (at Saffron we had a meat dish modified to salmon and it was truly mouth-watering). The only slight reservation was that only two of the usual three restaurants were open and the menus were pretty static. That said, Treetops restaurant – also the location for the hotel's excellent breakfast) was just starting up its buffet dining option and The Cove restaurant was due to reopen a few weeks after our stay.
If romance is on your agenda, the hotel offers a number of "destination" bespoke dining experiences – from fisherman's huts to your own private island. We sampled the in-villa barbecue, for which they "dressed" our villa with additional lighting, a beautifully set table and flowers everywhere. The menu had been tailored around us and was cooked just outside the doors of our Villa's terrace, with each new delicious course brought in with great ceremony by our server and, for the dessert course, by our private chef, as well.
The complex offers further food and drink options at the nearby Cassia sister hotel, with its informal Vista dining area and beachside Xana bar/restaurant. Xana is currently the only bar on the complex and it is either a third of a mile walk along the beach, or a five-minute buggy ride away but Banyan Tree is set to open its own bar this year.
How much
Rainforest Seaview Villas cost from £338 per night + taxes (about 20%). CHECK AVAILABILITY
What's Nearby?
Laguna Golf is a feature of the Bintan complex and the stunning Par-72 course winds you through the rainforest and along the beach – it is almost Links-like in places.
The fairways are generous but there are water hazards on about half of the holes – the leisure and basking spots for the local Monitor Lizard population – and, if you are unfortunate enough to hit your ball into the forest, forget finding it – the resident monkeys are probably having their own game with it anyway.
The course – like the hotel – has been very sympathetically designed and is meticulously maintained, with beautifully striped fairways leading you towards each hole. A round of golf is not cheap – about £60 on weekdays and £85 at weekends, but the fee does include a buggy and your own caddy – whose local knowledge is useful, whether you are a low handicapper or, like us, pretty average club golfers. If our experience is anything to go by, the caddies are also really excellent company as you play your golf.
There are also various excursions – the most popular are to the Mangrove Swamps with their incredible wildlife and to the Lohan Temple, with its 500 individual stone statues of Buddhist figures. You can also visit the capital of the group of Riau Islands, Tanjung Pinang.
VERDICT: Banyan Tree Bintan may not be the newest or fanciest of the group's hotels but, it does radiate tranquillity. We both felt a deep sense of relaxation almost instantly after we arrived and we decompressed yet more as the days went by. If you want to go further there is a Wellness Programme that you can buy as an inclusive package. We sampled it and the option is seriously worth considering. Would we go back? In a heartbeat.
Getting there:
Bintan itself is one of the Riau Islands belonging to Indonesia, about an hour's ferry ride from Singapore. Travelling from the UK took us on a 13-hour Boeing 787 Dreamliner direct flight with British Airways – and the advice, if travelling economy pay a little extra for the emergency exit rows as you will never get more legroom anywhere in any class.
The Ferry to Bintan, with Bintan Resort Ferries, was simply and easily booked online from the UK through Direct Ferries and it was worth paying the modest amount to upgrade to Emerald class as it gives separate check-in, a dedicated lounge and priority disembarkation with consequent first dibs on passport control and visa-on-entry (please note: you need 500,000 Indonesian Rupiah Per person and it's cash only).