The Hilton at Resorts World Bimini is a luxurious 750 acre beachfront resort and casino on the small, unspoilt island of Bimini in the Out Islands of The Bahamas. What you get here is a tropical setting where you can chill or go diving with sharks or boating.
Some say the fabled lost city of Atlantis is located here while others claim it is the big game fishing capital of the world with catches such as marlin, sailfish and wahoo.
For such a small island it has a number of impressive connections. Ernest Hemingway came here in the 1930s to fish and write Islands in the Stream. Martin Luther King also found relaxation on these peaceful shores.
Who for
The Hilton at Resorts World Bimini is ideal for couples and families alike. Some travel here just for the thrill of the casino, others for the lovely pools, beach, fishing and water sports. Keen scuba divers enjoy the opportunity to dive with the Hammerhead sharks and explore wrecks.
It is a perfect spot for weddings in the sun too. With easy access from Miami, The Hilton at Resorts World Bimini makes a good two-centre option. A small seaplane from Miami brings guests directly to the hotel entrance in style or a fast ferry from Miami to Bimini takes just 45 minutes.
Accommodation
There are 305 rooms including 18 ground floor suites some with  their own pool and some with gardens.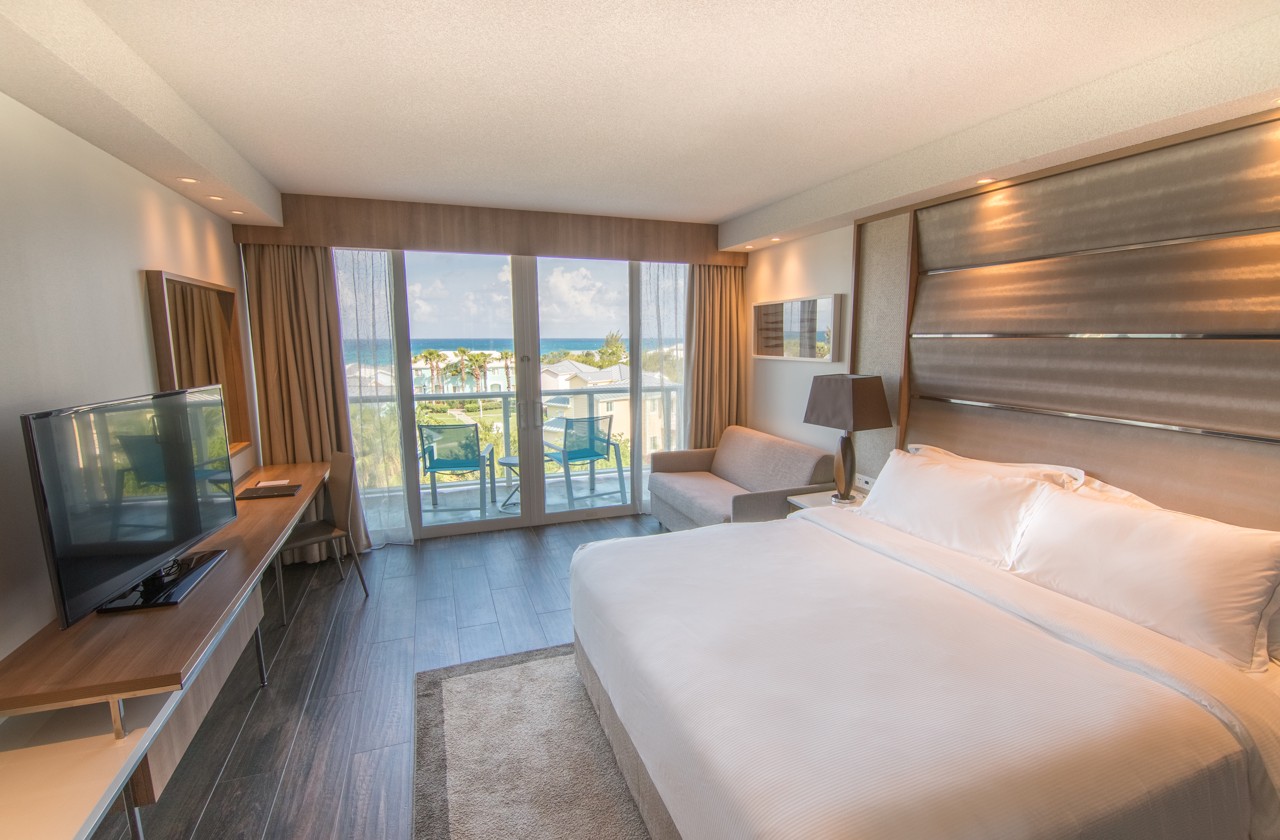 My sleek room overlooked the pool and was a bright and airy with floor to ceiling windows and a balcony. Suites lead directly onto the lagoon pool. Unfussy earth toned décor is neutral and stylish, allowing the natural colours of the surroundings to speak for themselves. The shower room features cool marble and an exhilarating shower, with lovely Philip Roth toiletries. The room had a good coffee maker, flat screen TV and telephone.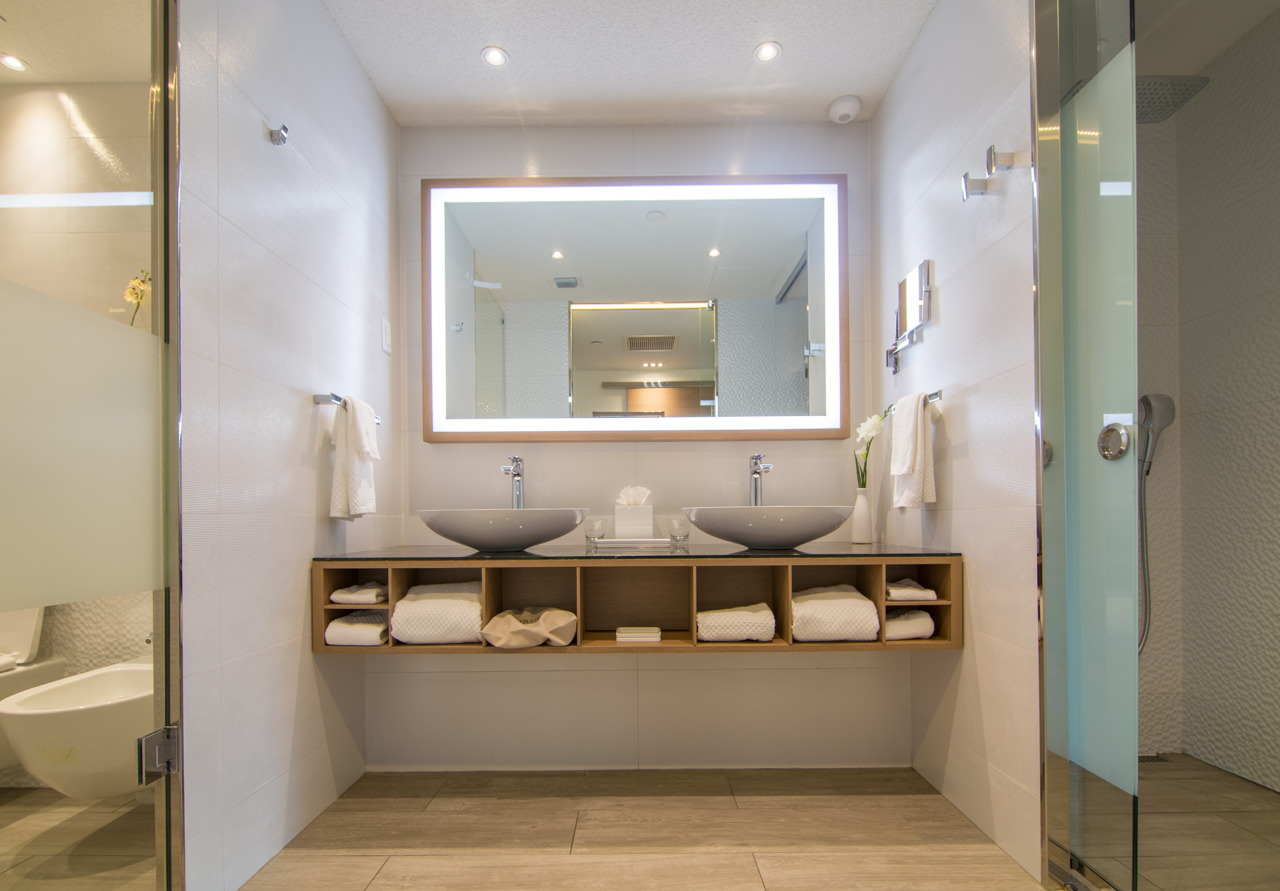 Guests can also opt to stay at one of Resort World Bimini Guest Condos, colourful private homes dotted around the property which range from studios to spacious four bedroom homes.
Facilities
The hotel has three swimming pools including an adults only rooftop infinity pool on the fifth floor of the resort with stunning views and Monkey Business bar.
The ground floor lagoon pool spans the length of the resort and has a lovely swim up bar Oasis with a view of the mega yacht marina – great for people watching. There is also a large pool area near Sabor restaurant which is ideal for families. The private beach offers banana boat rentals and other watersports.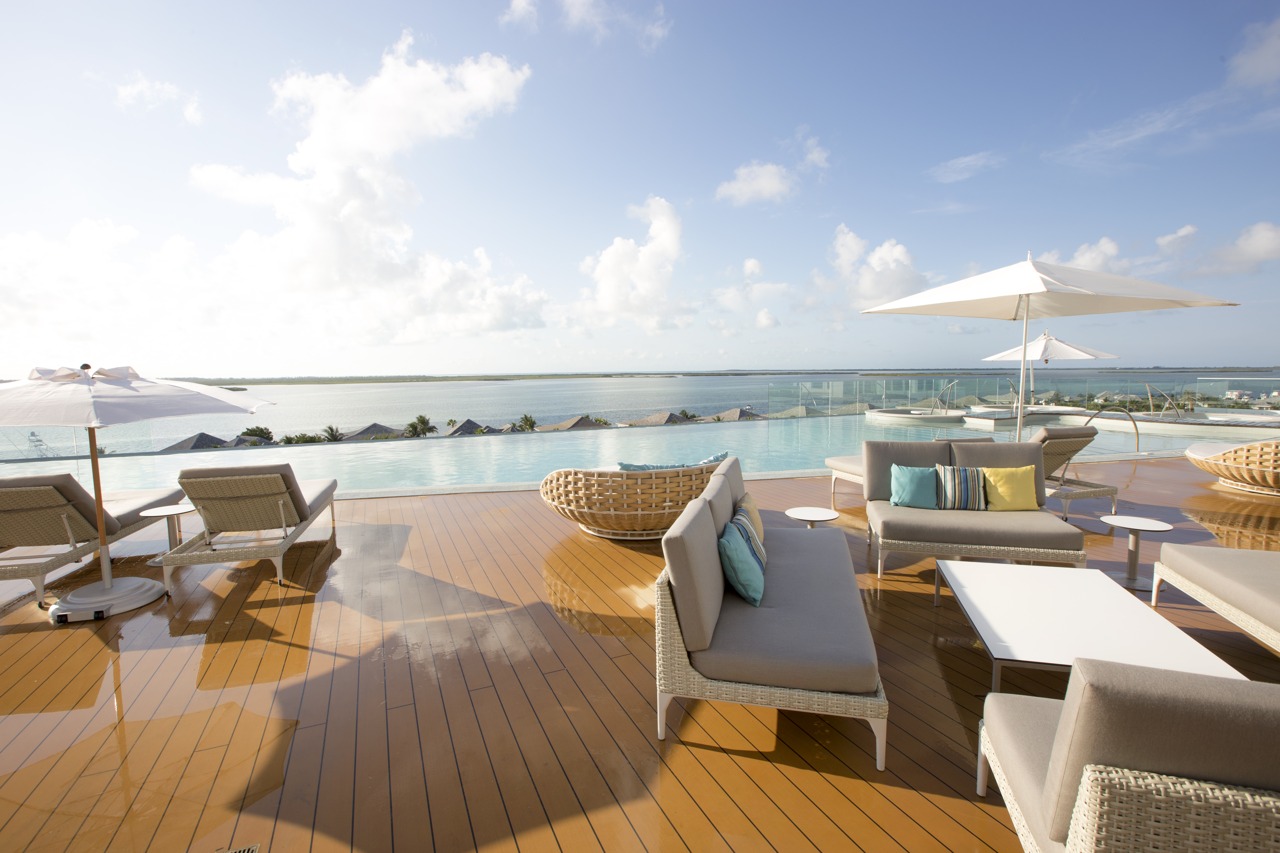 There is a fitness centre for the energetic but I preferred the blissful Serenity Spa which offers massage, body wraps, facial treatments as well as hair styling, make-up and nail services.
The 10,000 square foot world-class casino is just steps away from the marina, meaning guests can sail right up to the casino doors. It has Baccarat, Black Jack, Craps, Roulette, 160 slot machines and a high-limit gaming salon. Players can take a break to enjoy a bite at Hemingway's burger bar or a drink at Wings sports bar.
Food & Drink
There is a good range of places to eat and drink at Resorts World with ten different restaurants, bars and cafes ranging from gourmet dining to barefoot beach casual fare. The Tides serves fresh seafood, pasta, wood fire grilled pizzas and Bimini classics such as marinated conch salad. The spacious light-filled restaurant also serves a hearty Bahamian breakfast. The intimate Sushi Bar serves fresh Asian specialities and cocktails which can also be enjoyed at the elegant Lobby Bar.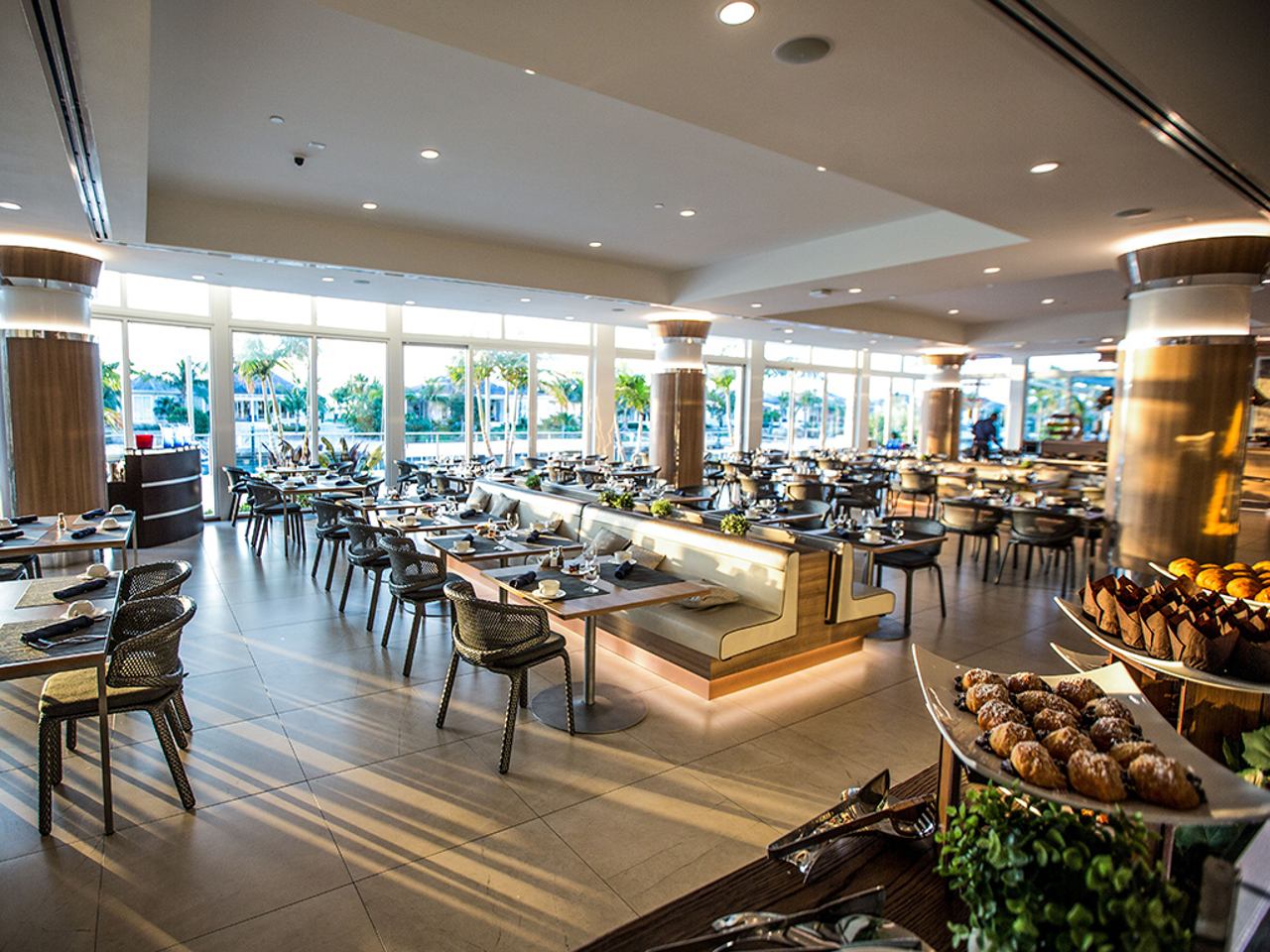 My favourite spot was the restaurant at La Luna Beach Club where a memorable lunch of black grouper fillet in mango sauce was served as I gazed out to sea, but there was lobster and snapper on the menu too. La Luna is open day to night and has live music and entertainment at the weekends.
Casual eating is available at swim up pool bar Oasis and rooftop Monkey Business as well as The Beach Club. The Healing Hole has Bahamian grills and light bites such as panini and coffee are on offer at snack spot Amiccis.
Is WiFi available?
Yes throughout the hotel and in the rooms.
Room rates
Rooms start from $209 per night.
What's Nearby?
The hotel is a short walk or golf cart ride from the centre of Bimini, which is world famous for big game fishing and diving with sharks. Hammerhead sharks are seen here between November and April and there is a dive centre nearby. On the island you can visit the deserted Radio Beach, various pretty conch shacks and the quaint museum and Dolphin House.
READ ALSO: Top 10 things to do in The Bahamas
How to get there
The Hilton Grand Resort Bimini covers almost half of the tiny island of Bimini, one of The Out islands of The Bahamas. Bimini lies just 50 miles from Miami and is the closest Caribbean island to the USA coast. It is easy to access via fast ferry from Miami or sea-plane for a stylish entrance that brings you directly to the resort's doorstep.
Alternatively flights from the small airport at Bimini connect visitors with the Bahamian capital Nassau which has direct flights to the UK.