It's easy to find somewhere glamorous to stay among the scad of designer hotels in London often costing big bucks.
Appealing boutique hotels are a little harder to find. You know the type, friendly, comfy and well-designed, usually found hiding away outside the city limits.
So, it's a lovely surprise to find Hux Hotel on Kensington High Street. Entry is via a simple darkened glass door. It opens to a blue-carpeted dimly-lit narrow staircase straddled by burnt red walls and meanders around into the reception-cum-bar-cum lounge area that resembles a speakeasy den.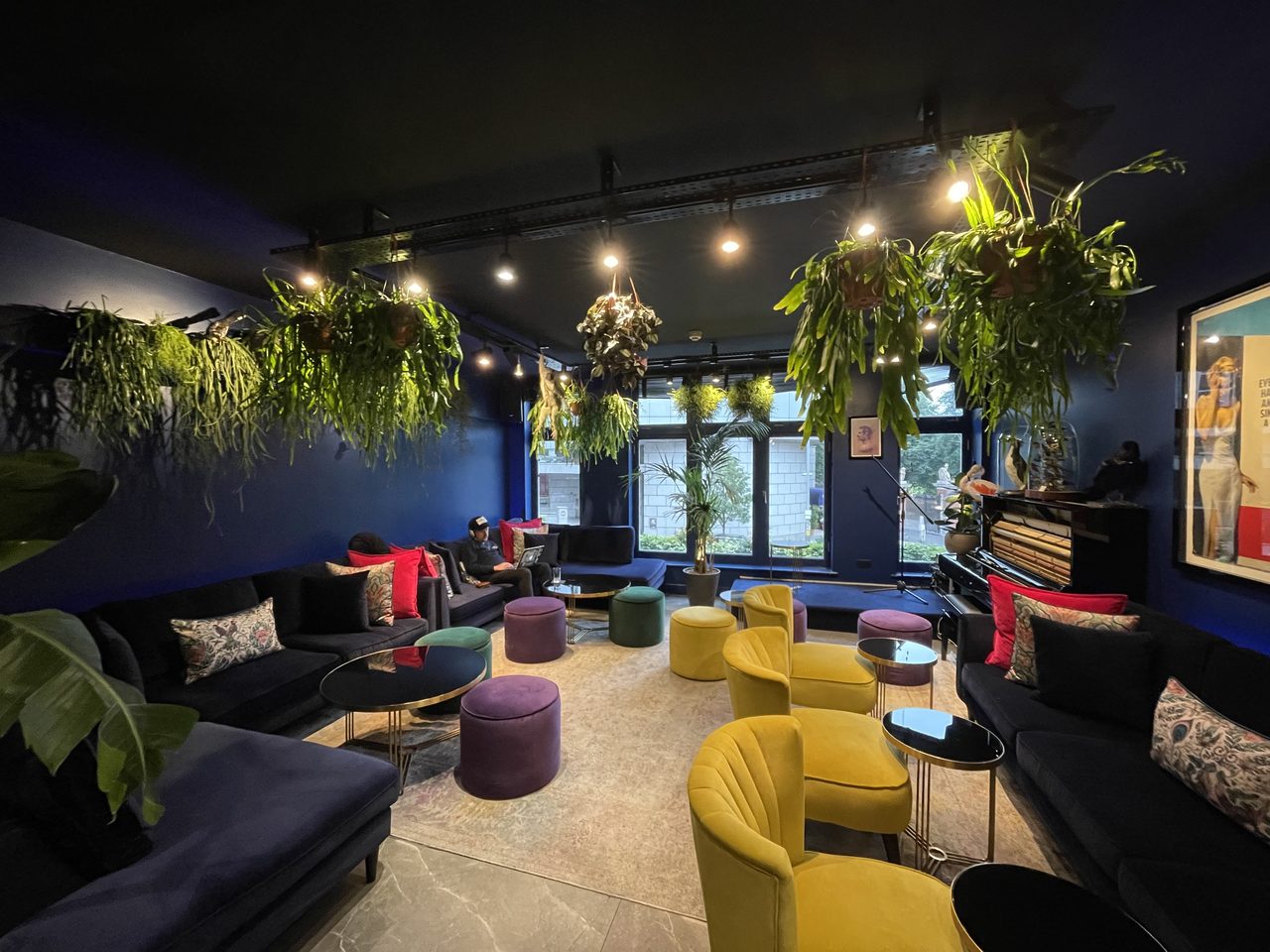 It's a cosy space that is huge in colour and interest. I often had to stop and stare at an elephant head or a zebra or at an artwork that caught my eye.
It's a jungle-themed decor, with lush, live greenery with birds hiding among the foilage and even a monkey hanging from the ceiling. Even the small reception desk has a startling peacock perched on its edge.
Who for
There is nothing understated or ordinary about this compact boutique hotel. Nevertheless, it is luxurious and offers a dinky overnight stay in Kensington.
Accommodation
There are 24 rooms and four suites all dressed with bold colours of greens, blues and pinks with accents of bold yellows and greens in the furniture and foliage. There is also a myriad of artwork throughout that tempers the bold block colours of the walls. Several lighting modes mean you can adjust for a pleasant touch of ambience.
The ensuite is pleasant in white and grey with a powerful rainwater shower, sweet-smelling Floris toiletries and bathrobes.
Amenities include a large TV with Netflix, a hairdryer, a Nespresso machine, a kettle and bottled water. There are USB sockets as well as plenty of plugs.
Beds are more than comfy, and when the windows are closed, the noise of a busy High Street Kensington is hardly discerned.
Food & Drink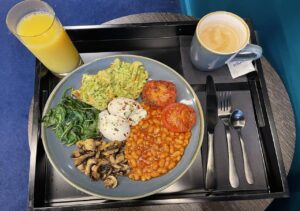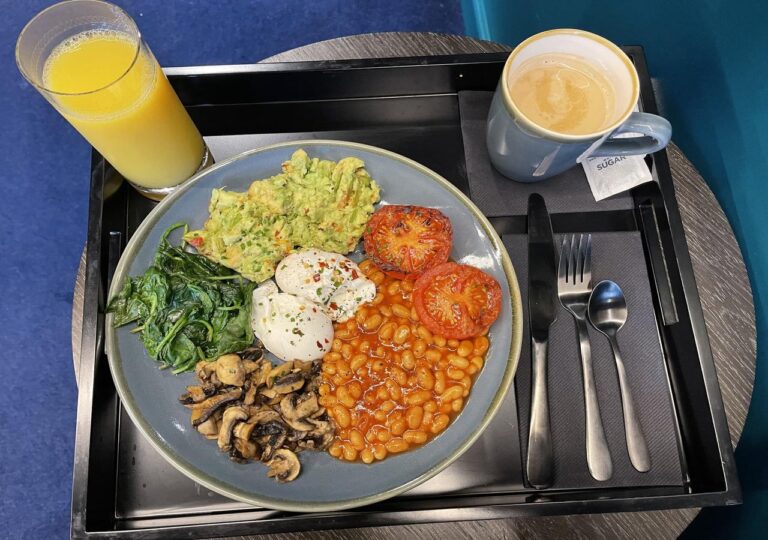 There's no restaurant, but you can order a 'Full English' breakfast in bed.
We opted for the veggie version, delivered promptly, as promised, on a pretty tray with orange juice and coffee.
The lounge, with its soft seating, looks like a secret den, especially when the lights are dimmed after dark. That's the time to check out the cocktail menu, kick back and sip a tipple while listening to the toe-tapping live music.
Facilities
The Hux is all about a place to stay for the night, so there's no spa or restaurant. It does have a delightful concierge and free wi-fi throughout. Twice a week, there's live music of various genres, especially jazz.
There is a lift, too which is handy for accessibility.
How much:
Room rates begin at £150 per night.
What's Nearby?
The hotel is a couple of minutes' walk from Kensington High Street station, but if you drive you can park in the NCP car park opposite.
The Royal Gardens are right opposite and nearby is the Royal Albert Hall – home to the Royal Philharmonic Orchestra, the Natural History Museum, the Science Museum and Hyde Park and a slew of great restaurants.
VERDICT: The Hux Hotel offers a quirky and luxe boutique destination to spend the night to round off a fun night in London.
You may also like: Cavendish London hotel