Aviv Pode is often referred to as a "visionary" when it comes to education and humanitarian issues. He spent many years heavily involved in high-level security technology and then in environmental and humanitarian aid projects with the humanitarian organisation"Latel". Pode was involved in the distribution of food and educational programs in schools.
Pode's inner workings and motivations seem to be disparate on the surface, yet in concert have led him to be an educator; but not in the traditional way.
He started by providing education in a remote part of Laos giving 232 children an education they could not have had otherwise.
Soon he co-founded La Petite Ecole in Monaco, a vastly different environment. Hot on the heels of this school, Pode set up his third school La Nouvelle Ecole in Geneva. What all schools have in common is that they are all deeply entrenched in the Montessori education philosophy of nurturing each student to be self-motivated and self-empowered in accordance with their own natural talents and desire for knowledge.
We found out more.
Why did you set up the school and what was the inspiration?
I have always been passionate about education, environmental and humanitarian work and wanted to combine these three important missions into a school with strong core values.
My experience inspired me to create an eco-curriculum with altruistic values at La Nouvelle Ecole, to inspire our future leaders to be positive contributors to their communities and help create a brighter, greener future for the planet.
How is Montessori education different?
The Montessori philosophy encompasses different ideas, but in essence, the method aims to develop children's self-confidence, independence, curiosity and creativity.
Together with an integrated Swiss and Cambridge international education curriculum, we handpicked various Montessori concepts such as the use of natural materials, engaging learning in a more holistic way, providing a healthy, balanced diet and utilising a more adaptive, personalised approach to guiding the children academically.
Do the students learn both French and English?
Yes! Our school is fully bilingual and we have carefully selected highly qualified and experienced native French and native English teachers (who only speak in their mother tongue).
Learning to be bilingual or even trilingual is an invaluable gift that has so many social, educational and cognitive benefits. My two children speak perfect Parisian French and British English thanks to the incredible teachers at the school.
Why choose La Nouvelle Ecole?
Our school provides a kind, nurturing, and positive environment for children in the heart of classical Geneva. As a parent, there's no greater satisfaction than knowing you are providing your children with the best possible learning opportunities and investing in their future.
We provide native bilingual programs, nutritious and balanced meals, and highly qualified teachers in eco-friendly surroundings.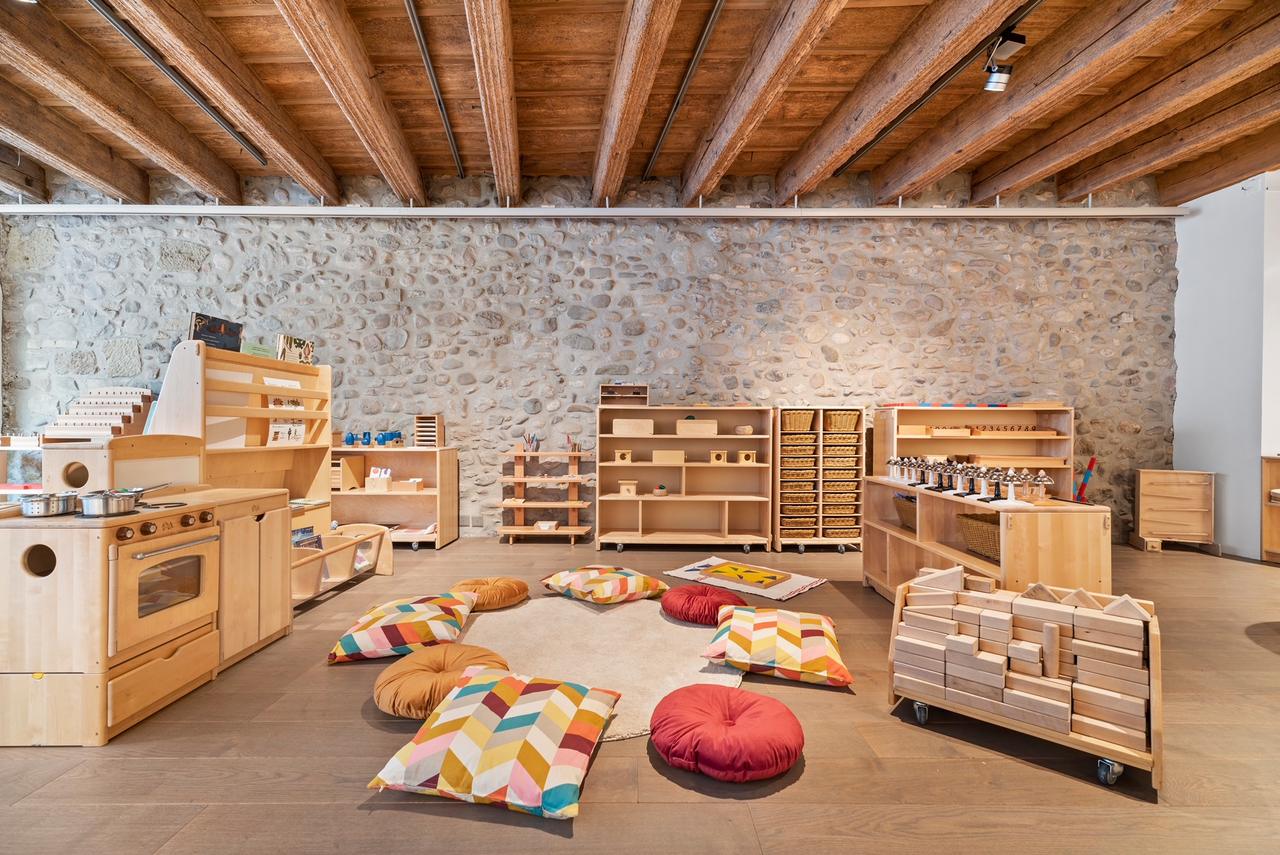 The creative programs at the school aim to expose the children to as many different types of hands-on subjects as possible such as Yoga, personalised music lessons, gymnastics, book club, gardening and classical ballet which is unique to our school.
Each child will benefit from highly individualised learning to enable their maximum potential. In an ordinary classroom, for example, children may have to wait for other children to catch up in their learning. At La Nouvelle Ecole, the children can run forward academically while enjoying every single day in a kind, positive and encouraging environment.
There is a lot of emphasis on being eco friendly. Can you expand on that?
"We aspire to be a positive contributor to our planet"
Caring for the environment is a core value at our school. We aspire to be a positive contributor to our planet through our humanitarian and environmental initiatives such as planting over 5,000 trees in Australia and Africa in cooperation with One-Tree-Planted, providing clean drinking water and sanitation solutions to remote communities through Water For People and supporting climate change research through TogetherBand.
In addition, every facet of the school has been carefully designed using eco-friendly and LEED (Leadership in Energy and Environmental Design) certified furniture.
We have also integrated an eco-curriculum into the daily program, exposing and involving the children to various eco concepts such as bio-diversity, plastic pollution, wildlife preservation and recycling. It is important to teach the children the importance of being positive environmental contributors, both locally and globally.
How does the holiday program work?
We offer fun, educational and diverse after-school and holiday programs. Every week we have a different special theme, from "Little Scientists" to "History week", "Earth week", "Famous artists" and much more.
The themes aim to focus on important global values, such as environmental preservation, science and technology and cultures from around the world.
While our priority in enrolling for the holiday programs is reserved for our students first, our holiday programs are open to any child between 3 and 7 years old.
What were you doing previously?
I have been working in technology continuously since I was 14 years old specialising in information security assisting critical infrastructure, governments and corporations to protect against cyber threats.
Throughout this time I have also spent time engaging in various environmental and humanitarian aid projects such as serving as a regional coordinator in "Latel", a humanitarian organisation, conducting food collection, distribution campaigns and educational programs in schools.
I was so affected by my experiences in disaster relief and humanitarian aid that I began to focus my attention on education. I built three schools in Laos serving 232 children and recently became an official partner and contributor to Save The Children, a global non-profit organisation to protect children in disaster and conflict areas.
I am also a proud parent of two children ages 5 and 8.
More information: https://www.la-nouvelle-ecole-geneve.com/