Growing up in a hard-working home and working manual jobs that felt uninspiring, PoPsee (A.K.A Barry Samms), knew that his creativity needed to be set free. 'Roll like a rock not like a pebble', is a hip-hop lyric, graffitied on one of his pieces, that Samms associates with being stuck in the same old routine.
Other old-style paintings with lyrics spray painted on them were displayed throughout the exhibition. 'Everybody needs a bosom for a pillow' is a line from Brimful Of Asha. This saying is an adaption of 'everyone needs a shoulder to cry on', so perhaps PoPsee is expressing that music is his comfort through life.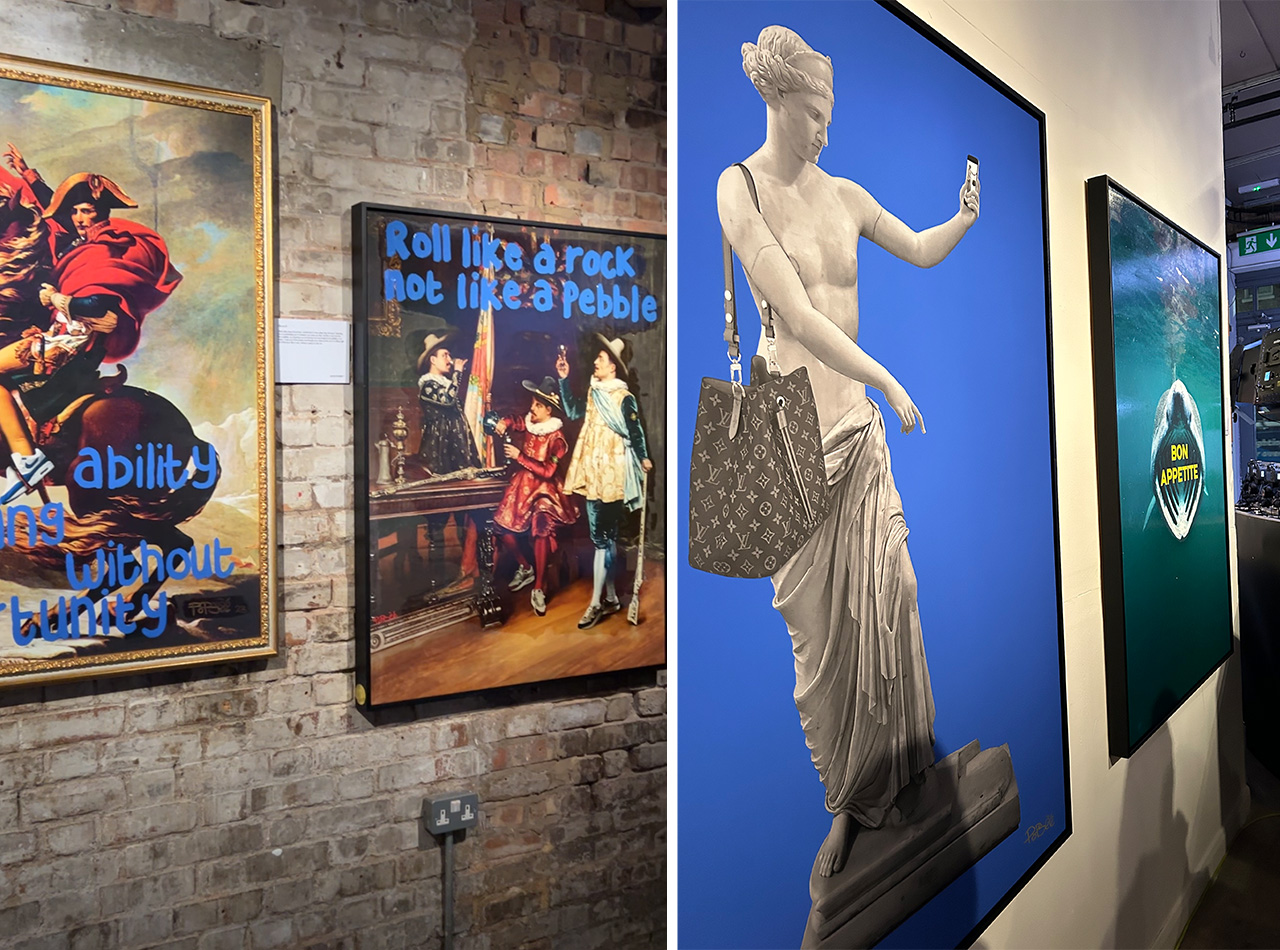 He uses contemporary art to express his societal views, the contradictions of our modern world, humorous twists of history, and our excessive desire to wear luxury brands.
He creates ironic and thought-provoking digital artwork, meaning an essential part of his prints use digital technology, such as Photoshop. Drawings, paintings, photography and even sculptures can be created or transformed via a computer. But PoPsee uses spray paint, acrylics, and other materials too. As well as displaying interesting object pieces.
I had the pleasure of attending PoPsee's 'Dichotomy' Art Exhibition at Shoreditch Industrial Space, London. On entering, dog photos were scattered on the wall, a reminder that the event raised awareness for All Dogs Matter charity. 'PoPsee' was Barry's beloved German Shepherd's nickname and he supports a dog rescue in Bali and Romania.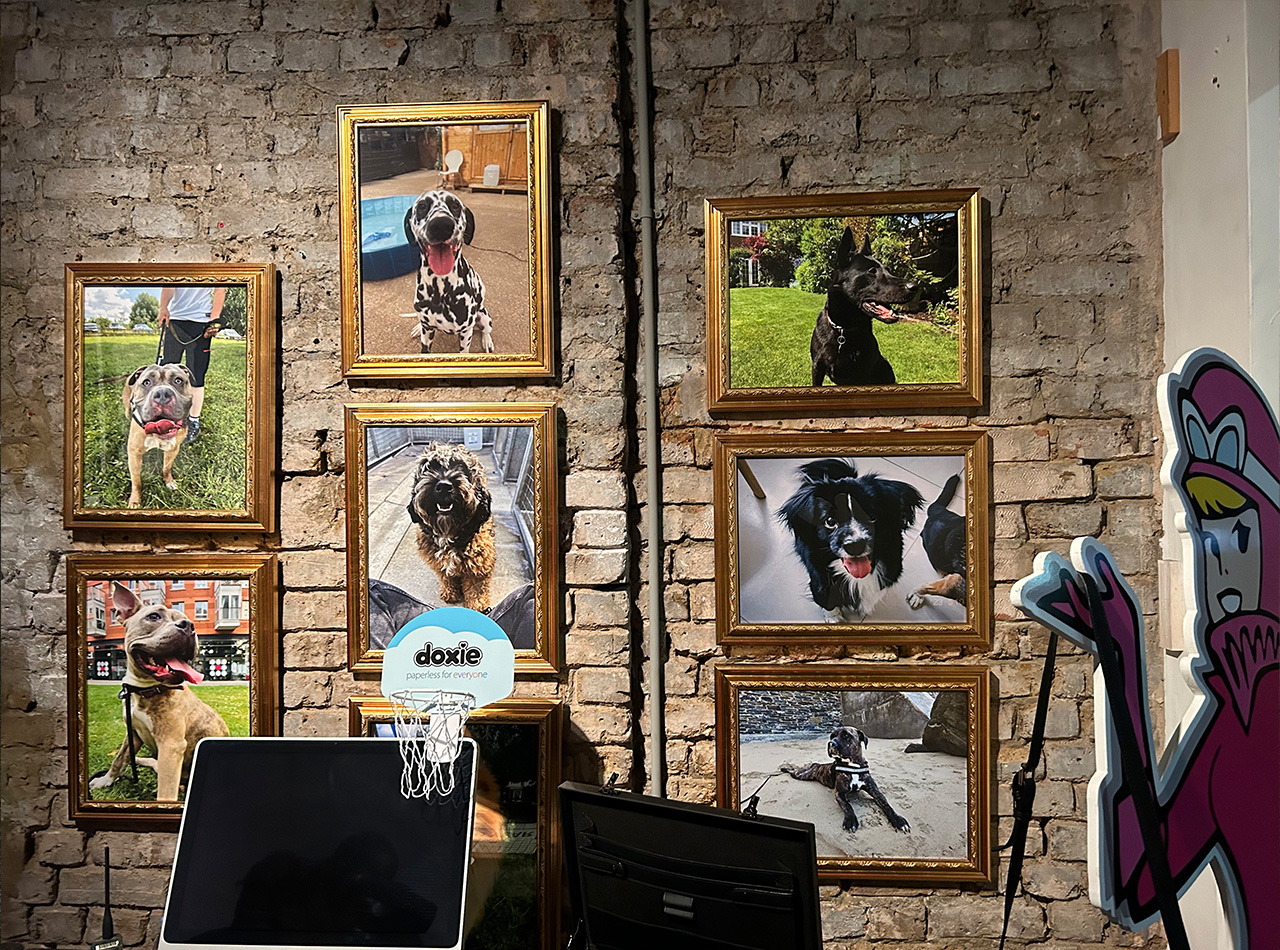 Samms' 'Half-time' print, framed by the entrance, first caught my eye. He used the 1932 'Lunch atop a Skyscraper' black and white photograph, and sat the eleven ironworkers on the Nike swoosh. A statement that we all need a break.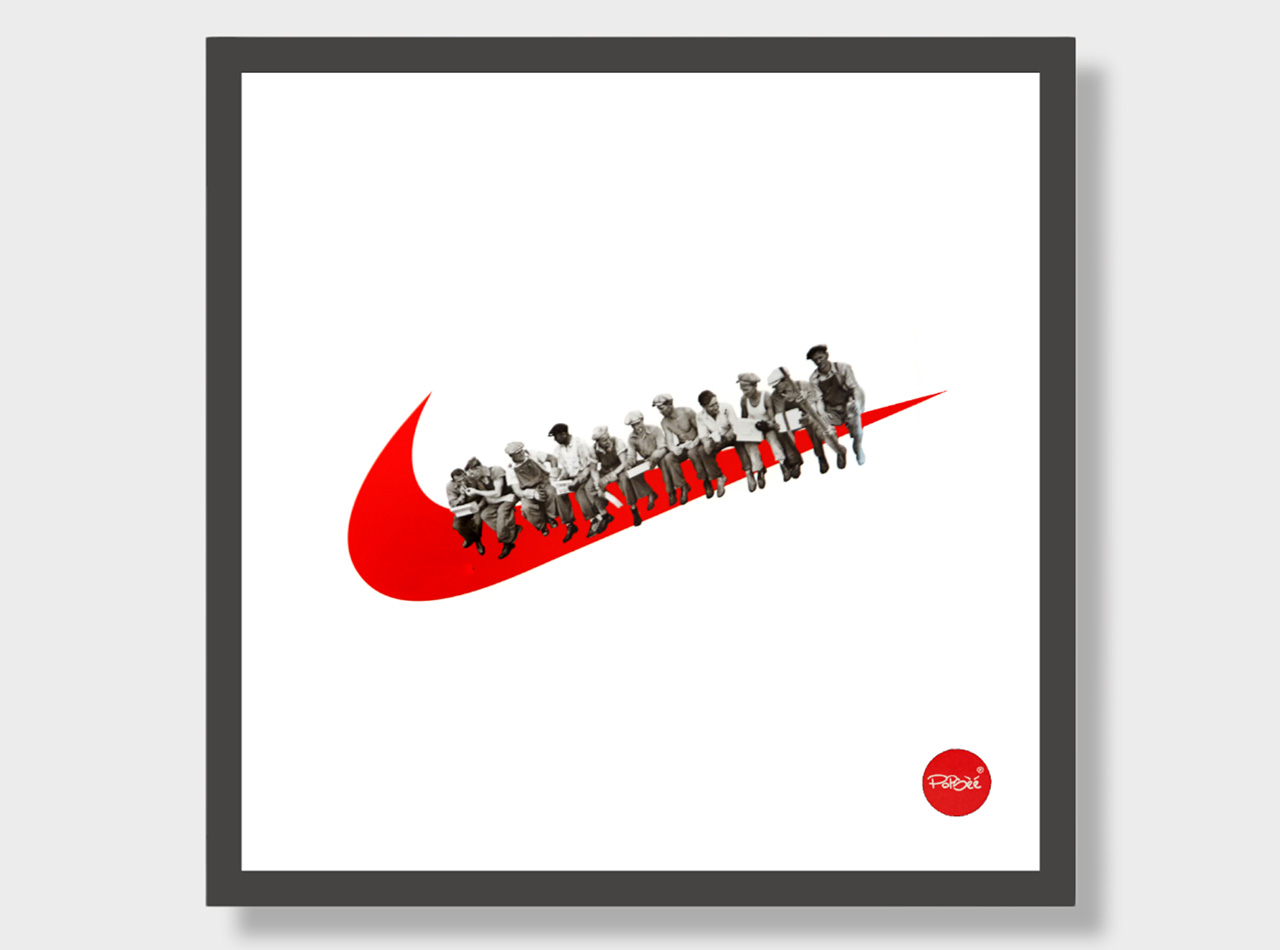 An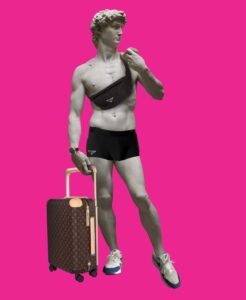 other example of his use of brand logos is in his print of The Italian Renaissance sculpture, David of Michelangelo.
The statue is pulling a Louis Vuitton suitcase, wearing Nike trainers, Prada underwear and bag, and a Rolex Watch. I like that PoPsee admits to printing this design with an error left on it, because 'perfection doesn't exist.'
In keeping with the atmosphere PoPsee created, the music, food, and beverages aided in completing his vision perfectly. The DJ played mellow House, alongside a projector screen playing videos of BMXing, breakdancing, hip hop and skateboarding – Activities that Samms was surrounded by in his youth.
Oeno Group wines, East London Grapefruit Gin and Tonic, East London Vodka and Rhubarb, and Estrella beers were served. Followed by Rogue Sarnies' gourmet sandwiches: Beef Dips, Spicy Mortadella, and Aubergine Parm. I've never enjoyed a sandwich so much in my life!
After spending time interpreting the art myself, it was interesting to meet Barry Samms and hear his intended messages of the works. He is passionate about waste, homelessness, animal welfare and ocean conservation. The latter being the theme of my favourite piece, 'Bon Appetite', a symbol of the damaging shark fishing industry.
During our conversation we exchanged stories of our love for marine life, as well as the surf culture in Cornwall. Perhaps, in the future we could see a digital piece intertwining historical pictures with surfing. Victorians shredding the Newquay waves, instead of riding horses, while carrying swords pierced through pasties and repping Billabong clothing – an image taken from the British Cavalry and turned into something fun. That was just my shower thoughts, but if it comes into fruition, Barry – I want commission!