We've all experienced a sense of intense panic when realising we have lost our keys, phone or wallet. The makers of the SpotyPal smart tracker say finding them again is easy.
The SpotyPal smart tracker is the latest creation of IT company Terracom Informatics. Its mission is to reunite owners with lost and misplaced items by tracking them via advanced mobile and cloud technology.
What differentiates this tracker from others is that the SpotyPal also has an SOS panic button that alerts your chosen others in case you get into trouble away from home.
How it works
The Spotypal is a small lightweight device weighing just 10g and measuring 36mm X 36mm – a similar size to a 50p coin. It comes in a choice of three colours (red, white and black) with various attachments so you can affix it to your phone, keys, wallet, luggage or even bicycle. It is splash-proof and has a battery life for 12+ months.
To get started, download the free App on Google Play or the App Store, and enable Bluetooth and Location services – you'll need to leave the app running in the background so it can communicate with the SpotyPal.
Set up a login account on the App and connect the SpotyPal by holding it close to your phone. Press the button in the bottom right-hand corner of the device until you hear a beep and the LED starts flashing. Your SpotyPal is now active and ready for action.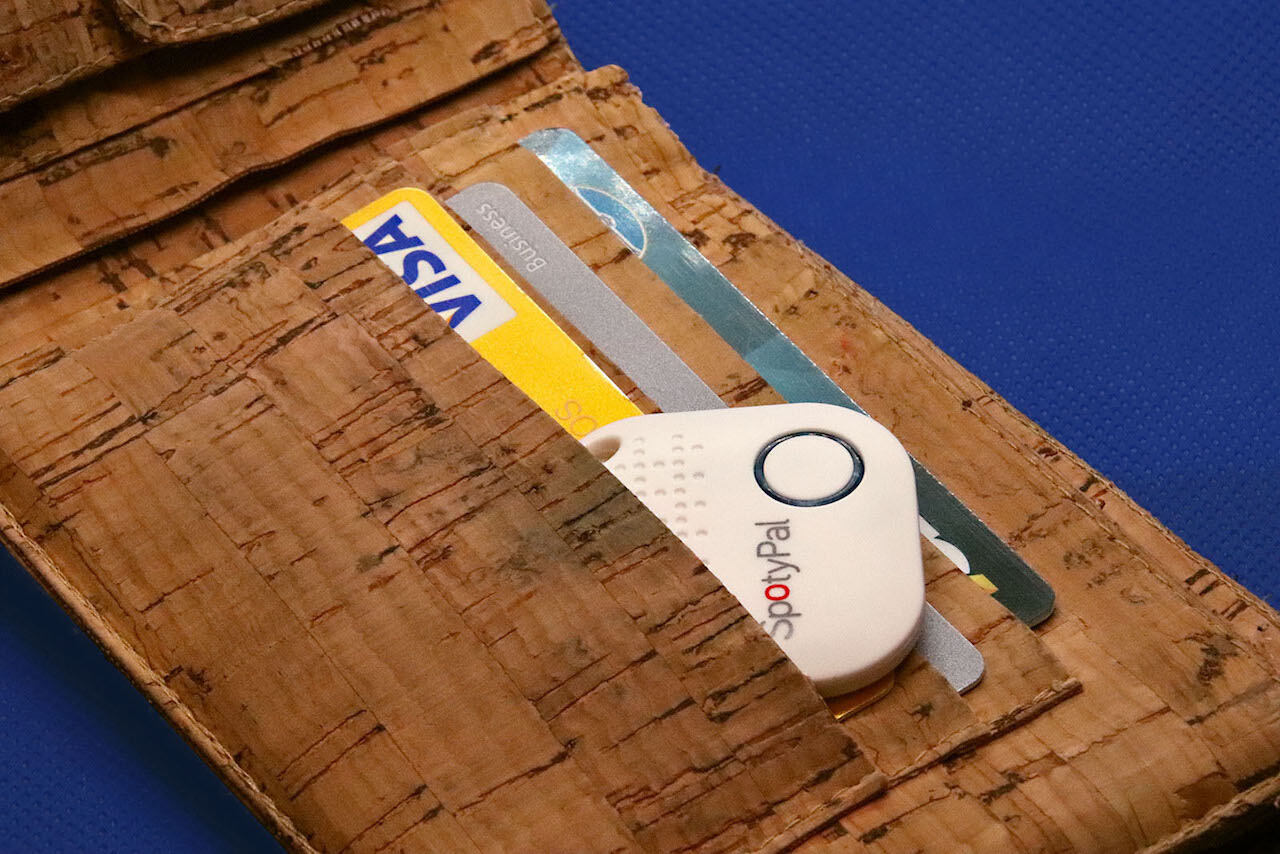 Attach the SpotyPal to your chosen item, and if you misplace it, open the App on your device and click "CALL". Your SpotyPal will emit a high-pitched beeping noise, making it easy to locate.
If you have lost the item further afield and is out of range click on "SHOW MAP" and you can see on a map where you last had it. Easy peasy!
Special features
Separation alert: Set up a separation alert on your phone to receive a notification when you're about to leave your item (notification on mobile) or phone (notification on device) behind.
Crowd-finding: if your item is completely lost and the attached device is out of range, report it to "Finding Community" on the App. Your SpotyPal will omit a signal that can be picked up by any other SpotyPal user that is within that item's range. His/her app will then send a message to your app (automatically and anonymously) reporting the location of the missing item so that you can retrieve it as soon as you can.
Locate your phone: As well as using the SpotyPal to find your lost items, you can also use the device to locate your phone. Go into settings on the App and select the option to "Call Mobile phone". When you press the button on your Spotypal, your phone will start ringing, even when on silent.
Use the Spotypal as an alarm clock: Get a decent night's sleep and leave your phone charging in a different room. Click the alarm clock sign on the top right of the App and set a time. Your SpotyPal will wake you up with its familiar high-pitched beeps.
SOS alerts: If you are in danger, you can setup an SOS alert via the App. When you press the button on your device, it will send an SOS alert with your GPS position via email to predefined users.
Replaceable battery: the SpotyPal's battery (type: CR2032) is easily replaced by opening the notch on the corner, using the plastic triangle included with the device.
What we think of SpotyPal
For something so small and light, the SpotyPal certainly packs a punch. Though I will probably lose my keys again (a regular occurrence), I feel confident I will find them far more quickly. I am also impressed with the huge range of features, all of which are included at no additional cost. As a regular traveller, the SOS feature will bring me peace of mind, and I love that I can also use the device to find my phone.
The alarm clock feature is a nice touch, although I am not sure I would want to wake up to that high-pitched beep after a heavy night out.
Want to purchase SpotyPal?
The device is available to purchase from £24.98 ($29).
---
Disclaimer: this article was sponsored by SpotyPal