Staying at airport hotels is not something you'd normally do by choice. It's usually for reasons of necessity – early or late flights when public transport doesn't run.
They can be pretty grim, but the Radisson Blu Hotel at Stansted airport shows some imagination. The cavernous space-age reception area soars up to the skies with the Angels' Wine Tower, a 13-metre high wire rack holding more than 4,000 bottles, leading the way. Even better, you can stumble out of bed and be in the terminal within five minutes. And if you're hungry, they'll provide breakfast from 4am.
Who for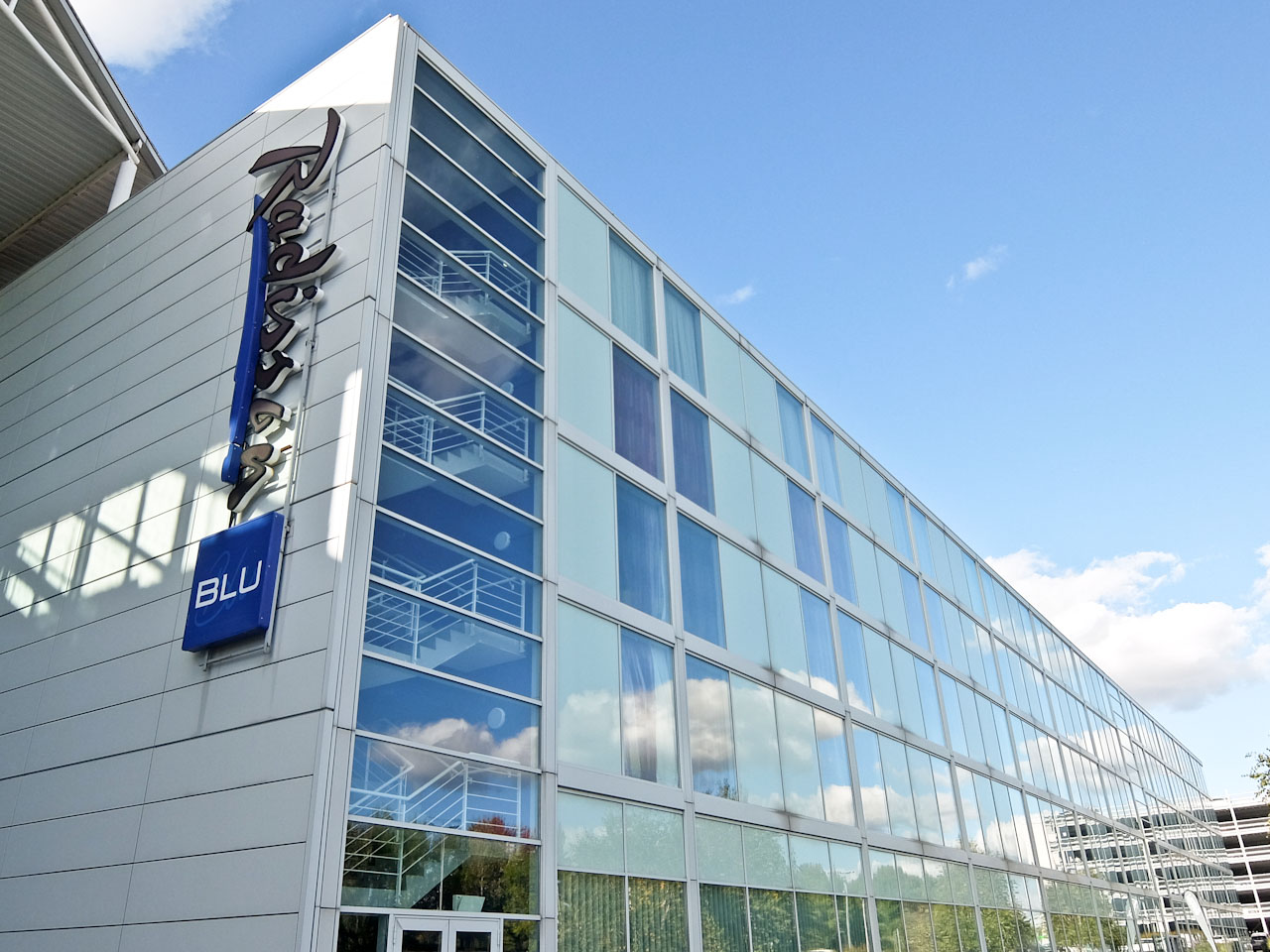 Air passengers and business people who need somewhere to meet.
Accommodation
The 500 spacious rooms are tastefully decorated, and it's easy to forget you're in an airport hotel. There are four types of rooms: standard, family, premium and suites, all of which include as tea and coffee-making facilities, a safe and a mini-bar.
We stayed in a premium room which had a gloriously comfortable large bed. Soft linens, black-out blinds and good noise insulation guaranteed a good night's sleep. Free high-speed wireless Internet, satellite TV with in-house movie channels, ironing facilities and 24-hour room service were all provided.
Food & Drink
There are two stylish on-site restaurants – Collage, a British Brasserie and Station 169 for succulent steaks and delicious grilled fish. Enjoy a pre-dinner drink and unwind in the Wine Tower Bar which features the Hotel's sensational centrepiece a refrigerated wine tower housing thousands of bottles of wine. The 'Super Buffet Breakfast' can either be taken downstairs in the restaurant or inside your room. It offers extensive choice, including full-English and continental options.
Facilities
The PACE Health Club offers top-quality cardio and resistance training equipment, an indoor pool, sauna and steam room. The club holds daily exercise classes, including spinning, yoga, aqua aerobics and swimming lessons for all fitness levels.
For business events, the Essex Suite has space for 600 delegates, and there are 18 other meeting rooms with floor-to-ceiling windows, providing natural daylight.
How much
Prices for a night at Radisson Blu Stansted start from £124.
What's nearby?
The airport is five minutes' walk away, along with train and bus stations.
VERDICT:
For air travel without worry, this Stansted Hotel ensures you'll never miss a flight. Even better, the facilities and comfort are up there with the best so your holiday or business trip begins here.