Dylan Coastal Resort has a new name that only emerged post-lockdown after millions of pounds of investment. The resort emerged from Laugharne Park, an old-time holiday spot for caravans and a handful of chalets in Carmarthenshire.
Now, though, 58 contemporary hilltop and cliff-front lodges – huge windows, timber decks, hot tubs – have replaced the past, with more to come. And £7m Milk Wood House with its bar, restaurant, spa and swimming pool sits just above the water, and on the edge of Milk Wood itself, immortalised in Thomas's novel Under Milk Wood.
The lofty setting gives everyone a panorama over the snaking estuary, high tide waters ebbing away to leave sandbanks and snaking channels. The river itself reduced to little more than a stream. Breakers cast white streaks across the sea beyond, and the Gower Peninsula is in the distance. The pretty town of Laugharne is an easy drive to deserted beaches and busier seaside resorts.
Who for
Everyone who likes to get away from it all. There are plenty of older visitors enjoying the tranquillity, but lots of families, too, lodges for four of six people in two and three bedrooms. While not an out-and-out family resort, there are big grassy areas and lots of walks. The lodges have large kitchens, and the TVs feature BBC iPlayer and other streaming services.
The location means that anyone can enjoy days out at a variety of seaside spots. And the restaurant's wood-fired pizza oven will enchant children of all ages.
Accommodation
The rows of smart-looking lodges, some with pitched roofs and looking like timber cottages, others flat-roofed and cabin-like, are all splendidly contemporary on the inside.
While each is individually owned, fittings and décor comply with the resort's rental programme, meaning uniform in style and offering, cool, pale and relaxed. Our two-bedroom lodge featured a huge open-plan living area and kitchen with windows taking up almost the whole sea view wall, sliding back to create a French balcony.
The big corner sofa took in the view, as did the dining table behind it. The kitchen had it all, including a smart halogen hob and dishwasher.
Outside, the deck featured a private hot tub with views (not all lodges have a hot tub) and a table and chairs from which to enjoy the balmy west Wales weather.
The main bedroom had a large double facing the large window (and more views), while the second room, with two single beds, had porthole windows onto the wildflower-covered bank behind. The main bedroom had an ensuite washroom with a rain shower, with another outside the second bedroom.
Free wi-fi is excellent. This summer, there are 58 lodges, with a further 19 coming for the start of 2022. All are a stroll away from reception in Milk Wood House.
Facilities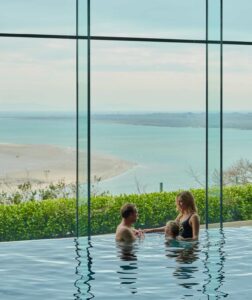 You'd have to go far to find a more inspirational swimming pool. The glass walls, two storeys high, enjoy the same panorama as the lodges, but from closer to sea level – and with the pool's infinity construction, meaning that the water seems to pour into the scenery. Much of the interior is slate grey, reflecting the slate of the cliff outside. A sauna and steam room both have glass fronts with views.
And an adjoining hydrotherapy pool in the same slate finish, open-air but undercover, lets one laze on a chrome underwater sofa and enjoy the setting.
The spa offers a range of massages and treatments, including organic seaweed therapies, in two elegant rooms, soothing and with no view to distract, but pedicures and manicures occur in a spot on the other side of a glass wall from the great outdoors.
Food and Drink
The Milk Wood Bar & Kitchen, on Milk Wood House's first floor, is glass-walled, with an airy interior and plenty of outdoor seating on three terraces. By day there are salads, sandwiches and cakes. Come evening and dishes include pan-fried hake that sits in a cockle broth, a nod to the estuary's historic cockle beds, but there's steak, burger and fish and chips as well, along with a hand-crafted selection from the wood-fired pizza oven. The bar serves everything from cocktails to local beer.
A couple of minutes' walk outside the gate is Brown's Hotel, a historic spot where Dylan Thomas liked to drink.
How much
Four nights in a two-bedroom lodge, sleeping four, starts at £1,150 – luxurylodges.com
What's Nearby?
A path runs down from Milk Wood House to the waterside where the Wales Coast Path, which stretches 870 miles, passes by. Go left, and it potters through Milk Wood, so-called for its snowdrop carpet, although bluebells, wild garlic and other flowers continue towards summer. Continue over the hill to the cemetery where a painted wooden cross stands at Thomas's resting place, then circle back by another hillside path to the resort's front gate.
Go the other way along the Coast Path, and in a couple of minutes, you pass the Dylan Thomas Boathouse, the house where he lived from 1949 to 1953 (and worked on, it's believed, Under Milk Wood).
A few minutes later, you're outside Laugharne's Norman castle and facing the town's marshy seafront.
A drive away (or five miles by the Coast Path) are seven-mile Pendine Sands where, in the 1920s, Malcolm Campbell set two Bluebird land speed records, the second reaching 206mph. Next to the cafes and ice-cream shops, a dramatic Museum of Speed is rising, although lockdown has slowed things considerably.
Just across the Pembrokeshire border are the bigger beach towns of Saundersfoot (try parking at Amroth and taking the five-mile return coast walk) and Tenby, while the town of Carmarthen is in easy reach.