As I cast my eye over the London landscape I swear I saw a glint in the eye of Admiral Horatio Nelson who stands 53 metres high on his column in Trafalgar Square.
But then again I was squinting in the midday sun on The Rooftop restaurant on the 10th floor of The Trafalgar Hotel one Saturday lunchtime and the rays were bouncing off everything, including the bubbles in my pink sparkling wine.
I was here to enjoy the Blush Brunch of pink-hued food and wine, a collaboration between The Rooftop restaurant and Maison Mirabeau, purveyors of dry rosé wines from Provence. The union seems to be keeping the duo very much in the pink as all the tables were taken and booking in advance is essential.
Ambience
This is al fresco dining where far-reaching city views are captivating. As we nibbled the Asian tapas, our eyes devoured the scene over London's iconic sights such as Big Ben, Trafalgar Square, the London Eye, the Shard in the distance and of course the Admiral.
It's a compact space with perhaps just 20 or so cosy covers and the lively conversations and laughter are very much part of the soundscape.
Food & Drink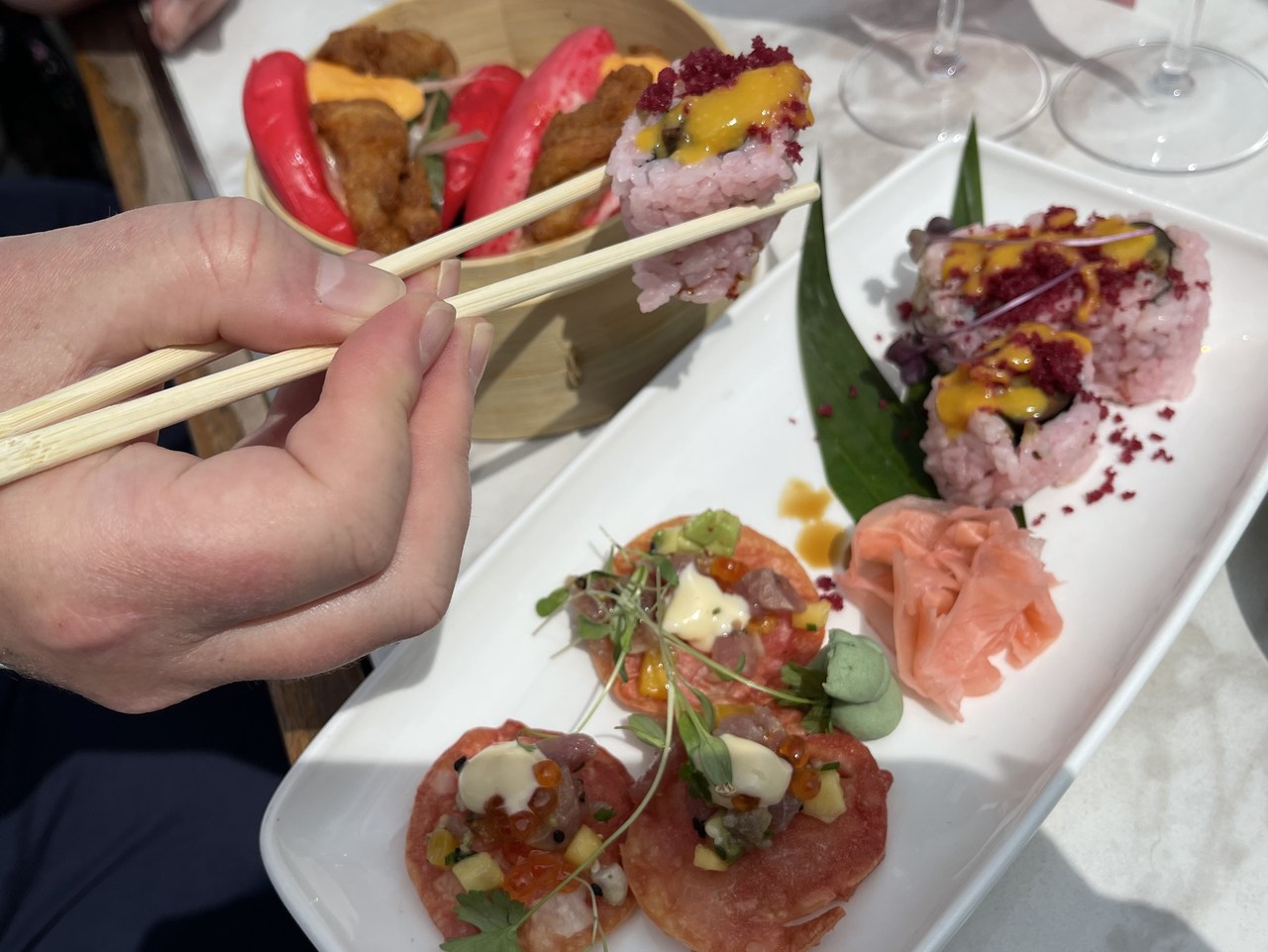 We were handed a pink menu which offers a small selection of tapas-style dishes to share. There' is also the Blush Brunch set menu which seemed to wink at us and therefore our choice.
Small plates turned up comprising a pink maki, shaved vegetables and pink ginger, tuna tartare tacos, mango, sesame seeds and a soya dressing, and pink boo buns stuffed with chicken Karoage (Japanese fried chicken) with Sriracha mayonnaise. These were really delicious and surprisingly filling.
The set menu also offers a handful of main dishes which included pink pancakes with scrambled eggs and a pink cheeseburger with sweet potato fries. These were tasty but as we were already satiated it couldn't deliver as much satisfaction as the tapas. Another time though, these would have filled a hungry hole most pleasurably had it not already been filled.
There are desserts on the menu and it was hard to resist the Magnum-style Yuzu ruby chocolate cheesecake, but as I couldn't eat another bite, I'll have to try it next time.
The two wines options are Mirabeau Cotes de Provence Rosé Pure and Mirabeau La Folie Sparkling Rosé. We chose the bubbly and though we did eye the Blush G&T, a Mirabeau Rosé Gin and tonic but that would probably have been a bit overindulgent for lunchtime and I doubt Nelson would have approved.
Verdict
Clinking glasses to toast al fresco dining high up over London? Well, life couldn't get better, could it?
Minimum spend £50 per person.