Why anyone would ply salt and pepper onto food without first taking a bite to taste is unfathomable. Yet many do it.
Heed my words, don't do it at Decimo. The gastro-tapas dishes are so artfully flavoursome that not a single grain of any extra condiment is needed.
The young, charismatic chef Peter Sanchez-Iglesias – a self-taught chef – calls salt "food enhancing stuff," and he uses it liberally. His mother and mentor has been known to raise a disapproving eyebrow at the practice. Yet Peter defied her. After all, this food enhancing stuff reduces bitterness while enhancing the sweetness in dishes, and, says Peter, it works well when drinking alcohol too.
Peter soon quelled his mum's concerns by bringing tasty, tangy, tantalising food to their family-run restaurants in Bristol. He even won a Michelin star at just 23 years old for their restaurant Paco Tapas (named after his dad) and then again for their other restaurant Casamia.
Well, Mrs Sanchez-Iglesias, I guess the salt stays. And what a coup for The Standard hotel to have him run Decimo restaurant, where the fusion of Mexican/Spanish gastronomic fare echoes the years he spent honing this popular style of food.
What you get is a range of flavours that at times tickle the palate, and other times offer downright headbanging wallops.
Ambience
I visited one lunchtime, taking the glass lift to floor 10, enjoying the views over Kings Cross as we rose. Quite a treat. But that nothing's compared to the convivial, lush, reassuringly warm atmosphere where toe-tapping live jazz sounds fill up the ether in this very hip, chic restaurant.
The space is expansive set out on different levels with lots of wood, plenty of lush plants, a red-tiled bar behind which mixologists strut their stuff, rattan ceilings, various types of tables, and dim lighting that talks of speakeasy discretion.
The open kitchen offers a fascinating insight into how the team conjure up their gastronomic offering on an open fire.
Food & Drink
A Tapas menu has its own language, and so we start with the Para Pica. This literally translates to "something for the table". So in effect, it is the starters.
We went for the Decimo's red pepper spread and bread. This is made from finely chopped peppers sourced from a tiny grower in Spain, mixed with cherry vinegar, parsley, garlic and their own coal infused oil which adds a smoky dimension.
Their bread, part rye part sourdough, comes from Cornwall and is flavoured with sea salt and comes sitting on olive oil pressed from olives whose trees were watered with filtered water.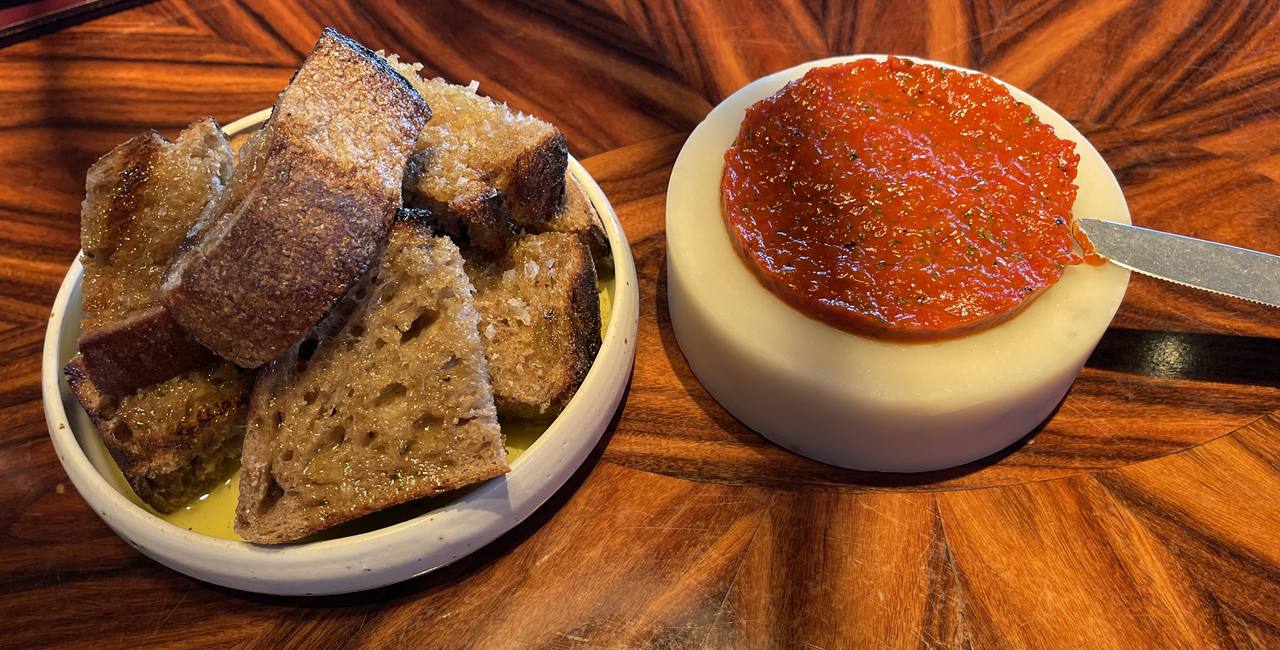 We downed this with a salty Margarita and a glass of rose champagne spiced with a sugar cube infused with chilly. It had quite the kick.
We also nabbed the smoked almonds, olives and a simply gorgeous tortilla.
Tortilla is, a far as I am concerned, an iconic tapas dish. It's usually quite dense, with potatoes covered in an omelette and served cold. Here it is made with a mostly egg yolk giving extra richness and a profound yellow hue and served warm. The soft innards ooze out when cut. This is possible because it is freshly made to order and artfully cooked to achieve creaminess.
We had to plan how to eat the tacos while keeping some semblance of decorum.
The second part of the menu is their two tacos – cauliflower and Chistorra, black bean. The ingredients come on flat tacos with a side sauce of coriander and are ready for rolling.
The chef was very generous, so we had to plan how to eat our tacos and still keep some semblance of decorum. The waitress gave us her suggestion – "eat your tacos by tilting your head back". We turned our napkins into makeshift bibs just in case.
The main course was a selection of plates. We chose the artichoke in Pardina lentils made with kombu, stock with a splash of soya sauce in the background, a chunk of halibut, Cornish lamb, which came beautifully charred yet soft on the inside, asparagus cooked in rosemary, and fried potatoes aioli. The aioli came as a shock of yellow made so by using just the egg yolk.