Still on the lookout for a fabulous gift for your Valentine? It's not too late. Check out these hand-picked – sometimes cheeky – gifts
OUR MOMENTS Couples game £16.95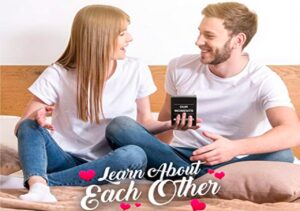 100 thought-provoking Conversation Starters for Great Relationships. Enjoy date night in a completely new way. Nothing could be sexier than just by asking a question and listening to the answer. This toy for couples is a sure-fire way to get the sparks flying. It will get you out of your comfort zone and remind you why you are together in the first place.
Love Gift Hamper £34.99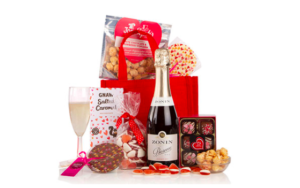 This Love You hamper is packaged in an attractive red tray and filled with sweets, chocolate and a half bottle of prosecco. So, raise a glass and delight in Joe & Seph's White Chocolate and Strawberry Popcorn, a generous bag of Haribo Heart Throbs, Guppy's milk and white chocolate lollies.
Date Night Hamper at Home with Piglet's Pantry – £99
Celebrate with a delicious hamper from Piglet's Pantry. Share a heart-shaped sausage roll wreath with a pot of tasty lime, pepper and tomato chutney. Nibble on canapés topped with smoked chorizo and paprika, minced beef and pea liquor mash, pulled lamb and sliced potato. Finish with apple crumble canapés and chocolate & strawberry tarts.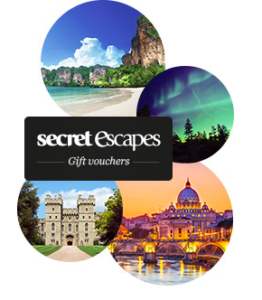 Holiday Gift Vouchers from Secret Escapes from £50 to £5,000
Give your loved one a travel voucher from Secret Escapes on Valentine's day to travel later in the year. It can be used on any current deals including spa, hotels and holidays – imagine gifting something to look forward to and knowing you got a fantastic deal.
Valentine duo make-up Set for her £27 (usually £32.00)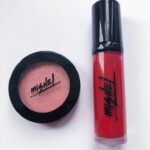 Add some Valentine sparkle with this striking scarlet red Mishel lip gloss and this silky shimmery mineral rose Mishel blusher. This scarlet red has a strong bright shine. This sexy rose-coloured silky enriched blusher floats over the skin creating streak-free healthy radiance. A sizzlingly beautiful Valentine's combo.
Lancôme Hydra Zen Star Gift Set, Exclusive to Boots £35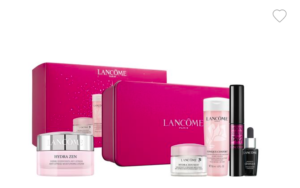 An exclusive 5-piece Gift Set featuring Lancôme favourites: a full-size Monsieur Big Mascara in black, Lancôme Hydra Zen Day Cream 30ml, Lancôme Hydra Zen Night Cream 15ml, Lancôme Tonique Confort 50ml – mini, Lancôme Advanced Génifique 7ml. All wrapped in a reusable Lancôme beauty tin.
Alexis cake personalised letterbox cake £39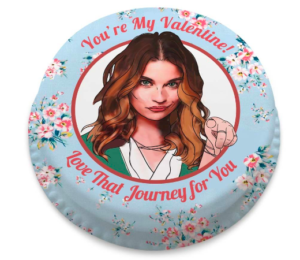 Tell them you're their Valentine this year with this Alexis inspired cake You will get up to 12 slices and you can choose from several recipes including traditional sponge, lemon drizzle gluten-free, dairy-free and rich chocolate chip. The cake measures 5″ in diameter (12cm diameter x 2.5cm high) and is designed to fit through a standard size letterbox, which means these cakes can be sent by post.
Cheeky Sex IQ Game £7.99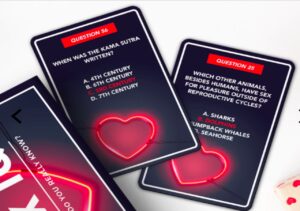 Do you consider yourself a sexpert? This sex IQ test will show you if you are a sex genius, or if you are just blowing hot air.
This game is good fun and an ideal way to get to know your partner even better.
Argon Tableware Heart Shaped Natural Slate Dining Set – 6 Coasters & 6 Placemats £23.99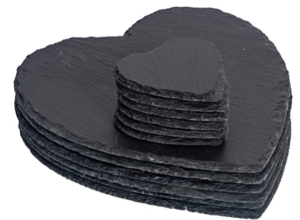 Spruce up your valentine dinner with this beautiful and stylish heart-shaped Argon Tableware heart Natural Slate Placemat Set includes six coasters and placemats. This rustic tableware has soft padded feet ensures so they won't scratch the table surface.
Love Gift Box – 12 Chocolate Hearts £9.95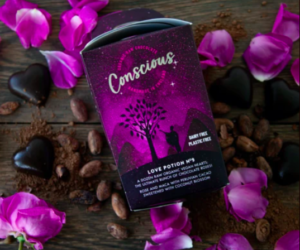 This gorgeous chocolate gift box with 12 creamy chocolate hearts (15g each) made by Conscious Raw Chocolate using their 'Love Potion No 9' recipe, – a sensual and luxurious experience, reminiscent of the Prussian 'Turkish Delight'. These organic, dairy free, vegan chocolates are made with essential oil of rose and maca and contain 62% Peruvian cacao.