You've probably already heard of UNESCO World Heritage Sites, places of international significance such as Stonehenge and the Taj Mahal. But did you know that UNESCO also recognises and gives protected status to unique forms of art, music, dance, and other cultural traditions? The most important of these treasures are added to the Intangible Cultural Heritage of Humanity list. Here are our top 10 new additions to UNESCO's list which you can experience for yourself on your travels, broadening your cultural horizons.
1 The Art of Bakhshi, Uzbekistan
Uzbekistan's Bakhshi artists are not just poets: they are also storytellers, singers, and musicians. For thousands of years, Karakalpaks and Uzbeks have passed on their folk tales and legends through families of bakhshis, performers who retell epic poems completely from memory.
They accompany themselves on traditional instruments, the stringed dombra and bowed kobuz, captivating audiences with their melodies as well as the words.
2 Stilt Jousting, Belgium
Jousters on horseback were cultural icons of the Middle Ages, but in 15th century Belgium competitors did away with the horses and fought on stilts instead. The tradition is alive and well in the city of Namur. where teams of jousters are accompanied by flag bearers, drummers, and fife players. Tournaments typically take place on festival days, and though it is traditionally a male-only sport, the stilt jousting association has also trained women since 2018.
3 Falconry, Multiple Countries
24 countries, including Qatar, Poland and Pakistan to Kyrgyzstan and the Republic of Korea, jointly nominated "Falconry, a living human heritage" to the Intangible Cultural Heritage list. The new inscription recognises the practice's 4,000 years of history, its cultural symbolism, and the fact that the sport is a way of reconnecting with nature, as well as safeguarding falcons and their habitats in the modern world.
4 Congolese Rumba, Democratic Republic of Congo
The sound of Congolese rumba pulses through the towns and cities of the Congo. Evolved in part from an ancient dance form called nkumba (meaning "waist" in Kikongo), it contains the sounds and moves you need to mark every occasion, be it a wedding or a wake. Neighbourhood clubs and dance organisations not only teach and promote the rumba, but also support the next generation of instrument makers.
5 Durga Puja, India
The annual festival of Durga Puja is celebrated most in Kolkata, but you'll find it wherever there's a Bengali diaspora. The 10-day festival honours Durga, a Hindu mother-goddess, and sees handmade clay idols processed through the streets and then immersed in the waters of the River Ganges. As the clay is dug from the riverbed, this ceremony signifies the goddess' homecoming and a return to your cultural roots.
6 Inuit Drum Dancing, Greenland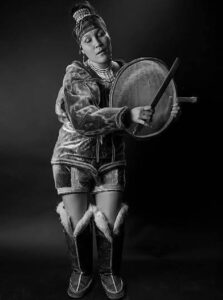 The Inuit are the indigenous people of Greenland, and their traditional drum dancing and drum singing are now recognised by UNESCO. This is an indigenous form of Inuit artistic expression
Drumming performances take place during national holidays and festivals and can be a single person or a group. A single drum dancer may also perform with a choir.
The drumbeat accompanies narrative songs with themes such as love, longing, and hunting.
The practice is symbolic of equity and equality in Greenland, representing a sense of shared identity for all members of the Inuit community.
7 Truffle Hunting, Italy
Black and white truffles are regarded internationally as the most gourmet of ingredients. In rural Italy, the tartufai (truffle hunter) is an important cultural figure. Working in partnership with a specially trained truffle hunting dog, a successful tartufai must be knowledgeable about the climate, environment, and vegetation, and be able to find and extract these natural treasures without disturbing the surrounding soil.
8 Traditional Craft Skills of Al-Naoor, Iraq
Al-naoor is a wooden water wheel found on the Euphrates River in Iraq. These huge structures can be up to 12 m in diameter, and are used to lift water for irrigation, and, in more recent times, to generate electricity. Numerous craftsmen are involved in the construction of an al-noor, and when a new wheel is installed, the occasion is marked with poetry, songs, and dance.
9 Art of Embroidery, Palestine
Embroidery was made and popularised in Palestine's villages, but has since spread to urban areas and to the Palestinian diaspora. The traditional women's garments include a thob (long dress) worn over trousers, a jacket, and a veil. The colour and design of the clothing reflects a woman's social status and the region in which they were made, but motifs such as birds, trees, and flowers are commonplace. Embroidery is an intergenerational activity, and a social one, as women frequently come together with friends and family members to sew.
10 Falak, Tajikistan
Falak is the music of Tajikistan's mountain communities. The word falak means "heaven" or "fortune", and the genre explores many philosophical and emotional topics, including love, suffering, separation, and the homeland. Usually a soloist is accompanied by an ensemble, and both men and women can be falakkhons. There's an annual Falak Festival, but as falak is viewed as a state of mind and an identity marker, it is performed on a wide range of occasions, including whilst working in the fields or looking after animals in the mountains.
Next time you are planning a trip, don't just think about the historic monuments or other physical tourist attractions you can see. Factor into your itinerary the living traditions of the communities you visit: experiencing intangible cultural heritage firsthand will entertain and educate you about cultures past and present in a way no building can.