Andalucía is one of Spain's most beloved tourist hotspots, evoking thoughts of white-washed buildings, red wine, tapas, sunshine and beaches. This is where the earliest Islamic influence in southern Spain harks back to the 8th century, following the Moorish invasion of the Iberian Peninsula.
But did you also know that Andalucía is home to Europe's second highest mountain range, the Sistema Penibético, and the country's most important wetlands reserve?
Andalucía's three principal cities, Granada, Seville (the region's capital) and Córdoba, are bursting with world-class heritage sites and plenty of romantic spots for couples to enjoy, such as the beautiful gardens at the fortified palace of Alcàzar de los Reyes Cristianos in Córdoba.
To help you make the most of your visit, we have compiled a list of our favourite things to see and do across the region of Andalucía.
TOP TIP: For more inspiration, pick up a copy of DK Eyewitness' Top 10 Andalucía and the Costa Del Sol, a pocket guide with insider tips, colour photos and pull-out laminated map of the region.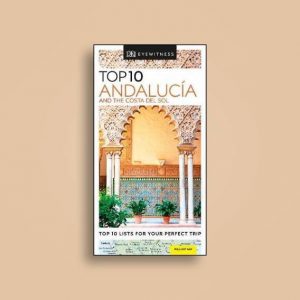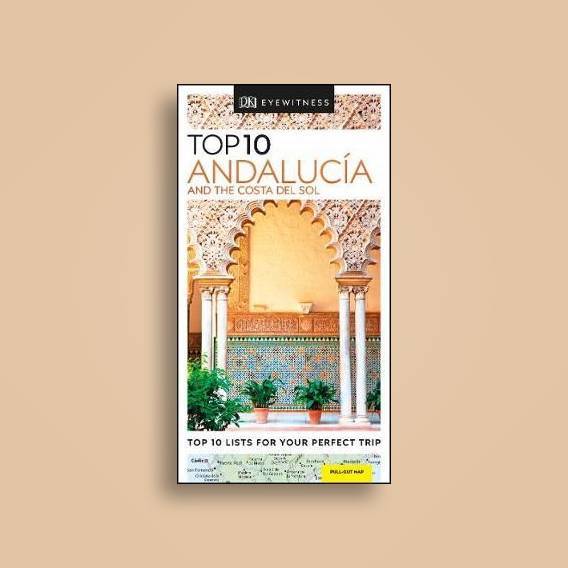 Check out DK's guide to Andalucía and get inspired
Discover Andalucía's Moorish heritage at the Alhambra
The earliest Islamic influence in southern Spain harks back to the 8th century, following the Moorish invasion of the Iberian Peninsula. Consisting largely of the Amazigh people of North Africa, they ruled for some 800 years and left an impressive cultural legacy. Among them is one of the best-preserved medieval Arab palaces in the world, the Alhambra.
Built over several centuries, this grand monument sits on the largely inaccessible Sabika Hill overlooking Granada, and is most famous for the qu'lat al-Hamra (Red Fort).
The complex comprises numerous palaces, such as the Palacio de Comares, which was built in the mid-14th century for the Sultan. Here he would receive dignitaries and deal with diplomatic issues. When you step onto the ramparts of Plaza de los Aljibes you get amazing views of Granada.
As you leave the site, stroll through the gardens and admire the five porticoed arches (pictured) – all that's left of an area that used to have palaces of its own.
Visit the golden-domed Cathedral at Cadiz
Cadiz is one of Europe's oldest cities in the region, with an archaeological record dating back more than 3,000 years.
In the Roman era, this is where Julias Ceasar held his first public office and was a favourite holiday spot of Lord Byron.
The city has retained its age-old charm with its attractive vistas, ancient city walls (found in the Old Town) and well-preserved historical landmarks. One such landmark is the golden-domed Roman Catholic cathedral. Built between 1772 and 1838, it was known as the "Cathedral of the Americas" as it was built from money earned from trade between Spain and America. The Cathedral towers above the rest of the city and you can enter the Levante Tower to enjoy wonderful views of the coast.
Relax on the beach in relative peace
Andalucía may be a tourist hot spot, but it's still possible to enjoy an afternoon of sunbathing in relative peace. Pick up a car and drive to Huelva Province's Costa de la Luz, where there are several remote beaches including Mazagón, located 23 km (14 miles) southeast of Huelva.
The picturesque dune beaches are framed by pine trees and a low-key vibe. Though popular with Spanish families in the summer months, there's plenty of spots to find some glorious solitude.
If you want to stick to the Costa del Sol, Playa De La Calahonda in Nerja is a dinky beach (just 120m long) with gorgeous views of craggy cliffs. It's a lovely spot outside of the peak season, and even during the summer, it's quieter than many of Costa del Sol's central beaches.
Discover more fantastic beaches in DK's Top 10 guide to Andalucía
Spot amazing wildlife at Parque Nacional de Doñana
Established in 1969, the Parque Nacional de Doñana in western Andalucía is an important wetlands reserve in southern Spain and covers an impressive 2,470 sq km (954 sg miles).
The variety of habitats (dunes, pine & cork forests and wetlands) make this a prime site for migrating birds. The park has been designated a UNESCO Biosphere Reserve.
Guided tours depart from the Visitor Centres twice a day and itineraries change depending on the time of year. Spot flamingos, purple gallinule (crane-like birds with big feet and bright red beaks), white storks and if you're really lucky, one of 50 rare Iberian eagles.
Mammals to look out for include Spanish red deer (pictured), spur-thighed tortoises and the Iberian lynx – the emblem of the park and currently the most threatened feline on earth.
Check out the incredible views at Ronda
The must-see town in the mountainous region of the Serranía de Ronda is the most famous of the pueblos blancos.
The "White Towns" of Andalucía, located in the northern provinces of Cadiz and Malaga, are characterised by their whitewashed houses with red or brown tiled roofs.
Just a 30-minute drive from the Costa del Sol, Ronda perches upon a sheer outcrop that is separated by the 100m-deep El Tajo gorge.
The spectacular 18th century Puente Nuevo bridge connects the old city, La Ciudad, with the new. La Ciudad contains some beautiful Moorish palaces and gardens as well as the excellently preserved Baños Árabes (Moorish baths).
To get the best pictures of Ronda, walk down into the gorge along the Camino de los Molinos. During the springtime, the area is awash with flowers and offers unbeatable views of the Puente Nuevo bridge.
Explore Roman ruins in Seville
During the Roman times, Andalucía became one of the empire's wealthiest outpost thanks to its abundance of produce which is why the region is dotted with so many Roman ruins.
One of the most famous sites is Itálca, Spain's first Roman town built in 206 BC. The complex is a short drive from Seville and features a magnificent Roman amphitheatre that was a filming location for the thrilling season 7 finale of Game of Thrones.
The town was the birthplace of two famous Roman emperors: Trajan and Hadrian, who invested much wealth into the town. You can view a series of stunning mosaics, many of which are complete. This includes the House of Birds depicting many different species of bird and the House of Neptune which portrays Neptune riding a chariot drawn by seahorses.
Cycle through the mountains of Malaga
Andalucía has some excellent cycling paths to suit all levels of ability, whether you're looking for a gentle cycle along the beach or a high-octane adventure in the mountains.
While there are plenty of cycling options throughout the region, head to Malaga for a pick of the best.
If you're feeling adventurous (and have some mountain biking experience) start at the village of El Colmenar and climb through the Bética Mountains via the TransAndulus route. Pass stunning gorges, cycle through the nature reserve of the Sierra de las Nieves and cross the Guadalhorce River at El Chorro dam.
Another fabulous mountain route starts at the pueblo blanco of Cortes de la Frontera. Take in the amazing scenic views and climb to Atajata, one of the smallest villages in the Malaga province. Then its downhill all the way to Ronda.
Check out more cycling routes in DK's Top 10 guide to Andalucía
Family fun in the Costa del Sol
Andalucía is a family-friendly destination and the Costa del Sol is designed to keep your kids entertained. The "Sun Coast" is made of cities including Marbella and Malaga, and is sunny 320 days a year. While it may not be high on culture, it is lively, exuberant and packed with things to do.
Younger kids will love Funny Beach on Marbella's beachfront, which has a go-karting track, trampolines, a pool, children's rides and a family-focused restaurant. Within half an hour of Marbella, you will also find several water parks, Bioparc Zoo (where you can sign up to be a "Keeper for a day", and the Tivoli World Amusement Park in Benalmadena.
For a family-friendly adventure head to Elviria (a 10-minute drive from the east end of Marbella) and try the high ropes course at Adventure Amazonia, which includes a fun obstacle course in the treetops complete with zip wires. If you need to keep the grumpy teens entertained, there are plenty of organisations along the coast that organise scuba diving, quad biking and paint-balling.
Hike from Alájar to Linares de la Sierra
Enjoy some beautiful scenery on this hike from Alájar to Linares de Sierra, a quaint medieval-looking village in the province of Huelva.
The 6km (4 miles) marked trail is defined by soaring cliffs and follows an old road through the abandoned hamlet of Los Madroñeros. There's only one steep section and the path to Linares de la Sierra is a little overgrown, but's a lovely, peaceful walk with plenty of spots among the olive groves to stop and have a picnic.
Skiing in The Sierra Nevada
The Sierra Nevada ("Snowy Mountains"), made a national park in 1999, includes Spain's tallest peak, the Mulhacén, making it a popular spot for winter sports. The main ski resort, Sol y Nieve (meaning "sun and snow") has almost 100km of pistes including the 6km "Aguila", so there is plenty to keep you entertained for a day or two.
Sol y Nieve is Europe's most southerly ski resort and operates from December to April (and sometimes May if it stays cold enough) offering good pistes and reasonable accommodation options. Its claim to fame is that the region hosted the 1996 FIS World Cup Ski Championship race.
More about DK Eyewitness
DK Eyewitness travel guides are filled with expert advice, colour photographs and useful maps. DK Eyewitness publish guides to more than 200 destinations, from handy pocket-sized city guides to comprehensive country guides.
DK's Top 10 Andalucía and the Costa Del Sol is part of their Top 10 range – small in size but packed with information and beautiful illustrations.
CLICK HERE to purchase DK's guide to Andalucía
---
Disclaimer: this article was sponsored by DK Eyewitness