Legend has it that Krakow was founded by the mythical ruler, Krakus, who built the city high above a cave occupied by the fearsome Wawel Dragon, Smok Wawelski. In fact it was built in the 7th century and is one of the oldest cities in Poland.
Today, Krakow attracts around 10 million tourists every year, who are keen to explore the beautiful medieval old town and soak up the city's buzzing, artistic vibe.
Here's our guide to what to see and do in and around Krakow.
Explore the old town
Krakow's old town is a dedicated UNESCO World Heritage Site and is made up of a network of cobbled streets, historic architecture and Polish monuments. The old town is home to a buzzing nightlife scene, with more pubs and bars per square meter than anywhere else in the world (even Dublin!).
Start your self-guided tour at the main market square, one of the largest in Europe. Admire the grandeur of St. Mary's Basilica, a gothic church with an 82m high tower (and another slightly shorter 69m tower). Listen out for the trumpet call – Hejnał mariack – played every hour from the top of the taller tower, and poke your head into the interior of the church to marvel at the 15th-century main altarpiece made by the famous German Sculptor, Veit Stoss.
Next head to The Krakow Cloth Hall (or "Sukiennice"), a 19th century building that serves as the central feature of the market square. It was once a major trading centre of exotic goods such as silk, leather and spices.
Today, the ground floor harbours a vast selection of stalls selling cloth, Polish handicraft and souvenirs. The upper floor houses a gallery of Polish sculptures and paintings that date to the 19th century.
At Happy Hour, head to one of the old town's jazz bars for some live music and a glass of chilled Polish vodka.
For a entirely unique experience, spend your second day exploring the caverns of the Wieliczka Salt Mine, located just 40 minutes by train from the city centre. The salt mine was opened in the 13th century and produced table salt up until 2007, making it one of the world's longest operating salt mines. Reaching a depth of almost 327m, visitors can explore this incredible underground labyrinth, exploring 20 different chambers and learning about the construction and history of the salt mine. A designated UNESCO World Heritage Site, the salt chambers are also said to have healing properties, helping to sooth visitor's respiratory problems and allergies.
Follow in the footsteps of the great Polish artists
Krakow has produced its fair share of celebrated artists. During the 15th and 16th centuries in the city's "Golden Age" many works of Polish Renaissance art were displayed in the city, and can be enjoyed by visitors to this day, particularly at Wawel Royal Castle and its golden-domed Sigismund Chapel.
Poland experienced a second "Golden Age" in the 19th and 20th centuries, with artists such as Jan Matejko, who painted the sad jester, Stańczyk, and the multifaceted Witkacy, whose life and death are shrouded in mystery.
You can walk in the footsteps of these great artists, viewing their works of art and even visiting their homes. The House of Jan Metejko at 14 Florianska Street is the oldest biographical museum in Poland. It has been renovated in recent years and houses a collection of 6,000 items including letters, books and artworks belonging to Matejko, who was born, raised and even died here.
To view paintings by Witkacy, as well as Matejko and Stanisław Wyspiański, head to the Department of Modern Art at the National Museum.
Stay in one of Krakow's luxurious art apartments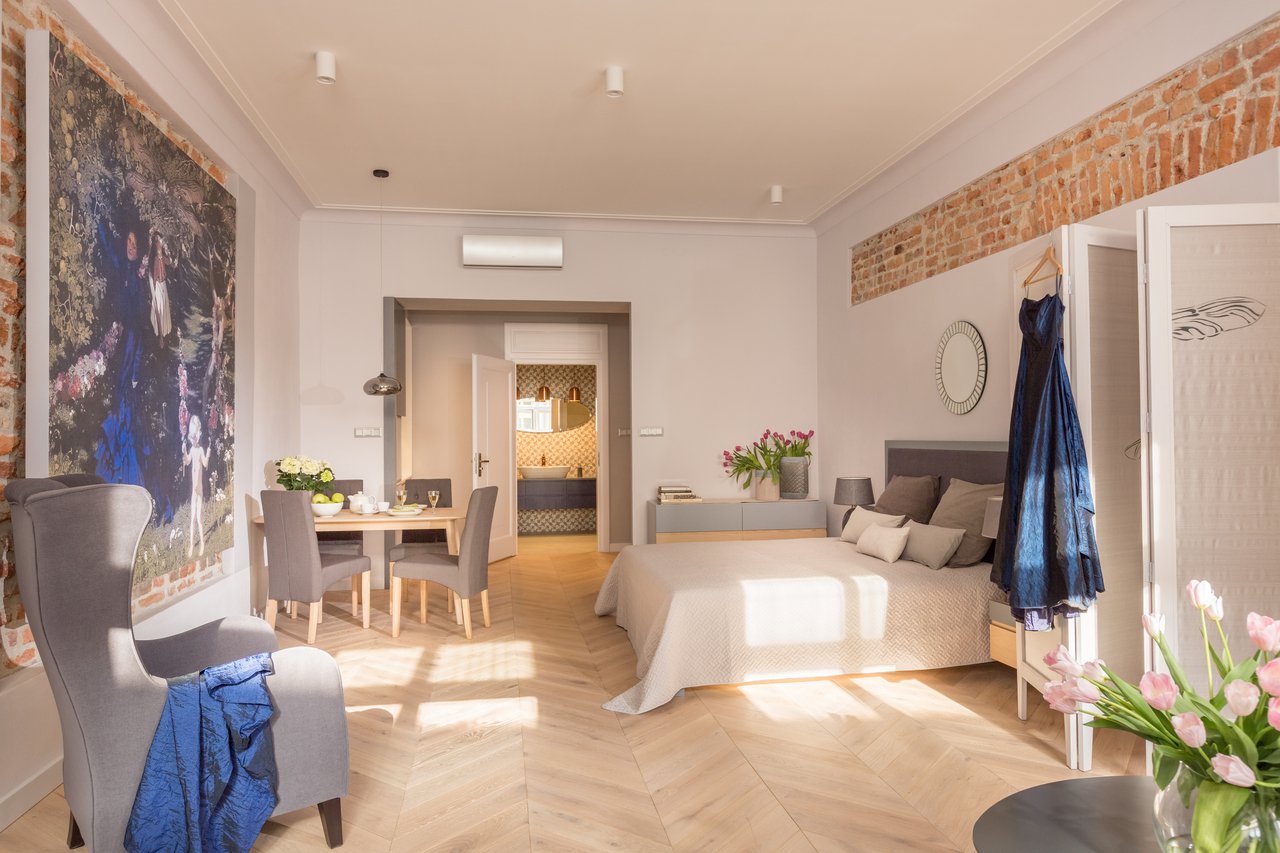 If you're an art fan or simply looking to stay somewhere a little different, Cadena Gallery Apartments have direct access to the Main Market Square and are decorated with prints by some of the great Polish artists mentioned in this article.
The modern apartments are furnished with a private bathroom and a mini-kitchen. There is free WiFi and guests can enjoy a complimentary breakfast across the street.
J. Paul Ii Balice Intl airport is just a 20-minute drive from the apartments. Prices start at just €50 per night.
Where to go shopping
Krakow has some fabulous shopping opportunities. For all your souvenir needs, head to "Kacper Ryx" Historical Shop and pick up a Wawel Dragon or a handmade clay flower. The quality of the products here surpasses the usual tourist tat found across the city.
Krakow also has some great galleries that sell Polish artworks and film posters. Galeria Dylag sells Polish paintings from 1940s to the 1970s and Galeria Plakatu has a vast selection of unusual film posters, some of which can be snapped up for less than £13.
Eat a pierogi (or three)
A visit to Krakow would be incomplete without tucking into a plate of pierogis, one of Poland's national dishes. The Polish dumplings can be stuffed with anything from cheese and potatoes to meat, mushrooms and cabbage.
Pierogis can be found all over Krakow, but some of the best places to eat them include at Starka Restaurant in the Jewish Quarter and the award-winning Pod Aniolami in the old town.
Drink craft beer in Tytano
A few minutes walk from the main square is an old tobacco factory, Tytano, that has been transformed into a series of bars, restaurants and nightclubs. Original features include high ceilings and exposed bring, giving this a proper hipster vibe. One of the most popular bars, Weźże Krafta, serves up more than 30 local craft beers on tap. Most of the venues here have indoor and outdoor seating, and the space also hosts concerts and fashion shows throughout the year.
Never forget
Though not a fun experience, you may wish to visit the Memorial and Museum Auschwitz-Birkenau, located roughly 60km from Krakow. An important but very upsetting part of history, KL Auschwitz was the largest of the German Nazi concentration camps and extermination centres.
As put to me by a good friend: "It had such an awful atmosphere, as if the ground itself was embarrassed to say what it had witnessed." Yet she also recommended it as a "must-visit", as we have a duty to learn what happened in those dark times so that history does not repeat itself.
---
Disclaimer: this article was sponsored by Cadena Gallery Apartments