Sir Richard Branson, arguably the king of the publicity stunt, has enjoyed a long and prosperous career in endorsing Virgin Airlines, bringing flare and sexiness to the aviation industry. The very name Virgin has a naughty ring to it – so risqué in fact that Branson was not allowed to register it with the British Patent office for three years because the officials thought it too rude.
As well as promoting their attention to comfort and swanky entertainment systems, Virgin is known for bringing a little frivolity to the passengers' flight experience. Perhaps more importantly, the Branson brand is one of innovation: attempting the unexpected and offering customers ground-breaking new services. For instance, Virgin America was the first airline in the U.S. to offer in-flight WiFi to all aircraft in the fleet.
Over the years, Richard Branson and the Virgin team have attempted a number of creative and somewhat barmy methods of gaining an edge over their flight competitors. Here we present our favourites:
Richard Branson to dress as air hostess
Having lost a bet to rival AirAsiaX over a formula one racing championship, Sir Branson is set to become the first airline CEO in history to dress-up and serve as a flight stewardess. Sir Branson will be donning the full attire of an air hostess on a special six-hour Perth to Kuala Lumpur flight, and will be expected to perform tasks from serving champagne to cleaning the bathrooms. He is also expected to comply with the company's grooming standards, which include wearing high heels, shaving his legs and putting on make-up.
This is not the first time Sir Branson has worn female attire for the sake of publicity. To celebrate the launch of his relatively short-lived bridal and wedding venture Virgin Brides, Sir Branson strutted his stuff down the catwalk wearing a $10,000 wedding dress and full face of make-up (see above pic). Although Virgin Brides is no more, the image of Sir Branson in drag is a difficult one to forget.
Virgin Galactic
Not so long ago, the desire to travel beyond the earth's atmosphere was an impossible dream. Even after Neil Armstrong's first steps on the moon, us mere mortals never imagined a day when we could pay our way to space. Thanks to Richard Branson and Virgin Galactic, that day has almost come.
In 2004, Sir Branson unveiled his sub-orbital plans at a press conference dressed in a Virgin-branded astronaut's suit. He successfully caught the public's imagination, and plans are fully underway to launch the first ticket-carrying passengers (at around $200,000 a pop) to the edge of space by the end of 2013.
In 2011, Sir Branson celebrated the completion of his spaceport in the New Mexico desert by abseiling down one side of it while swigging champagne straight from its bottle. We can only wait with baited breath to see what publicity stunt Sir Branson pulls next to showcase Virgin Galactic.
BA can't get it up!!
Virgin Airlines has enjoyed a long and open rivalry with fellow airline British Airways, which came to a head in 2000 when Branson pulled one of his most epic PR stunts.
British Airways were proud sponsors of the London Eye, the giant Ferris wheel on the banks of the Thames. Unfortunately for BA, during the press conference on the day of its erection, the wheel could not be lifted from the ground.
On hearing this news, Sir Branson felt it his duty to give the punters something to look at: "We had an airship company just outside London so we scrambled a blimp and the end result was an airship flying over the wheel bearing the slogan BA Can't Get It Up!!"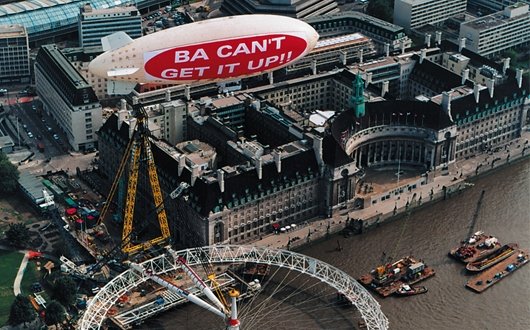 Quick thinking and the necessary resources resulted in one of Sir Branson's most cheeky and memorable stunts.
Branson's in-flight flirt tactic
In one of their more bizarre ventures, Virgin America has introduced a 'Seat-to-seat Delivery' option on their new Los Angeles to Las Vegas route.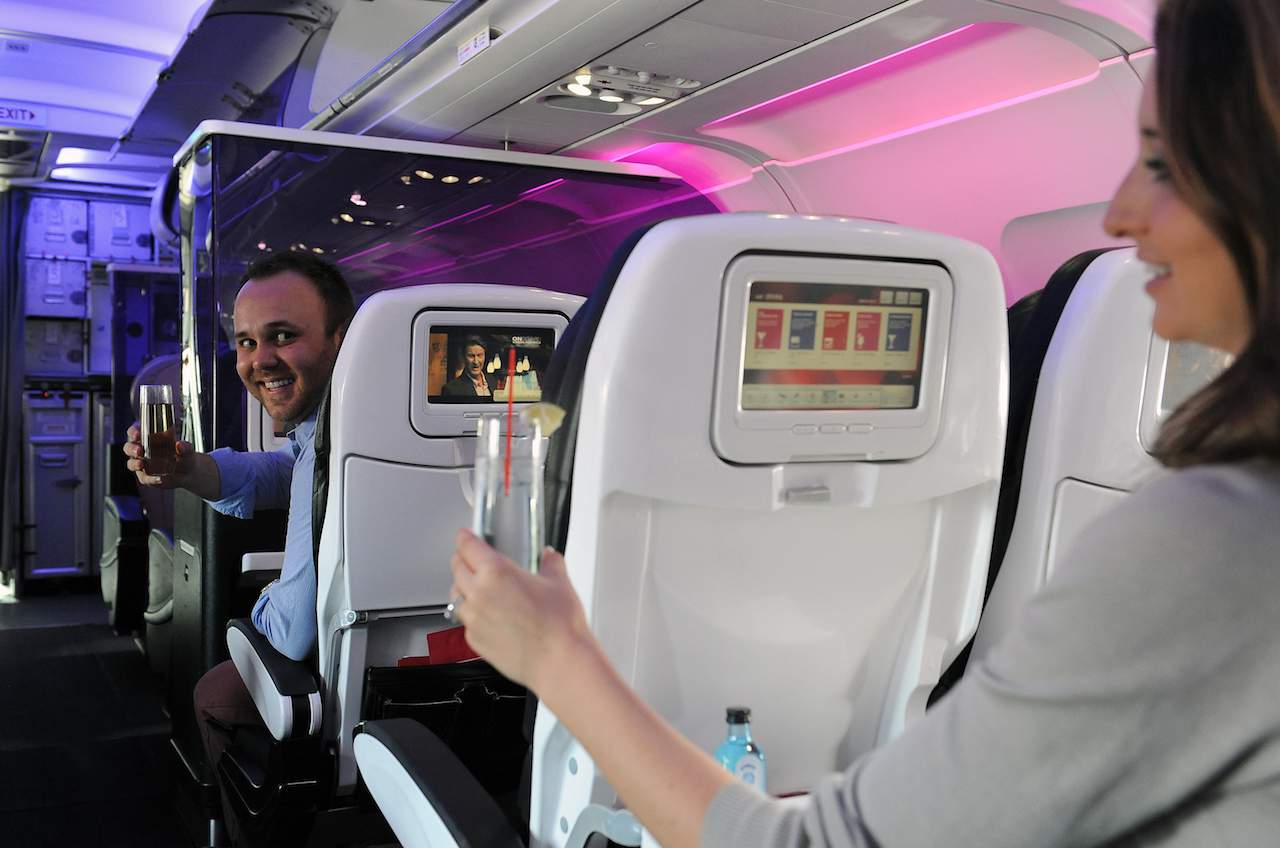 This allows passengers to send unsolicited drinks and snacks to the object of their affection through the in-flight entertainment system. Sir Branson believes this new feature will help Virgin travellers to "get lucky".
While this may cause many to gasp in horror, Sir Branson argues passengers who send flirty drinks have a 50% chance of leaving the plane with a plus-one. Clever or creepy? You decide.
Little Richard Ice Cubes
On a lighter note, Virgin Atlantic celebrated the launch of the new Airbus A330-300 Upper Class Cabin last year with their 'Little Richard' ice cubes. The bespoke ice cubes were crafted in the shape of Richard Branson's face, complete with cheeky smile and flowing locks. Ever a stickler to detail, the ice cubes were made in the exact measurement of Sir Branson's head, so that first class passengers could cool their drinks in true Richard style.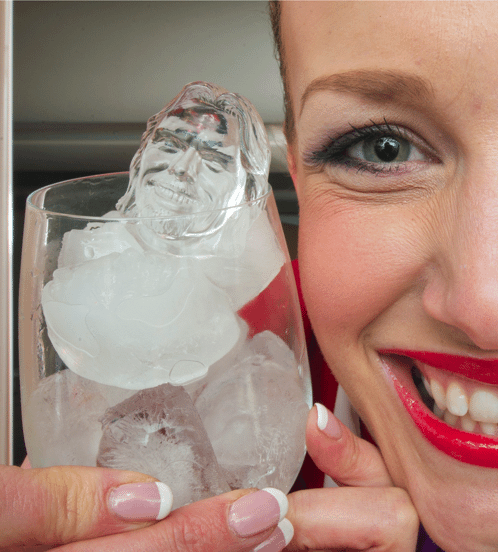 Richard Branson's publicity stunts may not be to everyone's taste, but his positive attitude and passion for aviation has established him as one of the industry's most legendary personalities.