Istanbul, famous as the city that straddles both Asia and Europe, has a population of more than 13 million people. In high season it seems that every one of them can be found in the Sultanahmet old town or strolling down  the city's most famous avenue, Istiklal Caddesi.
However, away from the beaten track, there are several as yet undiscovered places that are just as intriguing, easy to get to on foot or by ferry, yet away from  the tourist buses and carpet touts.
We uncover 10 of the best hidden places where you can people-watch at sidewalk cafes (Turks love to sit outside year-round), shop without haggling, and try out your Turkish.
1. Cihangir/Çukurcuma
A favorite of artists and expats (some call it yabancikoy – foreigners' village), Cihangir is Istanbul's East Village. Go there for cafes, vintage shops, and wandering the hilly streets between Istiklal and the Bosphorus. Old-man barber shops and even older antique stores dot the higgledy-piggledy streets of Çukurcuma. Don't miss the Museum of Innocence, based on the Orhan Pamuk novel of the same name (you don't have to read the book first to enjoy it, but it comes with a free ticket to the museum).
Getting there: Walk down Siraselviler Cad. from Taksim to the Firuz Ağa mosque, or climb one of the flights of stairs from the sea road. Çukurcuma connects with Istiklal behind the large Galatasaray high school, go down the hill on Yeni Çarsi Cad.
2. Karaköy/Tophane
This once seedy neighbourhood on the verge of trendy, Karaköy's best assets are behind the ferry docks and pushy fish market vendors. Hidden churches mix with hipster cafes, and two local favourites are here: the modern Turkish bistro Lokanta Maya, and (arguably) the best baklava can be enjoyed at Karaköy Güllüoğlu. Neighbouring Tophane is anchored by Istanbul Modern Museum of Art, where you can pick up a map to do an art walk of the galleries heading back uphill to Taksim.
Getting there: Take the tram to Tophane, or walk inland from the Galata Bridge and ferries.
3. Nişantaşı
Istanbul's fashion district is more than just designer boutiques and ladies who lunch. It's the neighbourhood of Turkish Nobel Laureate Orhan Pamuk, with beautiful pre-war architecture, sidewalk cafes and old-fashioned tailors. Venture onto the side streets for more budget-friendly cafés and shops or do a little window shopping at fancy Turkish department stores like Beymen or people-watching at a restaurant on Atiye Sok.
Getting there: Take the metro one stop from Taksim to Osmabey and walk down Rumeli Cad. to Teşvikiye.
4. Galata
After the tourists leave the tower, locals congregate on the square to drink beers and socialize. Regional designers and "lifestyle" shops like the Lomography gallery have taken over Serdar-i Ekrem street, while hardware and lighting shops have new artier neighbours like the SALT gallery and library. While they are slowly being edged out, some of the last official brothels can still be found in Galata, but we'll leave it to you to find them.
Getting there: Walk down the hill from Tunel square at the end of Istiklal, or hike from the bridge up the beautiful Camodo Steps.
5. Beşiktaş
Thousands of commuters take ferries from Beşiktaş to the Asian side each night, while the large population of university students keep the waterfront beer prices low. The fish and produce market is an excellent place to shop for dinner, or sample Turkish wines at Corvus Wine & Bite near the W Hotel. On football game nights, the crowds on the streets can go from festive to rowdy, depending on who wins.
Getting there: Walk along the sea road about 10 minutes from the end of the tram at Kabataş, or catch a bus heading up the Bosphorus.
6. Kadiköy/Moda
Too many people miss out on the Asian side due to its lower density of attractions, but foodies cross continents to eat at Çiya in Kadiköy. Walk all the way to the Moda pier for great views, browse and graze in the market streets, and enjoy the ferry ride, still one of Istanbul's cheapest thrills. For nightlife, you can choose among several different bar/performance/art spaces like Karga on Kadife Sok, better known as Bar Street.
Getting there: There are frequent ferries to and from Beşiktaş, Karaköy, and Eminönü.  
7. Fener/Balat
Far more conservative than the other neighbourhoods listed here, adjoining Fener and Balat have unique architecture and fascinating histories, past and present. The head of the Greek Orthodox Church is in Fener, not Greece, while Balat has historically been a Jewish neighborhood. Be sure to leave your shorts at home and don't expect many restaurants to serve Efes (a Turkish beer), especially during Islamic holidays.
Getting there: Take a ferry up the Golden Horn, or bus from Taksim or Eminönü.
8. Tarlabaşı
Just on the "wrong" side of Beyoğlu, Tarlabaşı may be run down, but in a few years it will be as gentrified as Cihangir. Guidebooks will tell you to avoid the area at night, but by day, the crumbling buildings have a certain charm and the Sunday outdoor market is convenient for anyone staying near Taksim Square. Formerly a Greek district, it's now home to immigrants from all over the world, at least until the area is bulldozed in the name of urban renewal.
Getting there: Tarlabaşı boulevard runs parallel to Istiklal from Taksim Square, but the best way to the market is via the underpass running alongside the British Consulate in Pera.
9. Ortaköy
A favourite of Istanbullus on weekends, few views are better than the Bosphorus Bridge (the first in the world to connect two continents) and the Ortaköy mosque (under renovation currently) lit up at night. If you're feeling hungry, this is the place for an overloaded kumpir (baked potato) or choose a waterfront cafe for a nargile pipe and a glass of çay. On Saturdays, a small market sells books, jewellery, and crafts.
Getting there: Take a bus from Kabataş, or better yet, walk the 20 minutes to avoid the inevitable traffic.
10. Emirgan
A bit less central than the Beyoğlu neighbourhoods, Emirgan is worth the trip for the outstanding Sabanci Museum. Housed in an old Egyptian prince's mansion, the museum's grounds are lovely to stroll in and the galleries frequently house world-class exhibitions. Emirgan Park is one of the city's few green spaces, hosting an impressive tulip festival in spring.
Getting there: Take a bus from Taksim along the sea road, walk as much as you can on the way back if the weather is nice.
---
P.S. Meg has put together a handy map of her faves. Lots of entries highlighting cheap wine.
Where to Stay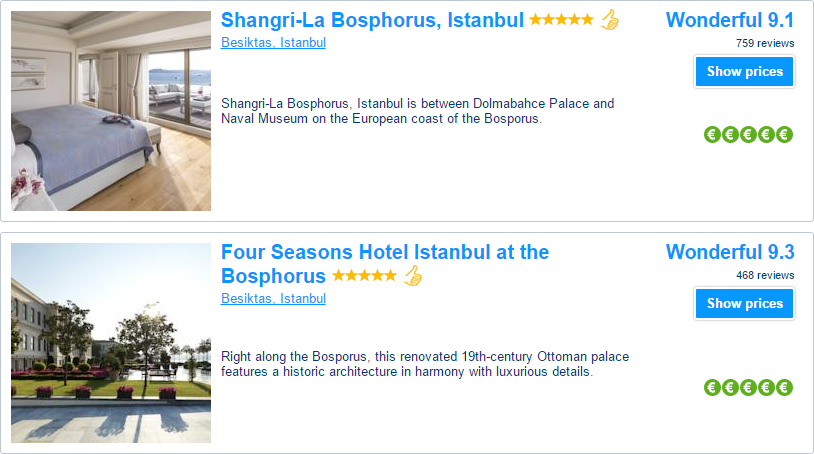 Recommended Tours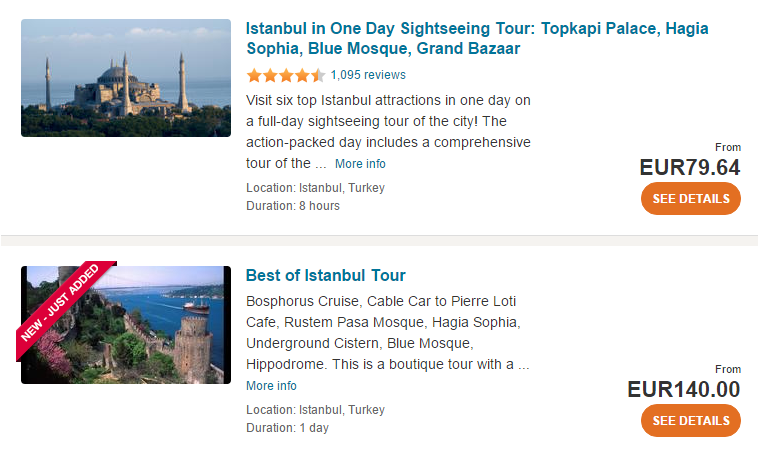 ---
Read also: Travel Guide: a weekend in Istanbul