It's a combination that makes you giggle – skiing and snowboarding by day with three comedy shows each evening for five days – but it works. There's a party atmosphere as the same crowd wanders from spot to spot, and even stays in the same hotel, the impressive Sport and Spa Hotel Strass, the event's focal point.
There's been a snowball effect from the time, 17 years ago, that Marcus Brigstocke and Andrew Maxwell thought it would be a good idea to combine their work with play. Altitude was born and is now reckoned to be the world's leading comedy festival in an alpine setting. Only this year at the UK Festival Awards it was voted Best Overseas Festival.
In the early days it was in the French resort of Meribel – not a good fit as while the place overflows with Brits, most of them stay in chalets and, with dinner (and drinks) provided, aren't about to be tempted out to watch a comedian or two.
Says Brigstocke, a TV regular: "There's a photo of Maxwell and me in the pool the day after the first one when we finally worked out how much money we'd lost – but we nearly hit break-even the next year.
"One reason we lost so much was us insisting it had to be a bilingual festival, not just a lot of loud brits – we booked French acts who cost far more than we did. And then it was in a big top and we got spring snow, so had to pay the fire service get it off twice a day, and heat it too."
The Mayrhofen magic
In Mayrhofen the festival has found a loving home – a great ski resort only an hour from Innsbruck airport and a place with a reputation for a good time. It's held early April each year when the snow is still good – and the weather is generally even better. Comedy central is the Strass, right next to the main Penken gondola to the slopes and hosting two shows each evening. First is an early evening improv session in the Sports Bar (including, last season, Brigstocke recreating his TV panel game Argumental) and a late-night event in the subterranean Arena.
Village centre Europahaus hall hosts nightly gala shows. Last April, headliners were American Rich Hall, a growling regular on British TV, Ireland's Dylan Moran with a surreal, mumbling performance while playing jazz chords on the keyboard, and the giant Emmanuel Sonubi (this autumn a guest on Have I Got News For You) detailing his time as a bouncer. Brigstocke and Maxwell (Irish, bearded, prone to wearing lederhosen, a regular on TV shows such as Never Mind the Buzzcocks and Mock the Week) pop up all over the place – but the rule is no one can use the same material twice.
The skiing
The skiing in Mayrhofen (the area now also named Mountopolis) itself is dramatic, almost 90 miles of piste that starts at the top of the Penken lift and sweeps down into a huge bowl, with lifts up to the 8,200ft high point of Rastkogel. Tree-lined slopes drop down to the village of Finkenberg and there's another, quieter area, Eggalm, the farthest point, off to one side. Back the other way, off-piste routes make their way down to the Zillertal valley at Hippach.
But that's not all. The Zillertal Superskipass also covers the extensive Hintertux glacier (a free bus ride away at the end of the valley, where you can also take a boat ride in the stunning, natural Ice Palace ice cave deep below the surface), Zillertal Arena (a free bus down valley) and Hoch Zillertal, itself three connected areas (a free ride on the little, red Zillertalbahn train that runs the length of the valley). That's a total of 340 miles of slopes.
The stars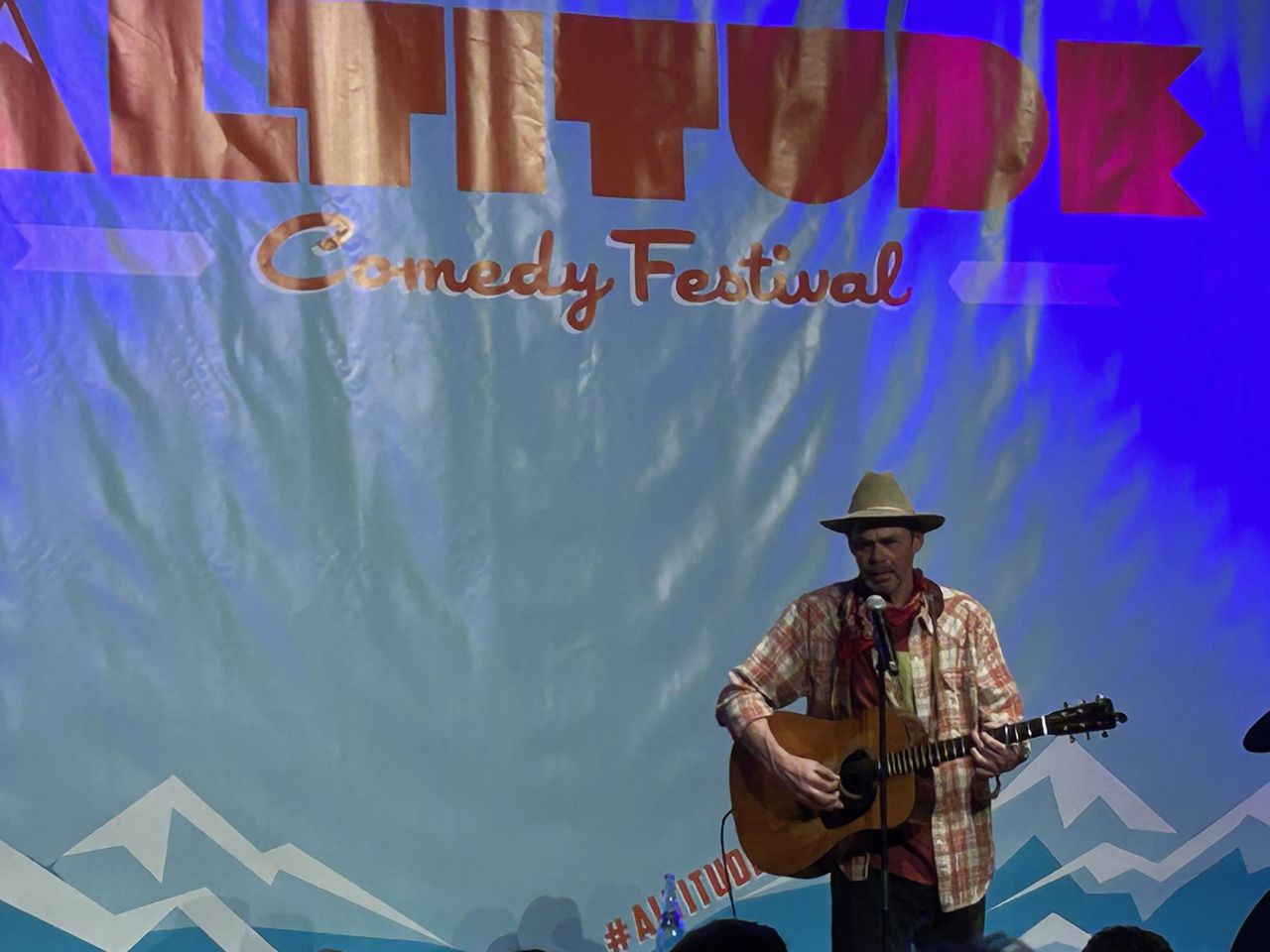 This season the stars are Dara O Briain, Daniel Sloss, who has appeared on the likes of TV's Graham Norton Show as well as starring in Netflix specials and the US Conan chat show, and Zoe Lyons, Maisie Adam and the return of Emmanuel Sonubi, all TV regulars – as well as Brigstocke and Maxwell alongside a host of others.
"We've introduced well over 100 comedians to skiing and snowboarding," says Brigstocke. "Even those who didn't take to it loved the mountains – and anyone who is ambivalent doesn't get asked back!"
Brigstocke swings both ways, switching between skis and snowboard. "I used to ski then had an injury that meant I could only wear snowboard boots, so I snowboarded. A celebrity Ski Sunday race with Graham Bell got me back in it.
"Then I did The Jump TV series. I snapped my cruciate ligament, bad, bad injury, the damage meant I stopped skiing for eight years." So he's only been back on snow for a year or so.
The party atmosphere of Altitude means that the stars don't just come out at night. There are daytime events – an Easter egg hunt on the slopes, for one – and you can chat with them as they use the pool or slump in the sauna in the Strass's imposing spa.
Says Brigstocke: "People come every year and do all three shows every night – comedy post-skiing is a perfect fit, all these people experience this wild day out and then get to laugh together."
How to do it
Altitude (altitudefestival.com) runs April 1-5, 2024, and offers go-anywhere festival wristbands or individual tickets. Inghams (inghams.co.uk), a festival partner, has seven-night festival week holidays, departing March 30, at various hotels including Sport and Spa Hotel Strass (hotelstrass.com). Prices start from £939 HB at Hotel Stroltz. Mayrhofen.at; zillertal.at; Austria.info