The 19th-century Balmer Lawn Hotel, a former coach house and hunting lodge, is an imposing building surrounded by picturesque expanses of forestry and lawns.
It has longevity and naturally has a rich history. In the First World War, it functioned as a field hospital. Later it became one of the first hotels in the area to offer "private rooms with a bath". Honeymooners would hand over 7s.6d (can you remember old money?) for full board and stabling of horses.
It was commandeered in the Second World War by the army, and General Eisenhower was visited by prominent guests, including King George V, Queen Mary and Winston Churchill. Much later, Hilton Hotels bought it and then sold it to Chris and Alison Wilson – a local power couple – who run it today. Though I believe it is for sale again.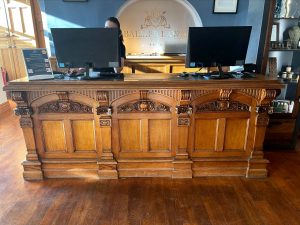 There's plenty of wood, including an attractive wood reception desk and interesting antique-style furnishings dotted around. A wall in the lounge area has Second World War memorabilia and letters that make for fascinating reading.
I liberated a G&T from the bar to take to the cosy corner, making myself comfortable on one of the Windsor chairs. I liberated another the next day to enjoy alfresco on the terrace.
Probably one of the most memorable moments was falling asleep to the braying of nearby freely roaming horses for which the New Forest is so famous.
Who for
Families and those looking for a good value place to chill out close to the New Forest.
Accommodation
There are only 54 rooms and a separate lodge you can rent. You can choose between luxury, superior, standard and family room. Luxury rooms come with a balcony, and all rooms come with a hairdryer and tv.
Food & Drink
There are two restaurants: The Lodge Kitchen and Bar, which stretches out into an alfresco eatery. It's good for pastas and pizzas.
The other is a fine dining Beresford restaurant where we enjoyed scallops served with raspberries , and a deliciously charred watermelon served with peanut sauce and mushroom to start. We followed this with Stone bass – so soft and crunchy thanks to seared skin and tenderloin that was well executed, which went well with ham and apple sauce.
We ordered a chocolate cheesecake that looked like nothing of the sort. This bizarre offering is called a 'whipped chocolate cheesecake' with chilli tuile, chocolate and beetroot sponge. It tasted great.
Breakfast is a buffet with the standard full English fare.
Facilities
Two pools, one heated indoor pool and a heated one outdoors. Sporty types can play squash or tennis courts, luxuriate in the sauna or have a workout at the gym.
Top of the bill (aside from the ancient forest) is The Saltus spa which has six treatment rooms. A massage to the backdrop of soothing music, and soft lighting, followed by a Hopi (ear wax) treatment, was well done. There are also ESPA facials, and if couples can't bear to be apart for an hour, they can have a treatment together.
How much
Doubles at Balmer Lawn Hotel start from £145 B&B.
What's Nearby?
The Balmer Lawn hotel is three minutes' drive from Brockenhurst train station and a six-minute drive from horseback riding at Ford Farm Stables.
The forest's footpaths are on the doorstep, turn right out of the hotel, and a 10-minute walk takes you to a huddle of great pubs. Brockenhurst and Lyndhurst's shops and cafés are a short drive, as are Beaulieu National Motor Museum, Exbury Gardens and steam railway (March-November), Paultons Park and Peppa Pig World, Buckler's Hard and Moors Valley Country Park.
Be sure to take your walking shoes as a ramble around that New Forest is a must… you may come across the many ponies roaming around freely.
Verdict: Overall, Balmer Lawn Hotel is a pleasant hotel to stay in, and as it is located in one of England's most beautiful locations, it makes for a nice getaway.