Shopping in Harrods is enough to create an appetite for anyone worth their shopping salt. All those brands (3,000 at the last count), over 4 floors take time. You can spot the hardiest with their shopping bags full of bling and boodle making their way up to the 5th floor because that is where Chai Wu, a Chinese restaurant, awaits Harrod's hungry black card holders and any passing strays too.
Chai Wu is part of the restaurant group created by Malaysian Eddie Lim, who owns Mango Tree among other restaurants and so I was expecting something highly palatable.
Ambience
We announced our arrival at the small reception desk and were soon shown to our table wading our way through a surprisingly long and dark interior.
It's all low lighting, dark floor, black tables, maroon leather chairs or banquettes and though not unattractive it seemed a little incongruent with its setting atop a department store. It took a moment to acclimatise and join a pretty full house of diners some with their telltale Harrods shopping bags at their sides.
The open kitchen lined with various crustaceans on view gives some character, service is all smiles and the general mood was cheerful.
Food and Drink
There was plenty of choice on this inventive pan-Asian cuisine menu. The Wagyu puffs came, topped with gold leaf I suppose as a flourish of extravagance. The puff pastry was buttery and the meat moist and appealingly savoury. The shrimp popcorn flavours were pronounced all the more enhanced by a spicy mayo and the lobster noodle was well executed.
The steamed dim sum platter arrived looking elegant with its colourful, mix of luxurious packages including sea bass topped with gold leaf, lobster topped with caviar, crab meat seafood spinach, prawn with black truffle and scallop and prawn XO shao mai. It all sounds expensive, and at £42 many would think so.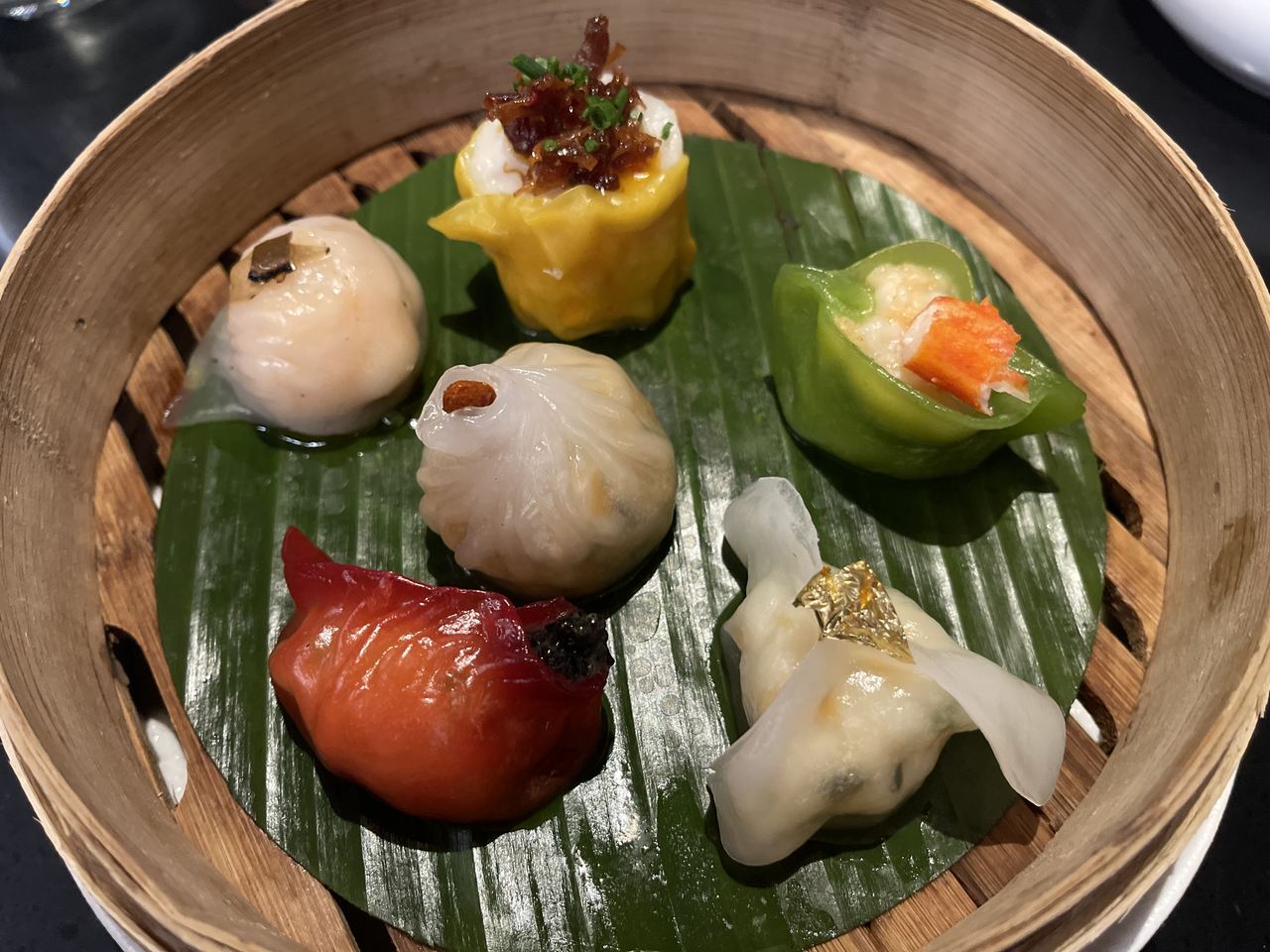 Their most popular dish is their signature Beijing Duck and it's a bit of a classic and served with fluffy Boa buns and traditional pancakes so you can enjoy the duck both ways.
The duck comes pre-sliced table side, skin shining and crisp and the roasted meat tender beneath. They also diced some of the duck and offered them up cradled in lettuce leaf.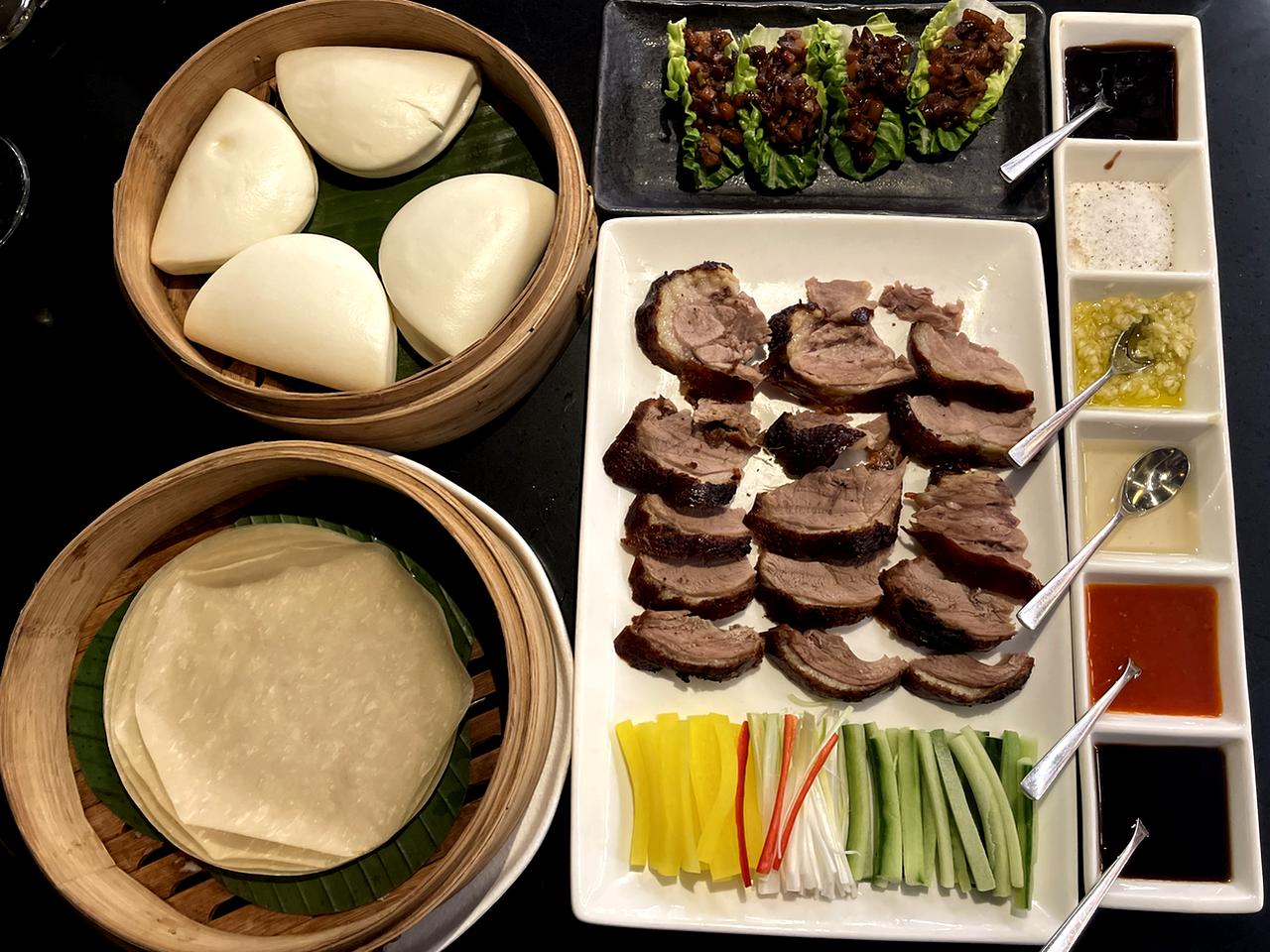 Alongside the classic accoutrements of hoisin and greens, the duck also comes with Szechuan sauce, minced garlic in truffle oil (their own concoction), plum sauce and a fine, vanilla-scented sugar for dipping the crisp skin into.
There is an extensive wine and drinks menu. We chose the Bourgogne Chardonnay AOC, Alphonse from the South Maconnais regions of France. This has a lovely pale-yellow-gold colour and is fresh and not quite fruity on the palate.
We really shouldn't have, but we did. Green tea chocolate fondant with anko and raspberry ice cream rounded the evening off very well.
VERDICT: The dishes served up at Chai Wu are colourful, often very tasty and perhaps a tad expensive. But then again its location at Harrods means the black card members probably wouldn't notice and would definitely leave sated.
---
Chai Wu
Harrods 5th Floor, 87-135 Brompton Rd, London SW1X 7XL
Check out Chai Wu menu here.