I love London and yet I had no clue about Connaught Village, a triangle of streets that stretches from the mayhem of Edgware Road, to the artsy Bayswater.
I was invited to check it out and to get there I passed a mish-mash of alfresco shisha shacks on Edgware Road. The air was thick with aromas smoked out by zoned-out clients and I began to wonder if I had been duped.
But then I turned left into Connaught Street to find a different world. Here it's all pretty hanging flower baskets, neat streets, decorum and nattily dressed people milling around.
So I made a plan for the day taking my first morning coffee at Roni's Bagel Bakery – a quaint cafe that has just opened. As I sipped my daily dose of cafeine I wondered if I would bump into ex Prime Minister Tony Blair who lives around here. I didn't but in any case I was prepping myself for a facial I had booked a few doors down. It's ominously called Genesis.
It took place at Medicetics, a whitewashed clinic with an easy atmosphere and coffee and drinks on tap. So, I lay down in a treatment room and soon Genesis began. This was nothing like any other facial I had ever experienced. This was a laser treatment so all I could feel was a slight prickling sensation delivered by a laser gun and an adept therapist. It lasted 30 minutes and the effect was immediate.
"This rejuvenates and boosts collagen" says the therapist smiling down at me. "If you look a tad tired, this sorts you out. Many come before a wedding". I admit the next day the glow was incredible. I made a note to come again.
Connaught Village is home to The Place London for Women, and its counterpart for men – a duet of shops that sell designer clothes and accessories for women and for men. These are owned by Simon Burstein – sound familiar? You may have heard of his mother Joan Burstein. She is a bit of a fashion legend who was the first person to sell clothes by the likes of Ralph Lauren and John Galliano at her boutique: Browns. The Bursteins sold out but son Simon, a chip off the old block, has set up a store of his own to continue the family tradition of nurturing new talent.
The new talent – perhaps now a bit too famous to be dubbed as new – is Alice Archer. Her embroidered works are mind blowingly intricate.
Turns out Pippa Middleton and P Diddy have been seen out wearing her garb. There are other designers too making their fashion statements here.
I take a quick peek into The Place London for men – Simon's own brand – and yes it is pretty stylish stuff.
I notice a window with an eye-catching gold guitar glistening in the sunlight. Naturally I check it out. It is called Kokoro which means "heart, mind and spirit". It is owned by dress maker Dawn Green who sells her designs with the Kokoro label and has invited other talented designers to grace her rails with clothes you won't find anywhere else. The designs are pretty snazzy.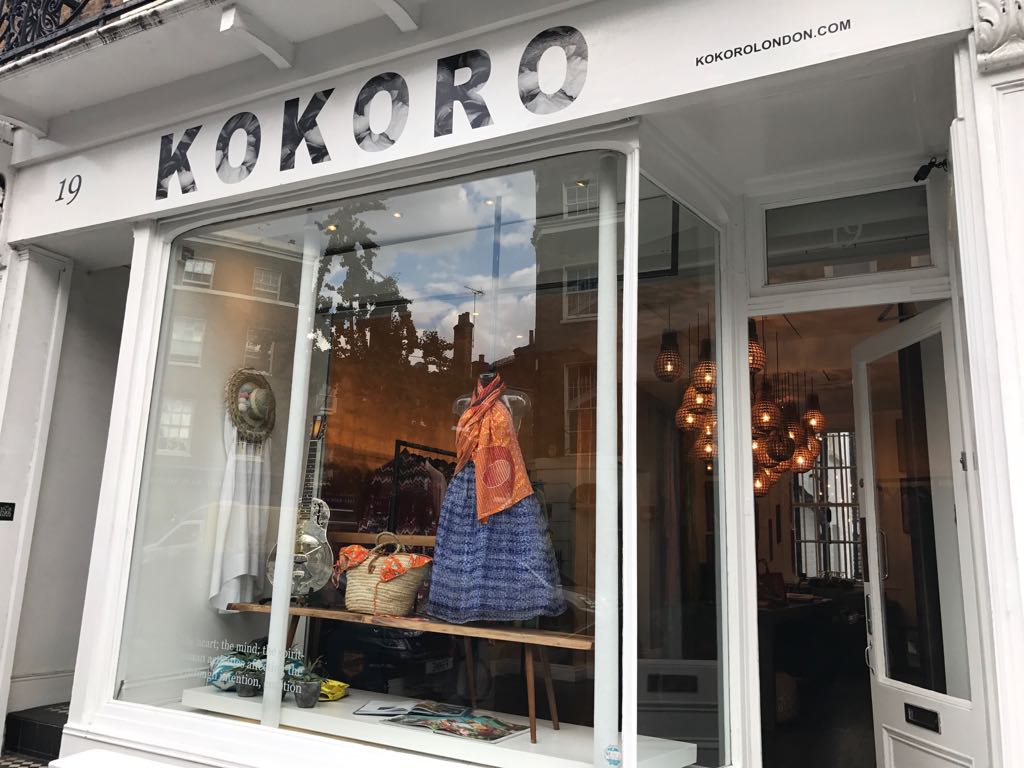 Remember Jimmy Choo? you won't find him here but you will find the next best thing – the shop opened by his niece Lucy Choi.
Her footwear has been spotted on the feet of stars such Darcy Bussel, Girls Aloud members Kimberley Walsh and Cheryl Fernandez-Versini. The shop opened in 2015. Before that you could only buy her designs from Fenwicks. A simple black shelter and a decorative table and chairs outside marks the spot. The shelves dazzle with colourful and sparkly shoes that scream out "please wear me". There's also selection of designs inspired by the film Wicked – a works of art in themselves.
For traditional art there's the The Park Gallery, opened in 1992 by Robin Starr. The gallery specialises in Middle Eastern Art. Artists include Nazir Nabaa who some say is a pioneer of modern Syrian art and Hanaa Malallah an Iraqi artist famous for her mixed media compositions. There are plenty more.
It's lovely to come across a shop with 150 years of heritage such as William Mansell watch and clock makers. Stepping in the shop and being surrounded by the sound of tick tocking and chimes is being transported into a bygone time when the horologist was the man to take your broken time piece to.
The porcelain shop Mud Australia is located slightly off the beaten track on Porchester Place. This Sydney based business hand make plates and dinnerware that is so simple in their design that they are elegant. In effect they fuse a minimal aesthetic with an artisan finish. Made of Limoges porcelain they are matt on the outside with a shiny interior. You won't find patterns; just lots of different colours in shapes that look lovely on a table. And all dishwasher and oven safe.
Lunch was at the Indian restaurant Bombay Palace (read our review). It was a fine example of Punjabi cuisine. But there was still two more places to visit.
No chi chi shopping area can possibly be considered complete without a cheese shop and a fine wine store. Connaught Village has both. Buchanans Cheesemonger cheese shop is very quaint with French and British cheeses while Connaught Cellars, owned by Frenchman David Farber sells fine Italian and French wines in a rustic environment.
I end the day in David's wine tasting room sharing cheeky Sauternes.