On the southwestern coast of Sri Lanka, this luxury beach resort was designed and built in the 1960's by one of Asia's most influential architects, Geoffrey Manning Bawa.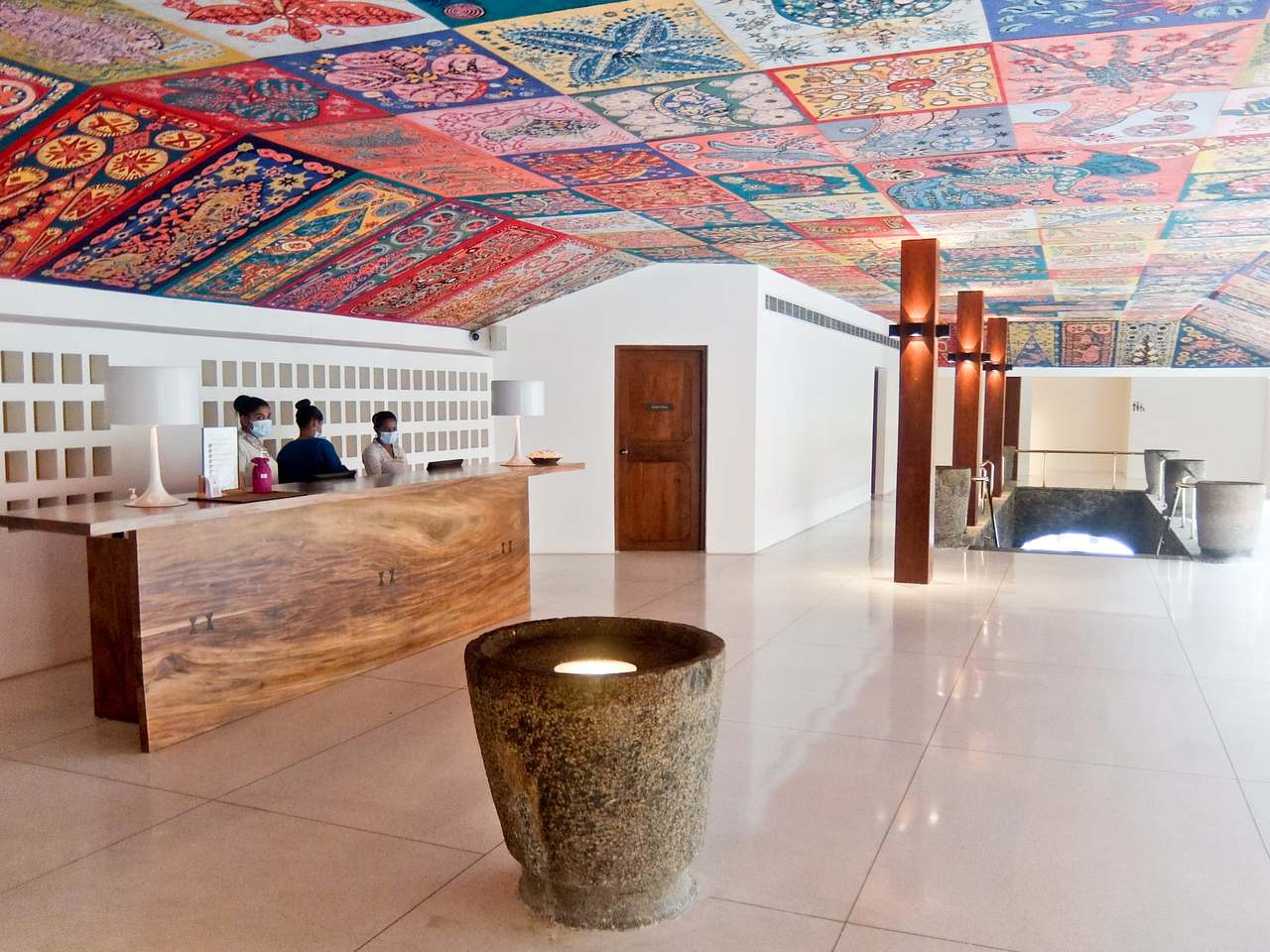 It's recently been extensively refurbished, with new additions and the resort houses the best water-sports facility in the area. As well as having one of the finest beaches in the country, it's in close proximity to a variety of attractions, historical landmarks and cultural sites
Who for
This is a holiday resort, ideal both for families and honeymooners – you can even get married here. There's a Kids Club and a Play Hub, featuring an array of games, arts and crafts activities, sports and more, along with a jungle gym. There's also a space for teens, so guests of all ages feel right at home.
Accommodation
159 rooms fuse traditional design elements with contemporary and vibrant interiors, luxury amenities, the finest fittings and in-room comforts. Each room offers its own unique view of the ocean, river or vast gardens.
We stayed in a Junior Suite, overlooking the river with two private balconies. As well as lounge and bedroom, covered in specially commissioned artwork, the open plan bathroom had two basins, a walk-in shower and a toilet. A Nespresso machine and tea kettle as well as large flat-screen TVs in both rooms completed the setup.
Food & Drink
The huge main dining area, Nossa, has breakfast and lunch buffets with a wide choice of Sir Lankan, Indian, Chinese and International cuisine. In the evening this becomes two restaurants, Zest with an Asian theme and Ottimo with Italian food. Nearer the sea is Sea Meats Spice with waiter service and an a-la carte menu featuring fusion seafood with a touch of Sri Lankan spice.
Drench is the pool bar where you paddle up and order your drinks from the water. It offers signature cocktails and snacks. Indoors, is Fuze, a long lounge bar, serving drinks and snacks. 24-hour room service is available and each room has a mini-bar.
Facilities
Two pools and a sandy beach cater for all swimming and paddling needs. There's a spa and gym, fully fitted with a range of cardio equipment and weights. A huge banquet hall is designed for weddings or business meetings and there's a dedicated kids club.
An Artisan Village offers, pottery, mask carving, puppet making and drumming lessons. Cookery lessons are available.
The water sports area on the shores of the lagoon offers water ski, Jet Ski, disco donut rides, windsurfing, stand-up paddling and even river fishing.
How much
Bed and Breakfast starts from £193. Half Board from £260.
What's nearby?
Lunuganga Estate is the country home of the hotel's architect, Geoffrey Bawa, the grounds a tropical version of a European Renaissance garden. Take a trip through the mangroves on the Madu River and see monkeys, monitor lizards and cinnamon bark peeling. The UNESCO listed Galle Fort is a one hour drive away.
Get there: Sri Lankan Airlines has direct flights from London Heathrow to Colombo from £691
Also read: When is the best time to visit Sri Lanka
---
VERDICT:
The hotel hasn't just been refurbished, it's been completely rebuilt retaining the original features but bringing it bang up to date. Everything is of a very high standard here, particularly the food. And the combination of beach and lagoon means you're always close to the water.