Imagine sleeping in a priory where nuns once tended lepers, sipping an aperitif in the former chapel, dining in the cloister. L'Hotel at Fontevraud, near Saumur in the Loire Valley, announces itself so discreetly that it's hard to distinguish from the rest of the great French abbey complex of which it forms part. Until you get inside. Then it's Apple meets the Middle Ages. On arrival guests are given a mini iPad which serves as a remote control, a source of information and enables them to make free internal and external phone calls – even internationally.
Accommodation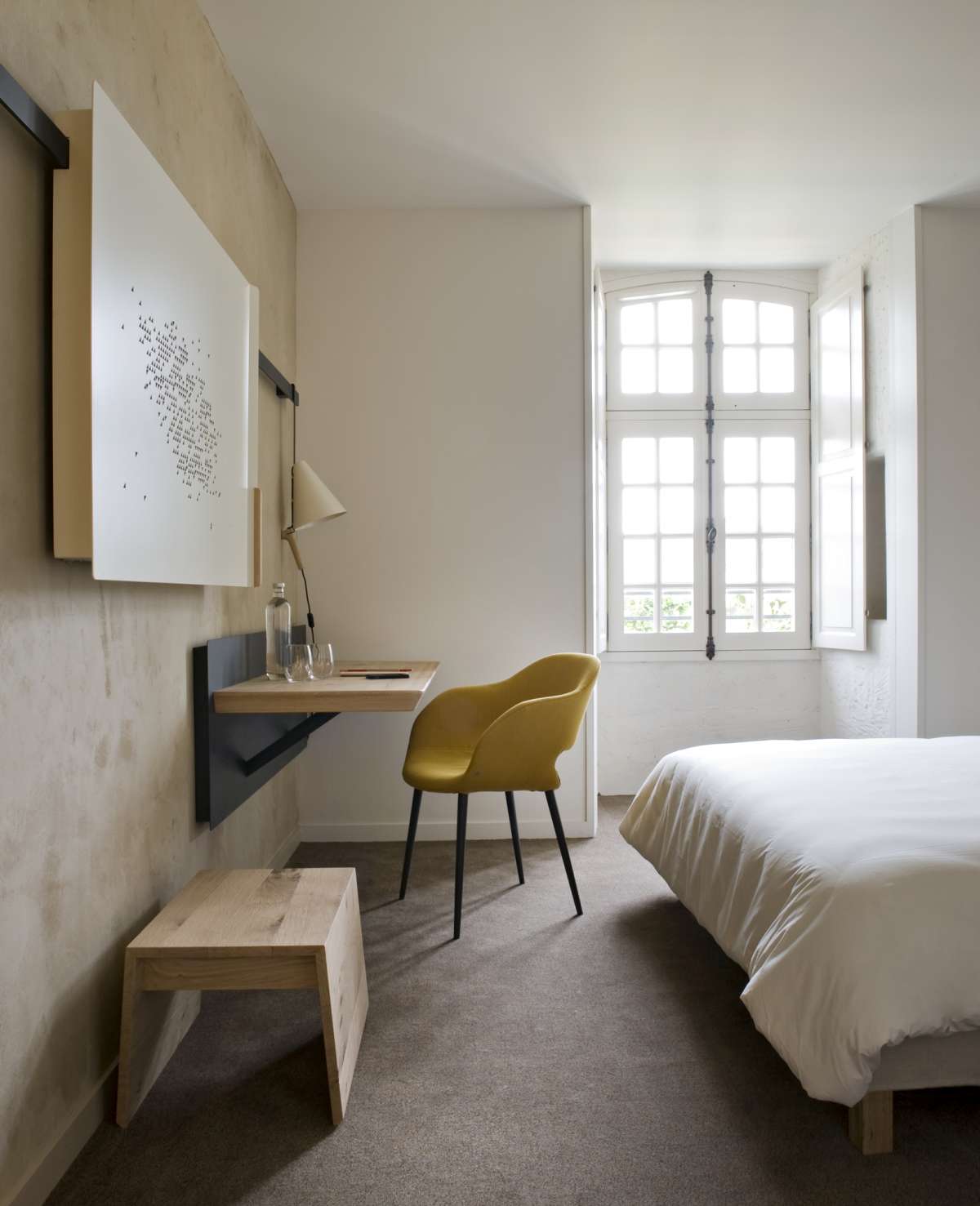 The bedrooms have a monastic look but without monastic discomfort. There's a hairshirt coloured angled bed head and spotlights perfectly positioned for reading. The bed has a breathable mattresses from a Nantes-based company, Biosense. The television is hidden behind a sliding screen so you can just want to ignore it. You get BBC 1 and 2 if you don't. The Fontevraud TV channel provides information on the Abbey.
The bathroom has a rain and hand held shower heads. I thought that the wash basin was rather large for a hotel claiming eco credentials – but  loved the locally made honey soap with a little sisal sack so you can take it away rather than waste it. There are heating controls but no air conditioning.
Who for
Perfect for lovers of European history and foodies. The Abbey, founded at the start of the 12th Century, is a UNESCO World Heritage Site. It was unusual in that it was run by Abbesses and welcomed both sexes. Among the tombs in the great abbey church are those of Richard the Lionheart, Henry II and his Queen, Eleanor of Aquitaine. Napoleon turned the Abbey into a prison. It has since been restored to a approximation of its original state. You can wander around it at night after the other tourists have left, or book a modestly priced, guided tour through the hotel.
Facilities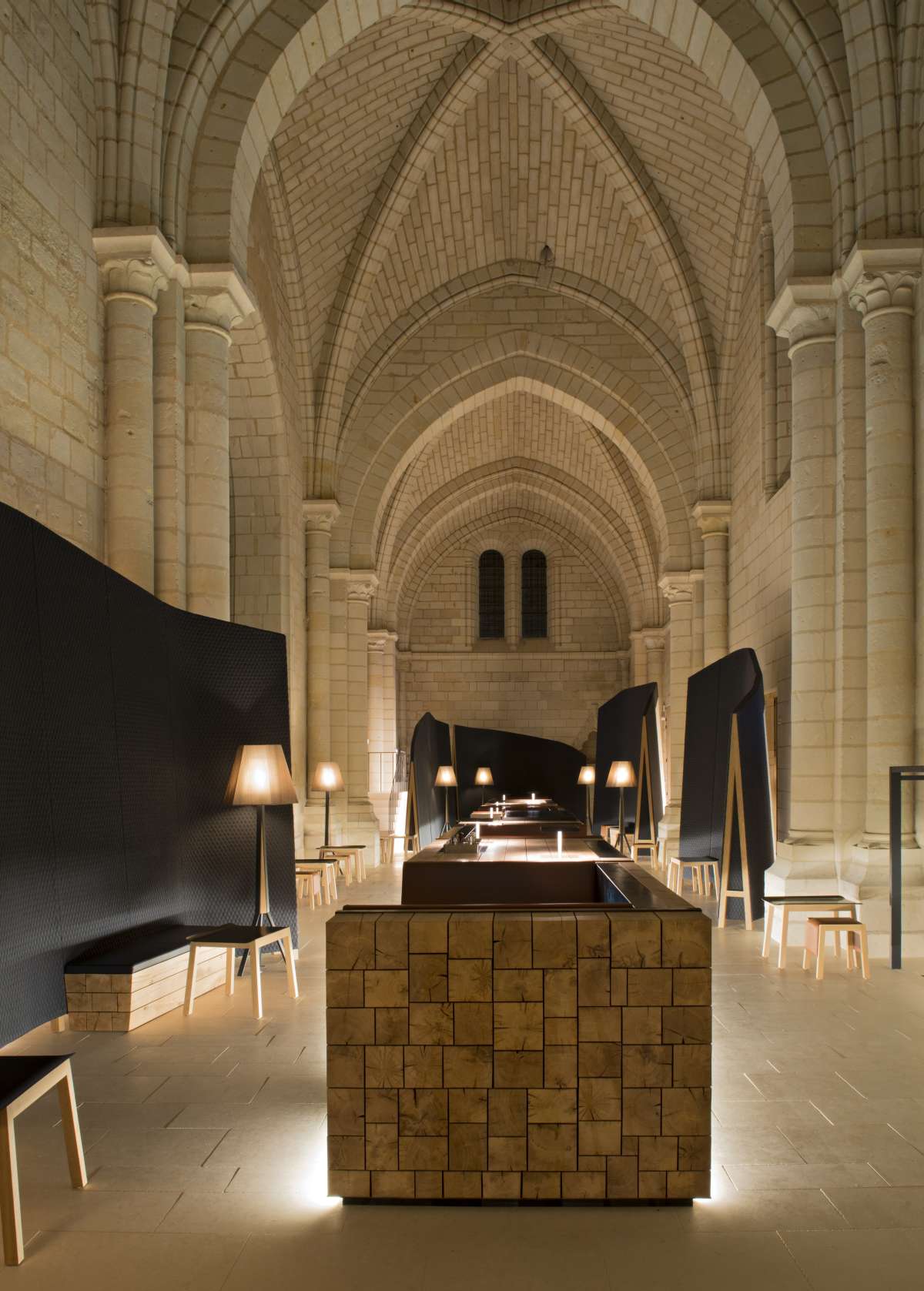 The bar has touch screen tabletops enabling guests to mug up on the history of the abbey and those associated with it, or play chess. There is a fully equipped seminar/conference/event rooms for 20 – 1000 people.
Food
Chef Thibaut Ruggeri's cooking is inventive and exciting. Think radish sorbet, lemon and black olives for dessert, pigeon fillet with almonds and a cognac marzipan. It doesn't cost an arm and a leg, either, with menus at €20, €58 and €95. Water comes from the spring after which the abbey was named. Like dinner, the buffet breakfast is set up in the cloister – a lovely French selection including croissants, fresh bread, pastries, eggs – and delicious honey from the abbey's own hives.
What's nearby
If you're staying more than one night the Chateaux of the Loire and the vineyards and caves of Saumur are within easy reach.
Wi-Fi available
Free Wi-Fi is accessed with a code which changes daily.
Room Rates
Double rooms from €125 – €185 depending on season; family rooms (2 adults, 2 children €150 – €195; suites €170 – €230. Breakfast is extra at €15.


Value for money
Genuine value for the whole experience – room, cooking and intimate access to the abbey.