Situated on a steep hill in the middle of the jungle, Woodlawn Villas is a small, family run resort currently offering three 36m² Garden Villas built on stilts, two 70m² Garden Suites and one large 240m² Twilight 3-bedroom Villa, each overlooking the lush vegetation and a swimming pool. As you arrive, you get a friendly welcome by the owners, Luke and Michelle, British expats who have been living on the island for 18 years. They will provide a wealth of information, from where to eat and sightsee to the best places to dive (Luke is a former diving instructor).
Who for
Woodlawn Villas is best suited for mid-budget families and flashpackers (backpackers looking for comfort and all the basic amenities including WiFi and air conditioning).
Situated closer to the quieter Chalok Bay than the loud and lively Sairee, the Villas would suit those seeking a quiet retreat rather than crowds and nightlife.
The ethos of Woodlawn Villas is also very much based around ecology, so if you have the "green mentality", you will appreciate Luke and Michelle's efforts.
Accommodation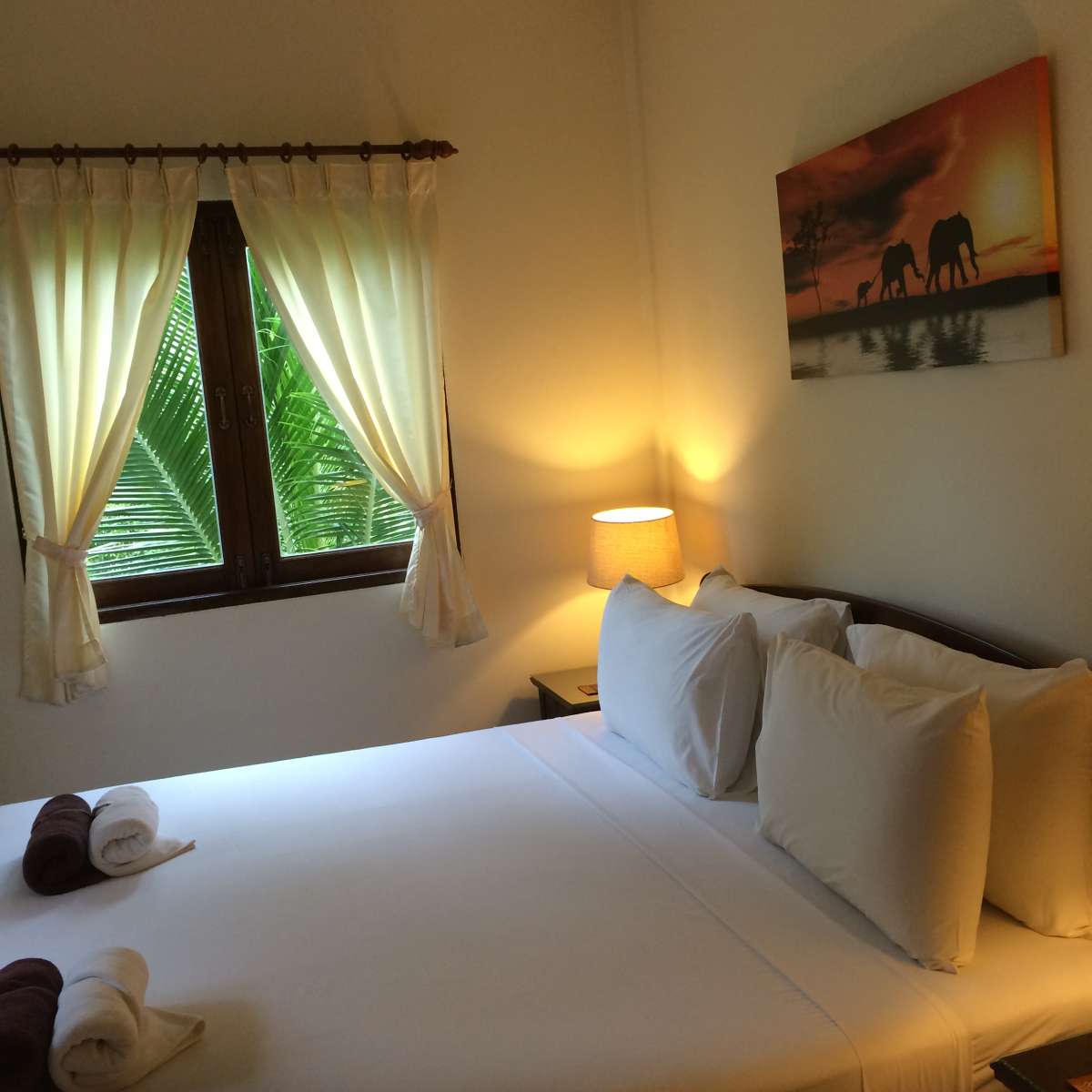 We stayed in one of the three Garden Villas. Each villa has a small balcony where you can take your breakfast while listening to the rustle of palm trees in the morning breeze and the song of exotic birds. Inside is a small living room with a flat screen cable TV and the adjacent small kitchenette with basic amenities. The bedroom has an Asian feel, with solid dark wood used for the bed and the wardrobe. We loved the king-size bed but found the pillows to be too hard. The bathroom features a rain shower, perfect to wash out the sand after the day on the beach.
Facilities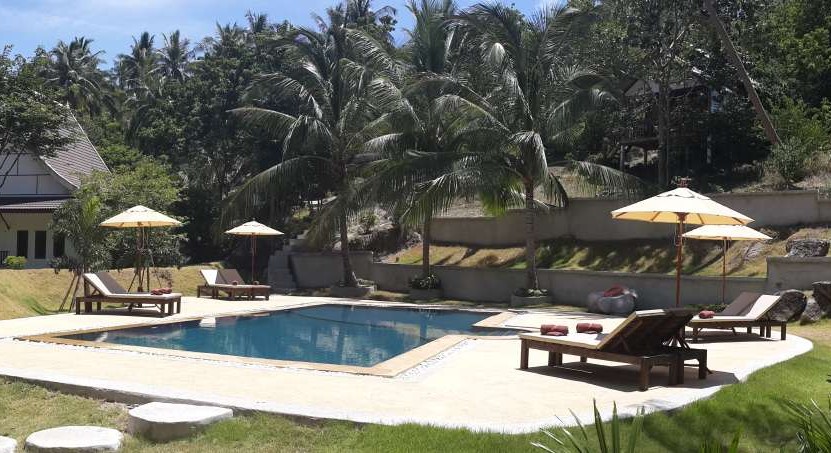 Each villa is equipped with air conditioning, ceiling fans, a mobile phone at your disposal in order to call the reception or order a taxi or a takeaway, and small torch lamps if returning after 2:30am when all the lights are turned off. There is also a shared medium-sized swimming pool.
Food & drink
Villas are self-catering and there is a small supermarket just down the road. If you prefer to eat out (and, with a meal including drinks costing 150 THB, eating out is great value), there are dozens of restaurants and street stalls serving both Thai and Western food. Luke and Michelle will recommend a few of their favourites.
Local activities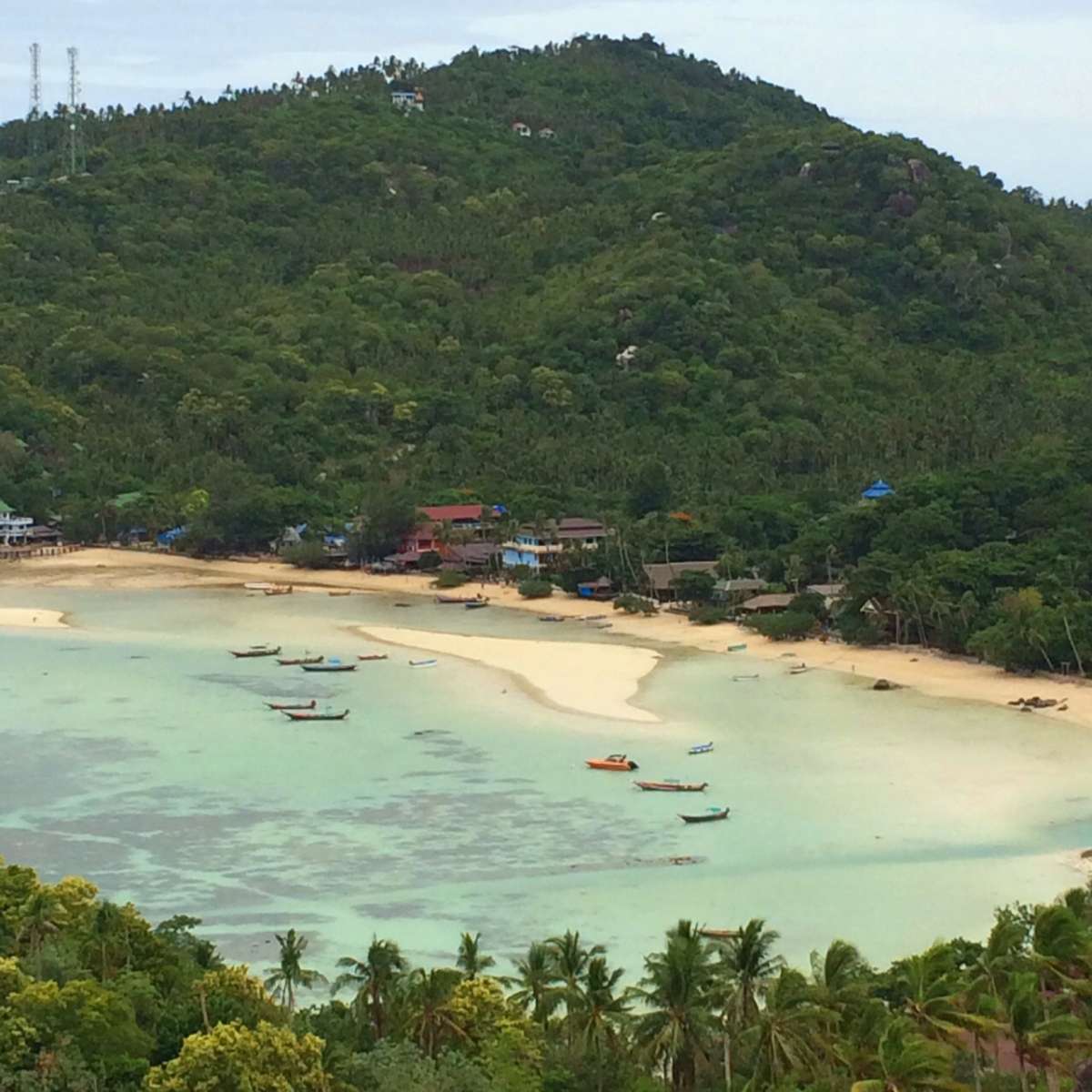 Koh Tao is internationally renowned as one of the best and cheapest places to pass the PADI certificate. You can get an Open Water Diver certificate for less than 10,000 THB including accommodation and transport from Bangkok. If diving is not your thing, you can hire a longboat with a captain for the day who will take you to all the best snorkelling sites (cost: 650 THB per person + lunch). There are also plenty of opportunities to get a Thai massage, go hiking, or take a yoga lesson.
WiFi
Free WiFi is available throughout the property.
Price
Garden Villa, sleeping two people, costs from 2,000 THB to 2,950 THB per night, depending on the season.


Value for money
If you are looking for the privacy of a villa over a hotel room, warm welcome from the owners, and the Western-style comfort and amenities, Woodlawn Villas represent great value.
How to get there
There is no airport on the island so the only way to get there is by a high speed catamaran. You can either fly to Koh Samui or take a train or an overnight bus to Chumphon and get the catamaran from there.
Tip: When you arrive in Koh Tao you will be assaulted by dozens of taxi drivers. To avoid the hustle and paying over the odds, get Woodlawn Villas to order a taxi for you. Expect to pay no more than 100 THB per person.