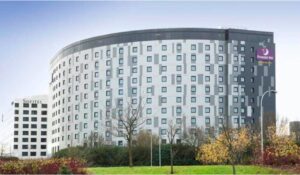 When your flight is leaving at silly O'clock in the morning surely a stay at an airport hotel makes total sense?
Just somewhere pleasant to rest your head so that you can wake up early enough to be standing at check by 4.45am, as I did one bleary-eyed morning to catch the 6.55am Easyjet flight to Gibraltar. I drove to the airport the night before, parked the car in the long term car park and checked in.
We could almost roll out of bed and be at check-in a few minutes later.
The experience was remarkably pleasant. it's a big hotel yet check-in was fast and friendly, with plenty of check-in desks and lifts.
Plus the hotel is situated directly opposite Gatwick North Terminal and we could almost roll out of bed and be at check-in a few minutes later.
Who for
Travellers set to fly from Gatwick airport, north terminal.
Accommodation
The Premier Inn at Gatwick is a vast, imposing building with 701 rooms. They all have double or kingsize Hypnos beds, a selection of pillows, a desk, chair, tea and coffee making facilities, a hairdryer, some hanging space, free Wi-Fi and Freeview TV.
Our room, 1054, was clean, with an ensuite bathroom that had a wake-you-up power shower. Beds are as comfy as Lenny Henry implies in their adverts. The hotel group knows this and even offers them for sale. Interested you can check it out here.
Food and Drink
Dinner is served in their very spacious Thyme restaurant with plenty of elbow room between tables. It's convivial and the menu offers popular dishes such as steaks, chilli con Carne and pizzas.
For starters, we ordered the nachos and chicken wings. This is going to sound corny but I really enjoyed the nachos with its gooey soft Cheddar cheese, red chilli, spring onions and coriander served in a tube, with a reduced-fat soured cream. the wings were Asian-style tossed in a Korean BBQ sauce and topped with fresh chilli, coriander and spring onion. Better than expected.
Mains were Chilli con Carne and Buddha Bowl. The latter is a mixed salad of chickpeas, buckwheat and basmati rice with chopped red peppers and green chillies tossed in a French house dressing. Served with avocado, tomatoes, rocket and freshly baked garlic flatbread. Both were fine.
Breakfast is served from 5am, too late for us, but it looked pretty good value at "unlimited breakfast from just £9.50". This includes Continental and cooked – with of course the full English.
How much
Doubles start from £59.00.

Getting there
You can catch the Gatwick Express which stops nearby as does National Express coach stops. You can drive too, and even though there is no onsite parking you can park in the North Terminal car park opposite.