Once unthinkable, the idea of a music festival in Saudi Arabia, where hundreds of thousands of men and women dance together is now a reality.
It's taking place just outside the capital, Riyadh, in a purpose-built site in the desert. Around 700,000 are expected and because the site is so huge, it doesn't seem crowded. Even better, as alcohol is forbidden in the Kingdom, everyone is sober and well behaved.
Saudi Arabia, long closed, is now open to tourists but you still need a visa, easily purchased online, and a fast track lane at the airport makes arrival painless. Riyadh is a sprawling city with clusters of designer high rises in the downtown and financial districts. A car is essential here as the wide highways have no pavements and certainly are not designed for walking.
Apart from the impressive skyscrapers, there are few conventional tourist sites. In the old town is the 150-year-old Al Masmak Fortress a vast clay and mud-brick citadel that is now a museum. Just nearby is the vast sprawling Souq Al Zal selling carpets, jewellery, clothing and Arabian daggers, with a second-hand section outside.
A clue that Saudi has its eye on the tourist market is at Diriyah, on the outskirts of the city. This was the original seat of power for the Al Saud family and the country's capital since 1745, until it was usurped by Riyadh. The ruins were designated a UNESCO World Heritage Site in 2010 and the area is undergoing painstaking restoration. When it's finished, it will be a vast open-air museum, complete with luxury hotels, designer stores and a traditional market selling crafts and souvenirs.
Another recent innovation is the inaugural edition of Saudi Arabia's XP Music Conference. This takes place over three days and nights, before the MDLBEAST Soundstorm festival, and attracts hundreds of music industry professionals and artists from around the Gulf and beyond. Like the festival, it's sponsored by the Saudi Government which is keen to open up to the music industry.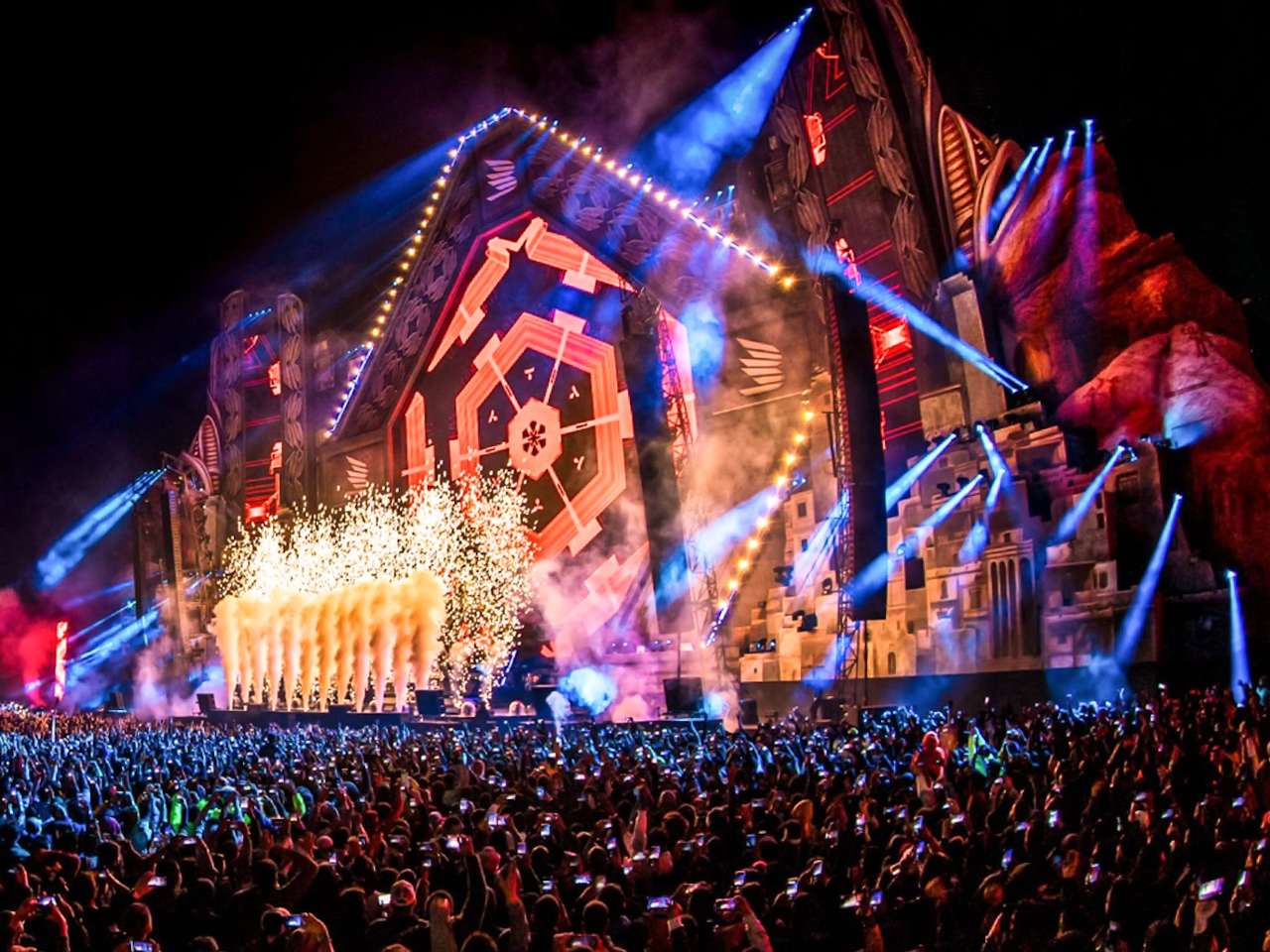 Critics may say that it's an attempt to conceal the Kingdom's human rights issues, but certainly, the many forums I attend seem to echo their claim that things are on the move. The domestic music market is growing quickly and discussions focus on music copyright issues, streaming success stories, and getting a recording contract. The Head of the Saudi Music Commission, a government body, tells me that he's committed to building a music ecosystem so that local artists can thrive.
Certainly at MDLBEAST Festival it's astounding to see this in action. The site sprawls over a huge area, packed with food stalls and it takes a while to walk to the four main performance areas. The BIG BEAST stage is where all the main acts appear and is reputedly the world's tallest and largest, with huge video displays. I didn't attempt to brave the crush upfront but enjoy the music from way back.
There's also DANCE BEAST, a large tent where DJ's whip the crowd into a frenzy spinning EDM, electronic dance music. Four smaller stages occupy the UNDERGROUND area but my favourite is DWN BEAST where I get to see some acts from all over the gulf. This is far more laid back, with a relaxed seating area and it's an opportunity to get an idea of what's up and coming. The gender mix is surprising with a good mix of women, often in small groups, but usually, all in black, wearing Abaya and Niqab.
Appearing over the four days are around 200 global, regional and local acts. Internationally renowned DJs, such as Martin Garrix, Carl Cox and Armin Van Buuren perform alongside Arab stars and regional artists including Lil Eazy, Cosmicat and Nancy Ajram. Probably the biggest global headliner is David Guetta who appears on the main stage on Saturday.
The final night ends with an astonishing firework display, a fitting end to a festival that's been extremely well organised and presented a high standard of music. Electronic dance music might not be to everyone's taste but the fact that it's happening in Saudi Arabia is a sign of sweeping social changes in the Kingdom.
Of course, alcohol is still forbidden everywhere but there are hints that it may be allowed in future tourist developments. That will be the biggest change of all.
FACT FILE
INFO: The next MDLBEAST Soundstorm will take place in December 2022
VISA: E-Visas are available online for around £110.
FLY: Saudia flies direct from London Heathrow to Riyadh.
STAY: The Hilton Garden Inn is a comfortable base near the financial district.