There is nothing small about the tiny country of Qatar. In just two decades, this peninsular country that pokes out like a stubby finger into the Arabian Gulf has systematically turned its desert landscape into smart cities, neighbourhoods that are big on style, reclaimed land for high-life-living and created state-of-the-art facilities to host the Grand Prix and the Fifa World Cup.
A walk along its horseshoe-shaped Corniche walkway stretches 7km along the waterfront of the Doha bay to the city. From here, you can see the futuristic skyline of the West Bay areas where the financial centres, administrative centres, ministries, and embassies lord it over the sea in shapely high rise towers, some of which have an image of the emir of Qatar, Sheikh Tamin bin Hamad Al Thani.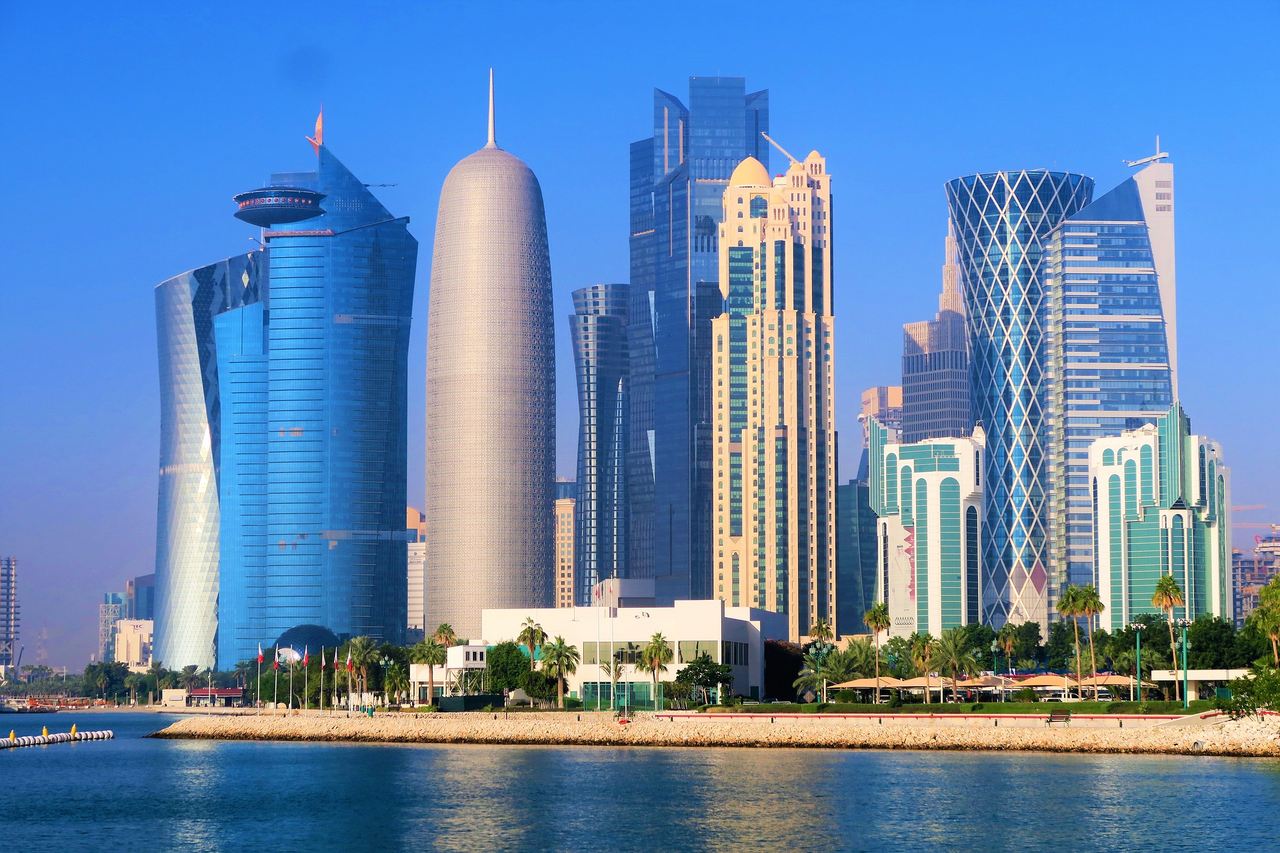 Yet you can still see its old world – the world before oil and liquid gas – winking at tourists through prisms of its past. For instance, the Dhow boats used for pearl diving in the days when trading in pearls was still an industry that have been repurposed for joy rides. The renovated souq still hints at how things were, and tourists can still channel their inner Laurence of Arabia and pick up a camel ride in the desert.
Here's my pick of things to see and do:
National Museum of Qatar (NMoQ)
The first stop should be the National Museum of Qatar, a staggering space of 430,500 square feet opened in 2019 on the site of Sheikh Abdullah bin Jassim Al-Thani's original palace. It is a stunning piece of architecture designed by Pritzker Prize-winning French architect Jean Nouvel, who modelled it on the desert rose – a crystal formation found in the desert.
The displays is just as stunning, the storytelling is captivating while the artefacts and films showing how Qatar has evolved over the millennia is enlightening. Allow at least two hours.
Entry: QAR50 (£10) per person; kids go free.
Explore Katara Cultural Village
Located between The Pearl island and West Bay is the Katara Cultural Village. It's a vast city made in the Islamic style, comprising museums, the QM Gallery Katara, a planetarium, galleries, sculptures and a lovely beach.
It is home to two mosques, one of which was designed by Turkey's Zeynep Fadiloglu and features Persian and Turkish tile and enamel work in shades of blue and gold similar to the Dolmabahçe Palace in Istanbul.
The second mosque, The Gold Mosque is smaller but its gold tiles dazzle in the sunshine. Close by are a couple of oblong pigeon towers with holes and perches for pigeons.
There's an impressive amphitheatre and beyond is a lovely sculpture called The Force of Nature depicting Mother Nature hurling the world with a piece of cloth by Lorenzo Quinn.
Gallerie Lafayette shopping centre is on High Street, a beautiful street with the largest Cartier shop in the Middle East. It also uniquely comes with its own air-con – yes really. There are grills where cold air is pumped through to cool you down. I was glad to be wearing trousers, as a Marlyn Monroe moment would not do.
The Pearl of Qatar
The Pear of Qatar is an island built on reclaimed land to be a high-end luxury neighbourhood. Its name remembers those heady pearl diving days while the architecture gives off a Mediterranean vibe with luxury homes and hotels that are mirrored in the waters of a yacht-packed marina. This is the only place in Qatar that non-Qataris can buy a property.
Shopping is a huge feature but just milling around or enjoying a coffee amid bird song overhead and watching gleaming yachts bob on their laurel is quite lovely.
Learn to Paddle Board
While at The Pearl think about interrupting the relaxing stroll and local coffee-sipping with an exhilarating paddleboarding experience. The local school will take you out on the water and soon you will be paddleboarding like a pro.
MORE INFO: If you would like to give it a go contact 365 Adventures. A 90-minute session sets off from Porto Arabia 23 and costs QAR180 (£37) per person.
Bash a sand dune or ridge a camel in the desert
This is an organised tour that offers the opportunity to experience a 10-minute camel ride followed by an exhilarating dash into the desert to climb, gild and descend high reaching sand dunes at speed in an airconditioned 4×4. It's called dune bashing and it's a popular pastime with both locals and tourists.
This tour stops at the Khor Al Adaid (Inland Sea) which borders the Saudi border in time to watch the sunset.
MORE INFO: 'Quickie' to the desert offers a four-hour tour costs QAR900 (£186) for 1 person; QAR450 (£93) each for 2 people; QAR310 (£64) each for 3 people.
Souq Waqif
Doha's Souq Waqif is a cultural delight and really the only place to witness the essence of the way Qatar used to be – sort of. The architecture gives an idea of what the city looked like many years ago. It's where spices and carpets are bought and sold. Where you may buy ceramics, a pashmina, traditional lanterns, a rubaba (a sort of square and ornate violin with a single string) or falcon (the beloved national bird kept as pets) or even an Arabian horse. Prices are usually negotiable, so don't be shy – practice your bargaining skills.
Most importantly, it's social. It's where Qataris like to hang out at bars and smoke the traditional shisha with fruit flavoured tobacco and drink Karak, a sweet tea made with ginger, or Gahwa, coffee made with Columbian beans, cardamom and a pinch of saffron. It's traditional to nibble on a date while drinking tea and coffee. There's also a small funfair with carousels and other kids' rides.
Museum of Islamic art
Right opposite Souq Waqif is the while limestone Museum of Islamic Art. Califgraphy, jewellery and textiles make up most of its vast collection, some of dating back to the 7th and 9th centuries.
Entry: QAR25 per person.
Aspire Park
Amid all the high rises Doha has not forgotten to include greenery into its desert landscape such as the 88 hectares Aspire Park – the biggest in Doha. It has fountains, ponds, children's play areas and makes for a lovely amble in the afternoon sun.
Shopping Malls
Located in the Aspire Zone, the Villagia Mall is probably the most beautiful. This 200 store mall takes its architectural inspiration from Venice and even comprises indoor Venetian canals where you can actually take a gondola ride. The biggest shopping mall is City Centre Doha and has its own cinema and ice-skating rink.
Visit Msheireb Downtown Doha
Msheireb, which means a place to drink water in Arabic, is a brand spanking new area of Doha that has been built ground up as a sustainable smart city replacing the old town of the same name. It is indeed a renewing source of energy and most of the electricity is produced by solar panels.
It's dotted with small pots of greenery, trees and fountains and looks fresh stylish in whitewashed architecture, gleaming white mosques and a cluster of history museums housed in elegant, Arabic-style mansions. There are large open spaces with large underground cooling systems to keep the temperature down. Getting around is easy in its nifty electric tram service that you can hop on and for free.
And finally… Go out to eat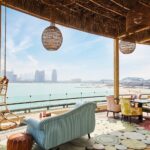 BOHO Social Restaurant in the Katara Cultural Village: BOHO Social offers a fine casual Bohemian inspired style lounge and terrace.
The menu is a culinary journey into the Americas, Asia, Southern Europe with the Middle East as its home base. It's going to be sunny for sure, so plan sit outside and enjoy some sensational sea views with the high rise towers and the beach in the distance while the Dhows do their stuff on the water.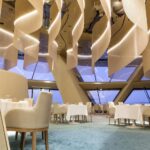 Jiwan restaurant by Alain Ducasse at National Museum of Qatar: Be sure to take lunch at Jiwan restaurant curated by Alain Ducasse. You will find this gorgeous restaurant on the fourth floor where you can dine out on the terrace. Wavy contoured surfaces and desert sands colours create the sense of the sea meeting with the desert. Try the delicious butternut and cinnamon rissole and red lentil koftas.
Parisa restaurant in Souq Waqif: One of the best restaurants in Souq Waqif is Parisa restaurant, serving delicious Persian cuisine in exquisite surroundings that combine hand-painted Persian artwork of myths and legends, intricate mosaics, ornate chandeliers and thousands of tiny mirrors that were handpicked from Iran and assembled in Doha over three and a half years. Try the lamb shank or the shashlik and to drink, choose the saffron lemonade.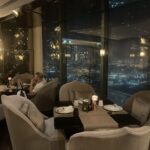 Banyan Tree's Il Galante in the heart of Mushaireb: Il Galante, inspired by the Il Cuoco Galante cookbook, is a newly-opened stylish restaurant located in the Banyan Tree Doha At La Cigale Mushaireb. It features cuisines from around the world and particularly traditional Italian fare all day long.
Be sure to check out the amazing views.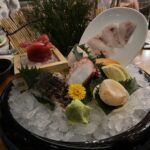 Morimoto Restaurant at Mondrian Hotel. This extremely stylish Japanese restaurant is in a world of its own. It has artworks by Japanese painter, Hiroshi Senju and sublime seafood and sushi by Japanese chef Moritomo. The menu includes everything from chicken in noodles, Lobster Sushi Rice Risotto to Waygu Filets. Dine-in a 16-seat sushi bar or the main dining area surrounded by extravagant rose-gold studded columns and chandeliers.
FACT FILE
More info about Qatar: www.visitqatar.qa
FLY: Return flights from London to Doha with Qatar Airways
Flight options: Check out more flight options and deals with Skyscanner
STAY: The very whimsical, dreamy. Mondrian Doha