In his book Kim, Rudyard Kipling described The Great Trunk Road, Asia's oldest and longest road as "such a river of life as nowhere else exists in the world". These words refer to the wealth of culture and religions and indeed flavours encountered along some 2,400 km /1,491 miles that stretch from Kabul to Kolkata. It's a Big Read.
Rajesh Suri, the vibrant owner of the restaurant of the same name must surely agree with the sentiment. After all, he has traversed that road picking up age-old recipes in each place and honed them into fine dining creations served up in South Woodford in the east of London. It's a Big Eat.
It seems quite a feat but then again Rajesh has won the BIBA Award and Restaurant Personality of the Year award, brought Michelin star glamour to his past culinary endeavours in fine Indian cuisine and participated in Masterchef as a judge.
Can you imagine how much I was looking forward to the culinary journey ahead?
Ambience
Rajesh is singularly charming, with a conviviality that permeates all corners of the long, darkly lit restaurant. A gold lattice panel black-lit in amber hues and a colourful bar adds a touch of grandeur to an otherwise simple decor.
The talented team are attentive and very friendly and the sounds of happy diners, laughing and chatting around plain wood tables, was uplifting. Frankly, I couldn't wait to take my own seat and tuck into the menu's offerings.
Food
The menu remains true to its heritage. There's no beef or pork reflecting the dietary preferences of Muslim and Hindu religions that are prevalent in South Asia. But oh boy, the chicken, lamb, and fish are so packed with flavour it's paramount to savour each and every mouthful.
Even the curly popadoms, both plain and spicey, are crispy, not greasy and ready to dip into four tangy dips – beetroot and fennel, mango with chilli flakes, fresh mint yoghurt and carrot and ginger.
One of my pet Indian snacky dishes is Dilli Ki Chaat and this looked lovely dressed in purple flowers. This rustic street-food starter comprises wheat crisps, spicy chickpea, sweet yoghurt, fresh mint and tamarind chutney and is one of those morish snacks that begs to be finished.
The chicken chapel kebab simply bounces with the flavours of baby spinach, caramelised onion, coriander, ground spices and comes topped with spicy tongue titillating beetroot cream cheese. Delicious and soft, perhaps a tad too soft as a little more texture would have made this exquisite.
"Indian food always tastes better after a long time in spices – it's a process of osmosis".
The Peshwari Lamb Chops, all French cuts, were perfectly cooked for hours in their marinade.
Chef Arup Dasgupta said: "Indian food always tastes better after a long time in spices – it's a process of osmosis".
Certainly, their soft succulent juiciness was given a turbocharge by the charring and marinade. The mix comprised fennel star anis, raw papaya and crushed spices. It was served with a playful Indian version of mint sauce.
These are so good that when I was distracted by the waiter my dining partner cheekily swiped mine. I promptly ordered four more to take out so I wouldn't miss out.
The stone bass fish was a happy surprise. This hefty fish comes marinated in a delicate mustard sauce with a coconut marinade that all melded very well together.
There's a profusion of flavoursome side dishes included Zafrani Pulao, a basmati rice dish with whole spices, cumin and saffron, Dhaba Dal, a lentil dish cooked overnight, with tomato & fenugreek, finished with cream and Chatpate Aloo potatoes marinated in mustard seeds, ginger, green chillies and fresh coriander.
The nan breads including a delicious tandoori roti and apple and smoked cheese nan are served in ready to dip triangles.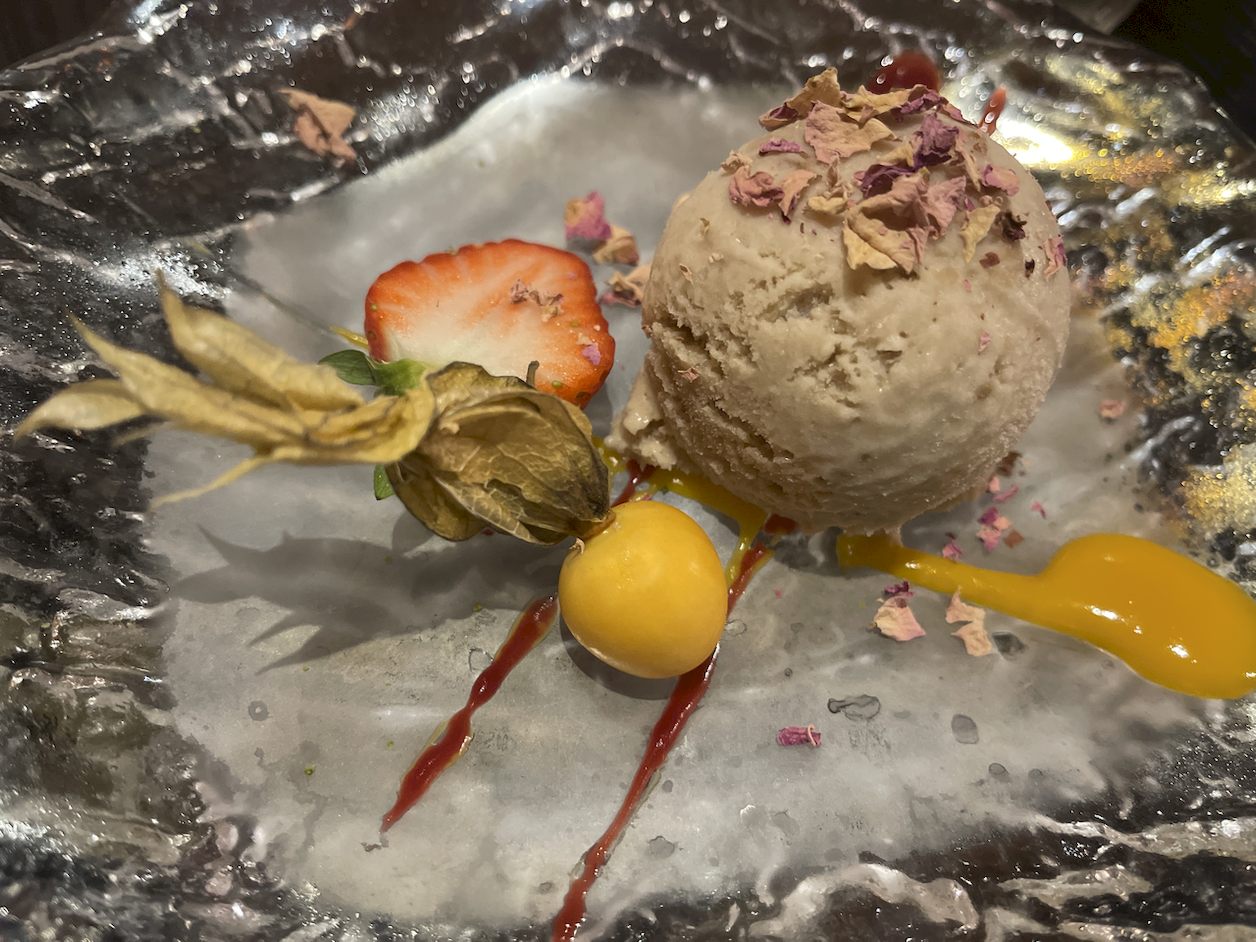 The desert was, shall I say, a most unusual scoop of rose avocado ice cream with green pistachio, a set of intriguing flavours.
The Drink
I always find it hard to pair Indian food with anything other than beer and certainly not cocktails. Vik, the mixologist, assured me that cocktails are a must. He has taken the core of popular cocktails and added a dash of Indian panache. The Turn & Twist Kraken rum, lime, mint, Tamarind syrup raspberry and jaggery did the job. But then again so did the Masala Smash, a blend of whisky, Angostura Bitters, apple Juice, lemon, and Garam Masala syrup.
Verdict
I can't help wondering if Mr Kipling could dine here whether he would recognise that "river of life" in the flavours of the dishes so lovingly curated by Rajesh Suri.
More info: The Grand Trunk Road Restaurant
Check out the menu: Grand Trunk Road menu