The last time I went on a river cruise I enjoyed the easy, slinky passage across the calm waters and the peacefulness. This time I was joining a Danube River cruise on board MS Thomas Hardy sailing from Budapest and looking forward to a complete chill-out.
The late afternoon was warm when I arrived in the beautiful Hungarian capital city of Budapest to join the Danube River cruise the following day. I checked into
Plaza Hotel
as the hotel has a prime location overlooking the water. From my room I had a view of the Gothic Hungarian Parliament that lords it over the Danube and further along I could see our intended river cruise ship, the five-star, shiny white, MS Thomas Hardy, moored on the river bank in an assemblage of cruise ships.
As we were sailing the next day we had dinner that night at Leo,
a rooftop restaurant
famed for its far-reaching view of the city. This is the place to be after sundown, as the windows are long making it easy to eye up the cityscape now all aglow with golden tones throwing a romance of shimmering ribbons into the waters.
What's it like aboard MS Thomas Hardy
MS Thomas Hardy is undoubtedly an elegant ship. Guests step directly into the bright lobby area ornate with a striking chandelier overhead, a marbled-floor lobby with lashings of daylight. There are accents of dark wood, and the staircase is lined with bronze banisters and intricate ironwork adding accents of stateliness.
The fully air-conditioned MS Thomas Hardy, built in 2017, can host 169 guests and 44 crew members, and with a length of 135m and four decks, a spa, and a wellness centre, the ship never seems busy.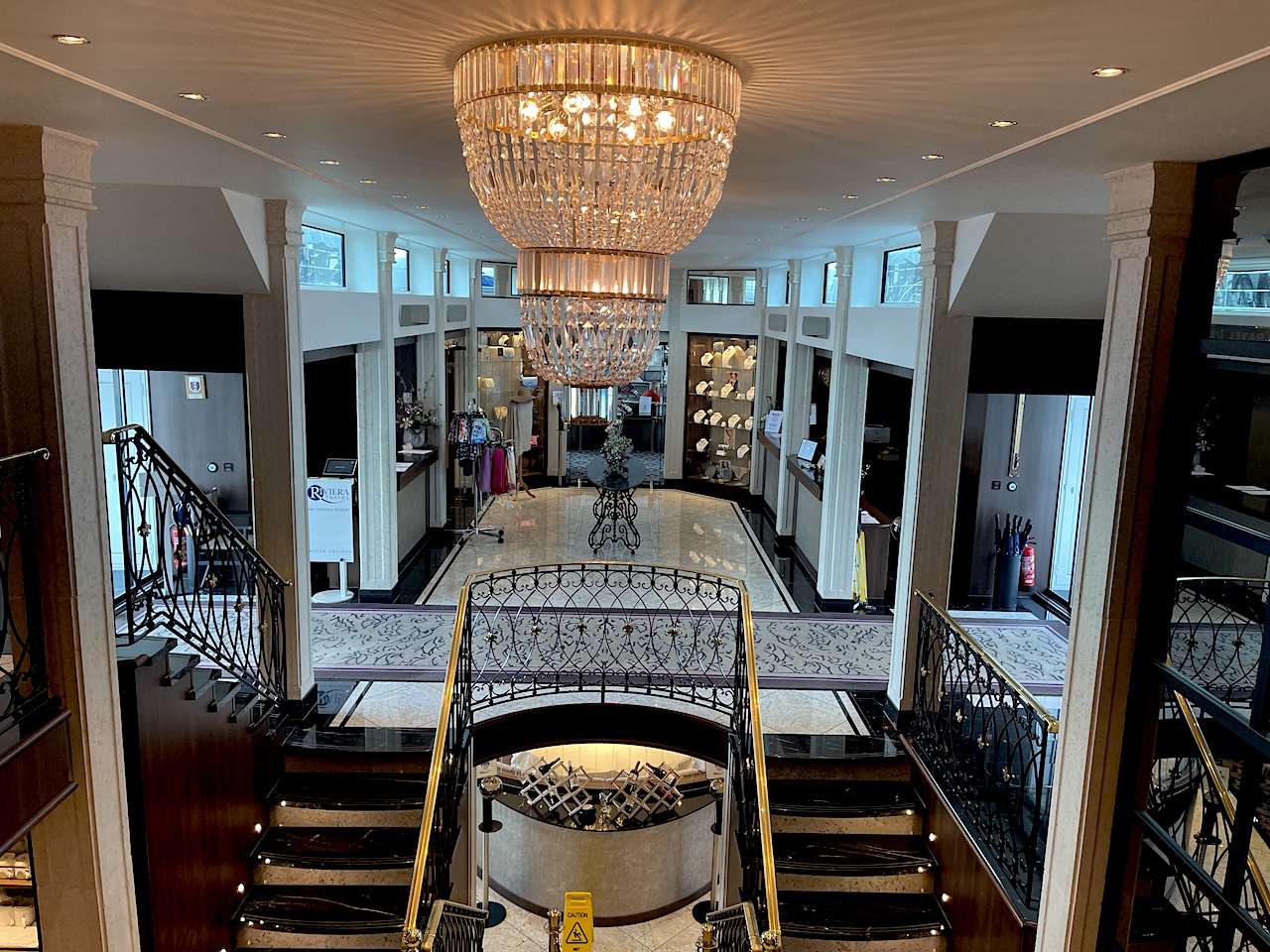 The 88 cabins are spacious, with plenty of storage, a flat-screen TV, a kettle, and a minibar. The bathroom is stylish with Elemis toiletries.
There's plenty of storage too and all decked out in muted calming colours. Floor-to-ceiling windows mean a fabulous view of the passing scenery while sailing although there's a handful of smaller rooms with less window space.
A few of the cabins have balconies. Though mine didn't it was no matter as during the day I was out and about on a tour of the port or on the top deck sunning myself on one of the sunbeds.
Some took to the top deck whirlpool and a pitch and putt area but I preferred to sip a cocktail, natter with others, and sometimes read a book.
It's all very relaxing and to reach peak calm, I took a massage in the spa area, rushing past the small gym to get to the cosy treatment room.
Food & Drink
Every day I took a buffet breakfast and lunch and a la carte dinner in the main deck restaurant. This is an appealing spacious and bright room with its own lounge and bar and a resident pianist. The food was great and the wine and cocktail list is extensive.
The bar is fully stocked and every cabin has its own daily drinks voucher, plus there's some free champagne swigging whenever there is a meet-up to chat about the next day's port stopover.
At the other end of the ship, at the stern, is a small Bistro with an open kitchen, large panoramic windows, and al fresco seating with bistro-style food. Booking is required to dine here.
In between those meals, you can get a free tea and cake up to 4.30 pm or help yourself at the 24hr self-service station for complimentary tea, coffee, and cookies.
Entertainment
There are daily guided tours and these take up the bulk of the day. There's a smidgeon of live entertainment on board in the shape of a pianist who plies the atmosphere with easy-listening tunes. Shopping is not a big deal but there is a quaint boutique gift shop and you can take a dip into the whirlpool, have a whirlwind pitch and putt, go to the gym, or get a massage
There's a lot to be said for just chilling out, catching up on reading and friends, and perhaps nabbing a board game such as Backgammon or Monopoly.
A trip on MS Thomas Hardy is as far away from raucous as can be. Genteel is a good word to describe the clientele, who are mostly over 50 years old, it's all about the ports, the scenery, and time out on board a lovely cruise ship.
The Itinerary
The Blue Danube aboard the MS Thomas Hardy is a seven-night cruise that starts at Budapest, and stops at Eszterom, Bratislava (the quaint capital of Slovakia), Dürnstein (where Richard the Lionheart was imprisoned) and Melk, Salzburg or Linz, Vienna (home of Beethoven and Mozart) and back to Budapest. All the guided tours are included.
The last night's dinner closes with a Hungarian folklore show.
NEXT SAILING: The Blue Danube aboard the MS Thomas Hardy – departing April 18, 2024. Standard lower deck cabin from £1,779pp