It's not all congested motorways and soulless service stations here in Britain. With a little planning, you can escape the gridlock and discover coastal routes, expansive highlands and idyllic villages.
There's a real sense of freedom and romance to be had with a classic UK road trip. Especially if your drive includes unique destinations, roadside attractions and your favourite person in the passenger seat.
Here are some of the best romantic road summer trips in the UK, so you can plan an epic driving adventure and hopefully catch some rays too. Here's our favourite trips:
1. Herefordshire's Black and White Villages – 40 miles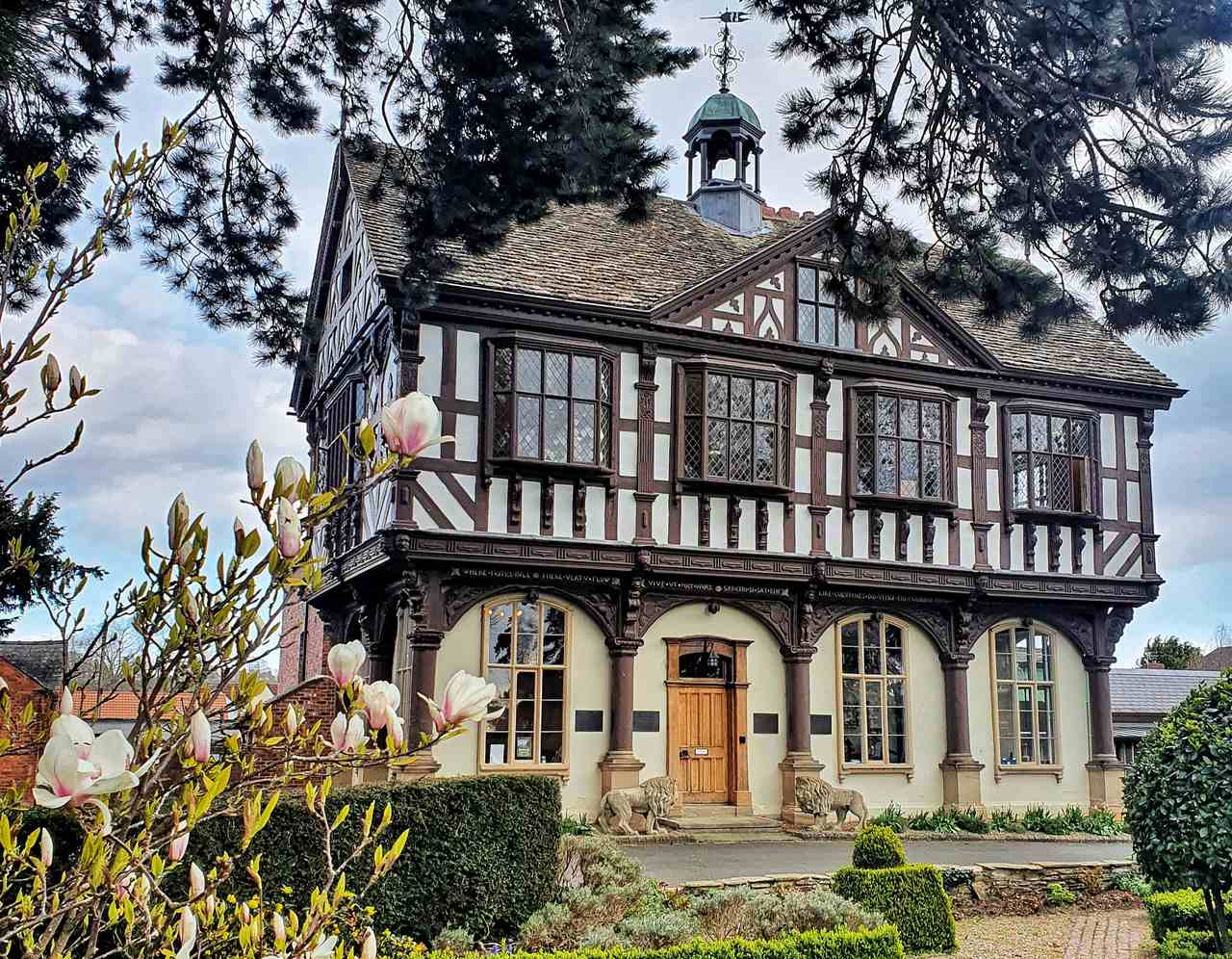 Leominster/ Eardisland/ Pembridge/ Weobley/ Dilwyn
In the north of the county, you'll find Herefordshire's cluster of historic Black and white villages. These romantic Medieval villages feature twee half-timbered black and white buildings, cosy country pubs independent tea shops and offer a slower pace of life away from city crowds.
You'll also find reminders of Norman conquerors, including fine stone churches and the remains of castles built to defend from Welsh incursions.
The black and White Villages trail takes road trippers through several of the villages and towns including Leominster, Eardisland, Pembridge, Weobley and Eardisley. Each as charming as they sound.
The trail can be traversed by car or by bike over a day or two, allowing enough time for local food, drink, countryside strolls, heritage and culture. There's also plenty of time to stop and sample Herefordshire's famous cider and hearty food.
One of the most twee stops on this driving route is Pembridge, a quintessentially English Village that once enjoyed the patronage of the powerful Mortimer family and the prosperity that went along with it.
Its picture-perfect timber-framed buildings line the main street and are often framed by beautiful Spring blossoms or blooming window boxes, giving that quaint village feel.
Stop for a coffee and cake at the Pembridge cafe, and pick up provisions from the 500-year-old Ye Olde Steppes Village Shop for your biking adventure. They have a huge range of Herefordshire products including cheese, biscuits and gin.
For a romantic stay book the magnificent Penrhos Court, a historic property that has undergone a huge facelift to bring her back to her former glory with a few added extras. The site contains boutique holiday cottages that are fully equipped for a snug, self-catering stay. You can also find the award-winning Cattle Shed café on site serving up homemade hearty dishes and a selected choice of wines and locally sourced beer and cider. More info: Visit Herefordshire

2. The Cambrian Way, Wales – 73 miles
Cadiff / Brecon Beacons / Elan Valley / Llududno
Wales has a wide range of romantic spots and dreamy scenery and the best is via the 'Cambrian way' driving route. This captivating drive runs from south to north Wales, through the heart of the country, mainly following the A470.
Your journey starts in the Welsh capital Cardiff, which has a range of romantic Spa Hotels to spoil yourself with, such as the 5-star St David's Hotel, located in the city's waterfront area.
Drive onwards through the south Wales valleys, where dramatic landscapes meet Colliery heritage. Take the time to stop on route and explore the impressive landscapes and outdoor activities in the Brecon Beacons National Park. Its impressive peaks and ridges bring a sense of haunting beauty that are perfect backdrops for your road trip selfies.
Continue onwards through the peaceful reservoirs, dams and countryside of the Elan Valley and towards the coastal town of Llandudno in North Wales, your final stop. Here, you can have sunset strolls on the Victorian pier, or take glide up the Great Orme limestone headland, in a cable car for two.

3. Causeway Coastal Route, Northern Ireland – 200 miles
This iconic road trip is continually growing in popularity thanks to TV shows like Game of Thrones and Derry Girls showcasing Ireland's landscapes and highlighting its history and heritage.
This dreamy drive is over 200 miles from Belfast to Derry and features lush countryside, historic castles, welcoming towns and coastal views.
Start your summer journey in lively Belfast and have a romantic stroll on fairy light-adorned Commercial Court before bagging a secluded booth at the elegant Café Parisien for dinner.
Head out of the city and drive towards the historic town Carrickfergus and visit one of the best-preserved Norman-style castles in Ireland, Carrickfergus Castle. This is the perfect spot for a romantic picnic or stroll along the defensive walls.
Continue along the coastal route and take a slight detour to the famous Dark Hedges. This haunting, tree-lined road was the filming location of King's Road in season 2 of Game of Thrones and is a huge draw for Thrones fans. It's also a great place for fans to get a highly Instagrammable snap for your road trip memories.
If you can, try and reach Dunluce Castle at sunset to watch this ruined, medieval castle be bathed in golden sunlight, a truly romantic scene. Head onwards through coastal towns and seaside hotspots including Ballintoy, Port Rush and Portstewart, until you reach your final stop, Derry. The only completely walled city in Ireland and one of the finest in Europe.

4. The Atlantic Highway, Devon to Cornwall – 77 miles
The Atlantic Highway is a 70-mile section of the A39 featuring the best of Devon and Cornwall. Discover fishing villages, sandy beaches and expansive national parks driving this 77-mile journey from Barnstaple in Devon to surf capital Newquay in Cornwall.
The route twists and turns along the coast and also heads inland in some sections, allowing you to visit engaging attractions and cosy lodgings in the South West.
Your journey starts in the historic town of Barnstaple, the social centre of North Devon. Set the romantic tone for your trip by grabbing a cocktail and sharing board in cosy lounge bar Claytons and booking a night in a nearby, cosy holiday cottage.
Follow the A39 towards Wadebridge and Bude, making sure to stop for cream teas, sea views and heritage hotspots.
Spend some time in the resort town of Bude and enjoy scenic coastal walks, proper pub lunches and boating on the canal. For a romantic evening with a twist, take a sunset dip in Bude sea pool, followed by a seafood dinner at Life's a Beach Bistro.
Head onwards stopping at small villages and local pubs and cafes along the way before arriving in surfing hot spot Newquay, where your journey ends. Whilst in Newquay, why not treat yourself to an indulgent spa day in the luxurious Headland Hotel, a grade II listed property overlooking Fistral beach?

5. The North Coast 500, Scotland aka Scotland's Route 66 – 500 miles
The North Coast 500 (NC500) is an incredibly popular driving route around the wilds of Scotland and is known as "Scotland's Route 66". Driving this route is a fabulous way of reaching the northernmost point of Scotland via its more remote locations.
It's a lengthy 500-mile loop around the magnificent North Highland coast, but the rewards are plentiful. You'll witness some of the finest Scottish scenery you can see on this iconic route.
Experience an ever-changing landscape of crumbling castles, rolling farmlands and crashing waves along rugged coastlines.
The route starts and ends at Inverness, and takes in spectacular sights along the way, including sandy beaches, wide sea lochs and John O'Groats.
Along the route, you have the opportunity to stay in a range of accommodations from castles to campsites, and attractions range from royal residences to puffin lookout spots to ancient, iron age burial grounds.
This isolated route also lends itself perfectly to wild camping in the Scottish wilderness. Wild camping is legal in Scotland, so long as you follow all the rules and respect the local environment you can set up a romantic camp in some pretty spectacular spots. What better way to start your driving day than by waking up in serene surroundings with your favourite person?

6. Northumberland Coastal Route, England – 30 miles
One of the shorter routes on this list, but no less spectacular, this coastal drive is around 30 miles of dreamy Northumberland scenery.
This short but sweet drive goes between Alnmouth and Lindisfarne along the B1340, B1339, and B1342 and A1. Cruise by coastal towns, castles and rural views.
Begin your drive in the coastal village Alnmouth where you'll find sandy beaches, quaint tearooms and seaside strolls.
Continue on the coast road to Boulmer, a tranquil fishing village on the dune-hemmed coastline, where blue cobles still go out to catch local crab and lobster. Spend some time here walking the Northumberland Coast Path and enjoy delicious scones at the fancy Earl Grey Tea House in Howick Hall Gardens.
There is an extraordinary number of castles to see on this drive including Dunstanburgh Castle, just north of the village of Craster. This dramatic, 14th-century fortification is a gorgeous spot for a picnic for two or to sit and watch the sunset.
Make sure to also call into Seahorses, an attractive village on the coast where you can take a boat trip to the Farne Islands, one of the UK's top wildlife experiences.

7. Classic Cotswold route, England – 45 miles
Drive through the timeless, quintessential English villages of the Cotswold area, one of the most beautiful of regions in the UK. There are plenty of routes to choose from in this area, which gives you lots of flexibility for a romantic driving holiday. The Cotswolds are extremely popular, so I would recommend researching your trip and booking accommodation in advance.
A popular route is a 45-mile circular drive that begins and ends in the village of Broadway. Make sure to spend some time in this charming village that's full of independent shops and restaurants, boutique hotels and antique stores.
This route passes through honey-coloured stone villages and visitor hotspots including Bourton on the Water, Stow on the Wold and Lower Slaughter.
Head out of Broadway and towards Stanton, an unspoilt 17th-century village with little sign of commercialisation. Stop for lunch at the Mount Inn, a traditional village pub serving homemade dishes, packed with local produce.
Drive onwards through Stanway, Hailes Abbey and Guiting Power and then make your way towards Upper Slaughter and Lower Slaughter. Stop at the quaint village of Lower Slaughter to visit Copse Hill Road, which was voted to be the most romantic street in Britain in a poll for Google Street View. Make sure to also call into the Old Mill riverside tearoom for the most delicious ploughman's lunch in the Cotswolds.
Continue towards Bourton-on-the-Water, known as the Little Venice of the Cotswolds. Walk alongside the flowing River Windrush and visit the many shops, restaurants and tea rooms in this charming and wildly popular village.
Looking for a romantic place to stay in the Cotswolds? The Fuzzy Duck, a boutique bed & breakfast in Armscote that features a cosy, country-style gastro bar and dining area.

8. The Coastal Way, Wales -180 miles
The 180-mile Coastal Way is a national trail in Wales the entire length of Cardigan Bay with ocean views on one side and majestic mountains on the other.
It's certainly one of the more intriguing and challenging routes in the UK, especially when you find yourself on rural roads and single-track lanes.
Discover sandy beaches, secluded spots and wild headlands on this romantic road trip through the most serene parts of Wales.
Drive from St David's in South Wales right up to Aberdaron in the north and experience harbour towns, exhilarating activities and the UK's only coastal National Park.
Start your journey at Britain's smallest city, St David's. Best known for its beautiful Cathedral and the resting place of Saint David, or 'Dewi Sant' in Welsh, the patron saint of Wales. Spend a few hours exploring the cathedral and the independent shops, cafes and galleries. It's a superb place to visit in the summer as you can take advantage of coastal walks and water sports activities.
Head up the coast and pass through small towns and coastal communities including Fishguard, Cardigan and Aberaeron. If you love wildlife, Cardigan Bay is one of the best places in Europe to spot bottle-nosed dolphins. Take a bracing wildlife boat trip from Aberaeron's historic harbour and see if you can spot dolphins leaping from the crashing waves.
Continue your journey along the coastal route and be sure to make time to stop in Barmouth for excellent walking and cycling routes. Keen walkers should attempt the 9.5-mile Mawddach Trail, a scenic route that runs between Dolgellau and Barmouth along a disused railway line. The dog-friendly George III pub in Penmaenpool is a good stop for lunch, their epic Sunday roasts are rather outstanding.
Drive on towards the endpoint of the coastal route, Aberdaron, located in the western tip of the Llŷn Peninsula. After a long road trip, relax on its sandy bays or take a summertime trip to wildlife-rich Bardsey Island, from nearby Porth Meudwy.