Moored in the vibrant Ocean Marina is the imposing Sunborn Yacht Hotel looking bright and resplendent in the heady Gibraltarian sunshine.
Though it looks like it could set sail off at any moment, the ship doesn't actually have an engine. It's a purpose-built luxury hotel that has all the makings of a top-notch cruise ship.
On arrival, a team member meets and greets you, helps with luggage, and walks with you along the elegant walkway to the ship's entrance. The reception looks grandiose with its dazzling blue ball chandelier, marble floors and a sweeping marbled staircase. A flute of Prosecco is offered to welcome you aboard to sip during the check-in procedure. It's all very civilized.
Sunborn Yacht Hotel has a superb location on the waterfront and as Gibraltar is just three miles (5 km) long and just over half a mile (1.2 km) wide everything is close by. A day trip into Spain is possible as the border with La Linea is within walking distance from everywhere.
In effect, Gibraltar is a little piece of Britain on the Med and this hotel offers a luxurious stay in one of the country's funkiest spots near nightlife, bars and restaurants.
Who for
The young and young at heart couples – romance sizzles by the small poolside – as well as families.
Accommodation
The air-conditioned rooms are both spacious and stylish with parquet flooring and curtains that automatically swish open when you enter the keycard to activate the electricity and closes when you leave. Nifty.
There's a TV, generous wardrobe space, a gorgeous ensuite with a very pleasing rainfall shower and aromatic Molton Brown toiletries. Amenities include a kettle, hairdryer, bathrobes and slippers and a mini-bar for those impulsive in-room tipples.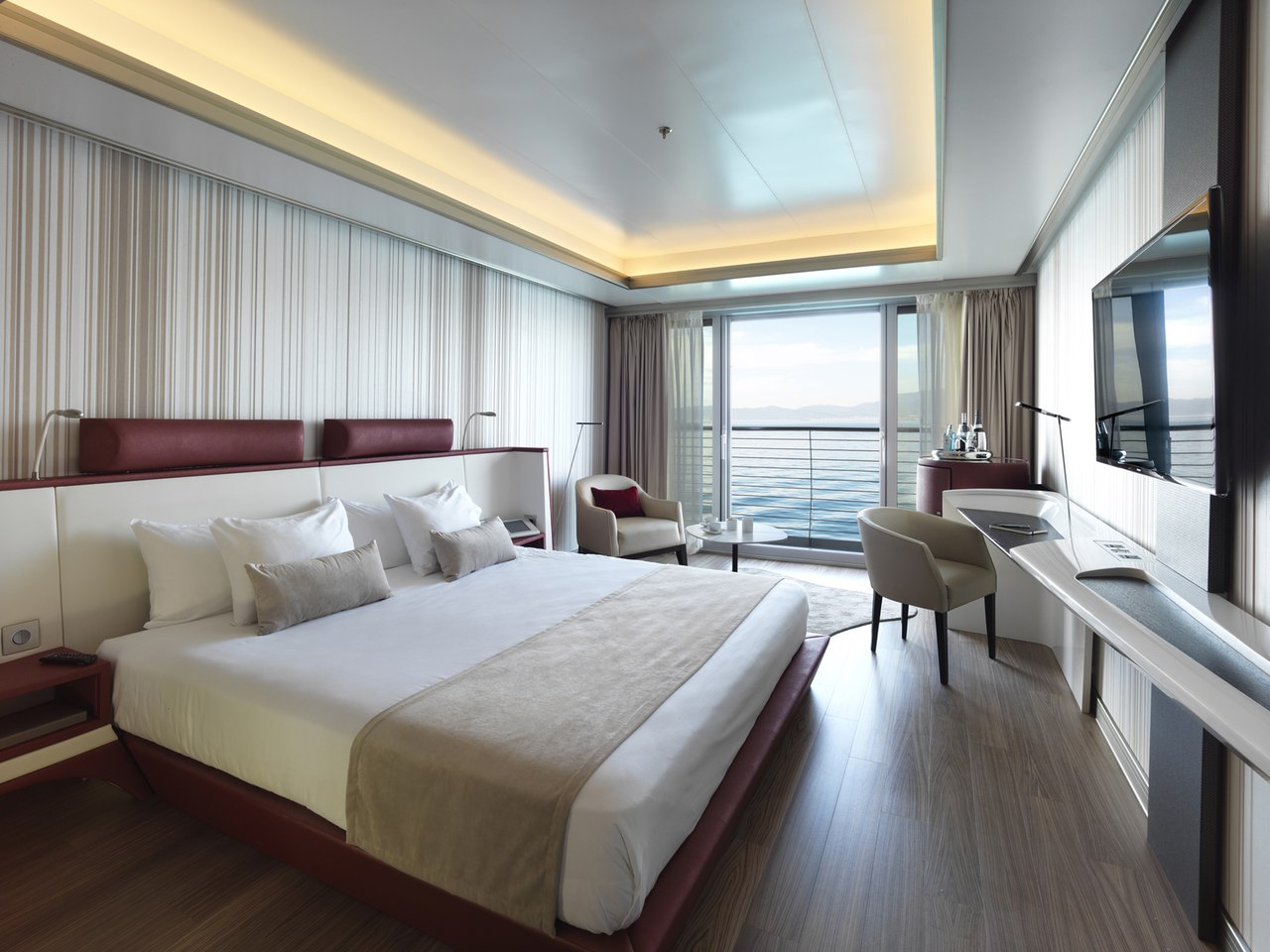 Rooms come with either marina, rock, or sea views. My room, 337, was a Superyacht Delux with a view over the marina. It had an excellent super-king-sized bed, a Juliet balcony beyond the floor-to-ceiling glass doors, wide enough to stand on but too narrow for chairs. However, when the doors are open, and chairs were placed facing outward, it offered the same wide balcony experience we all love
The view over the marina and the moored yachts bobbing on their lees is lovely. And, incredibly, the airport runway. It was shocking how close those planes looked when taking off, and very exciting too.
Food and Drink
Breakfast is served in the Barbary restaurant and has a small buffet with fruits, pastries, boiled and scrambled eggs, and an option to have freshly made omelettes. You could also go for a full English with hash browns, sausage and beans.
There's Prosecco on offer if you want to liven it all up.
Dinner and lunch at the Barbery offers a fusion of food from the Barbery coast and Mediterranean cuisine but also fish and chips, which incidentally seems to be a staple in Gibraltar.
La Sala is where all the fun is at the weekend. Fine dining and evening dancing to live music or a DJ.
During the day the Aqua bar is open and fuels the party atmosphere around the pool.
Facilities
Sunborn Yacht has a small pool on the top deck served by a well-stocked bar. It's not really the kind of pool to swim your daily lengths but enough to cool off in or just to dangle your feet over the edge with a cocktail. Getting a sunbed can be tricky as they get nabbed quite quickly by the clever clogs who claim theirs with the international language of placing their towel on one first thing. However, there are deck chairs too and with music playing (not blaring), it's a really pleasant vibe overall.
A small gym is on hand to keep you ticking over with your fitness and the Infinity spa with treatment rooms for facials, wraps massage, makeup, nails and hair that's actually not too expensive.
There is free and fast Wi-Fi throughout the ship including poolside
How much?
Doubles start from £223 per night.
What's Nearby?
Gibraltar is small country and easy to explore on foot. There's the shopping of course but the most famous activity is meeting the monkeys on the rock. While you are up there it would be a shame to miss St Michael's Cave, with its stalagmites and stalactites drenched in light. The light show is magnificent and depicts the creation of Gibraltar as it emerges from the sea.
Military tunnels have also been preserved with recreations to show how they saved Gibraltar from devastation during World War II.
Gibraltar has three beaches at Eastern Bay, Sandy Bay and Catalan Bay. The latter, with its pastel-coloured homes as the backdrop, is the prettiest.
Read more – Why Gibraltar Rocks