The Guardsman hotel is an unusual-looking purposed-built piece of grey-bricked architecture based in St James. I am not sure if it is highly forgettable or simply discrete but I walked past it a couple of times until I spotted the plaque with its name in a distinguished golden brass.
On reflection that is exactly how a private members club should be, discrete yet distinguished. The Guardsman promises exactly that and it delivers it behind its obscure exterior adorned with a brass-like latticework on dark doors.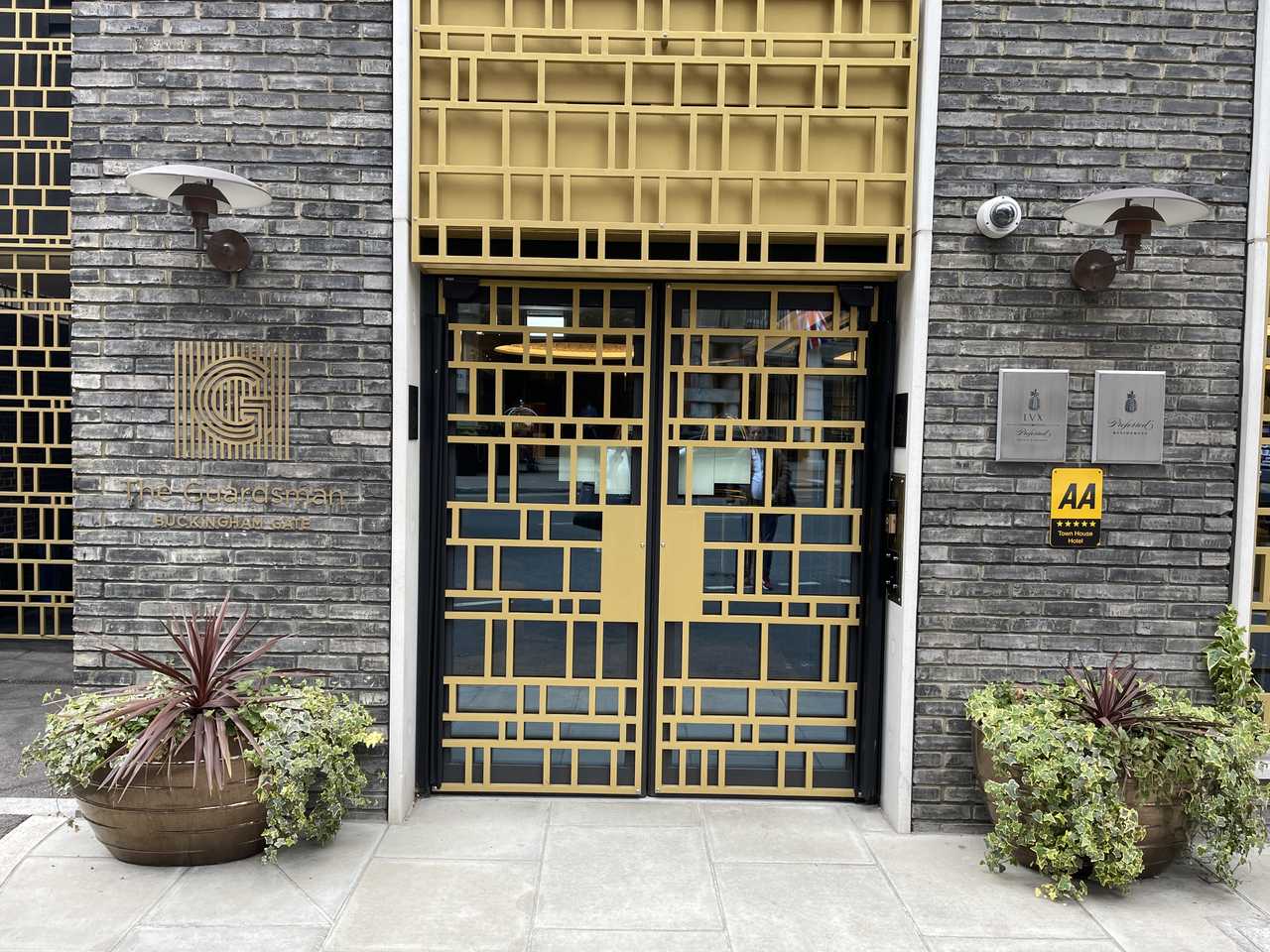 The doors open to the small dimly lit reception desk and from here you are led to the drawing-room.
There are chandeliers overhead, parquet flooring and Persian rugs underfoot, and an array of sofas and armchairs and a handsome fire place.
You get to choose where you sit, handed a glass of Prosseco to sip while you check-in. All very smoothly done.
Wood key cards (a nod to its eco-credentials) give you access to the lifts and your room. The hotel uses 100 per cent renewable energy to supplement that provided by the solar panels installed on the roof.
Who for
Those looking for a little hidden quiet luxury during their stay in Westminster.
Accommodation
There are 53 rooms and 6 residences over nine floors – the latter take up the top floors. Clever ergonomic designs offer a feeling of space and subdued colours and marbled walls in the ensuite create a sense of calm.
Our room, 106 on the first floor, was spacious and beautiful. An ample size bed, all mod cons and an open plan bathroom.
The bathroom comes with underfloor heating – lovely – and a slick stand-alone bath, marble walls, a shower wet room and a separate toilet. Plus you get to use Noble Isle toiletries. Though the bathroom is open plan, you can siphon it off with black folding doors.
Food & Drink
Part of The Guardsman's exclusive nature is that its bar and restaurant, which share the same space in the lower echelons of the hotel, are not open to the public. Both are reached via a stunning spiral staircase. The bar is hemmed in by an almost bright green-hued counter, edged by tall gold chrome cushioned stools with high backs, while the walls are adorned by period artworks. The style is very much Art Deco, with brass fittings, dark wood and plenty of eye candy.
We started at the bar for cocktails and then made our way to our table. We began with tuna and avocado tartare and smoked salmon with cream cheese, both traditional dishes executed well. Followed by Stone bass served on samphire, succulent fish with crispy skin with a dish of triple cooked chips. The Broken Tart for dessert was a mouthwatering melody of coconut ice cream with pineapple and mango squares doused in mango sauce.
An à la carte breakfast is served in the restaurant too and comprises full English (and vegan).
Facilities
There's a huge amount of relaxation to be had in the drawing-room and the attached library on the ground floor. It features an eclectic mix of furniture including a deep buttoned sofa identical to the one in the music room of the White House during the Presidency of JF Kennedy as chosen by Jackie Kennedy.
There is free Wi-Fi throughout.
How much:
Rooms start from £250 per night. The breakfast costs £15.00. The Residences are ideal for families and cost from £750 per night.
What's nearby
The neighbourhood of St James has a sense of formality afforded by its history as the seat of government for the past thousand years. The Wellington Barracks, home of the Foot Guards and the Guards Museum is nearby, Houses of Parliament and Buckingham Palace are both a short walk away, as is the highly floral (in spring and summer) St James' Park.
The hotel faces Buckingham Gate and extends down the quieter, more hidden, Vandon Street.
Shoppers can be reassured as Harrods is barely a mile away and closer still are the London Eye and Trafalgar Square.
---
Verdict:
Slick service feels spacious yet intimate, and certainly a place for rest and relaxation in a stylish part of London.