I stand at the end of the jetty, nature staring back at me but it's the lake that has me spellbound. When I first arrived it was glistening in the sun, calm and still. Now a grey tone skims the surface, ripples make concentric waves which build to unpredictable swells.
I ponder over the cause of change in its rhythm as I try also to tune in with nature, here at VIVAMAYR Medical Health Resort. Lake Wörthersee reflects the reason why I'm on its shores in Maria Wörth in Austria.
VIVAMAYR Medical Health Resort is blessed with this scene of tranquillity, serene and peaceful, cradled in nature, a perfect setting to embark on a serious cleansing and detox programme to revitalise body and mind.
Here amidst this quietude, there is time to listen to your body's needs, hear its complaints and feel its malfunctions. And, based on analytical evidence from personal programme consultations, it's the ideal time to integrate new lifestyle practices.
The VIVAMAYR Health Concept
This is based on the theory of Dr F X Mayr who developed a diagnostic and treatment concept which focused on the digestive system. With modern practises innovative scientific methods and advanced technologies, this medicinal concept has developed and evolved into the Modern Mayr Medicine which is practised today at VIVAMAYR.
This constitutes the blend of ancient knowledge and state-of-the-art medicine and incorporates Functional Myodiagnostics (muscle testing), Orthomolecular Medicine, (nutritional supplementation) and scientific insights from complementary medicine.
The Classic Programme
The initial consultation with the doctor includes a comprehensive examination which sets the schedule and pace of your stay and forms your new lifestyle regime. The minimum stay is seven days to experience the full effect of the programme, although there were a number of three weekers!
Your daily schedule is itemised with prescribed treatments, therapies, personal fitness training and your daily check-up with the consultant. There is a wide variety of treatments from oxygen therapy to boost your energy, nasal reflex therapy to target the respiratory tract, an electrolysis footbath to eliminate unhealthy toxins, and cryotherapy for a chillier experience while an opera singer orchestrates breathwork. Appointments are punctual, staff-friendly and professional.
Food For Purpose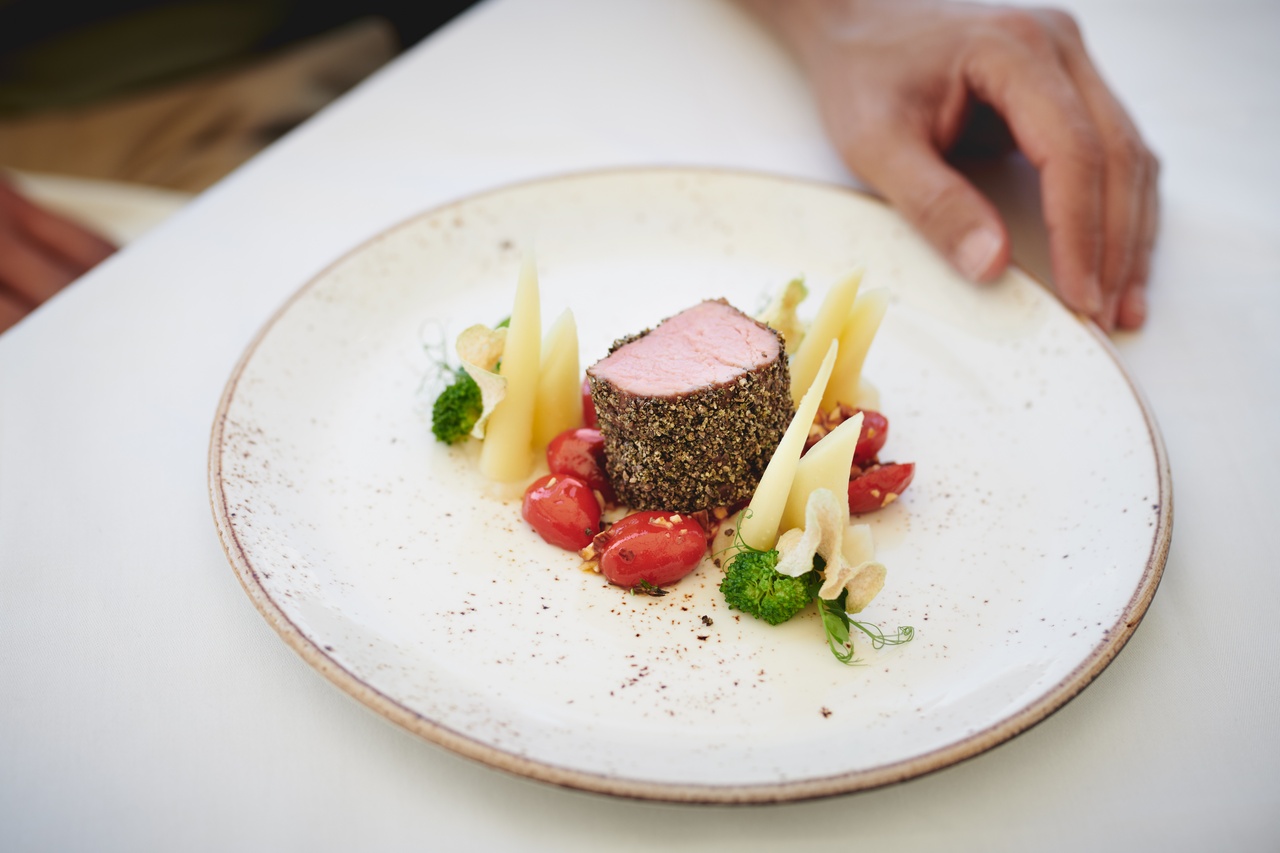 The VIVAMAYR food culture forms a key part of the programme. The preparation of foods, timings, how and what you eat can affect the health of your gut and your digestion. Intolerances and stress factors are medically analysed which result in a personal nutrition plan to balance the acid-alkaline ratio in the body. Breakfast is a choice of spreads and protein supplements with bread or porridge of oat, millet, buckwheat or gluten free.
Lunch, a more substantial affair, includes soup, (for some) and a choice of main courses such as a cheese soufflé, or praline of rouge salmon with trout caviar served with a portion of oil. And for the select few, dessert – a carrot muffin or chocolate soufflé. Dinner is smaller: bread (referred to as a chewing trainer) or vegetable chips with a choice of spreads such as avocado and sesame (with sheep shark), almond mousse (almond and walnut oil). All courses are beautifully presented and tempting, served in a stress-free jovial atmosphere with friendly sympathetic staff.
The Restaurant setting overlooks the lake and gardens with seating inside and out, a distraction itself. Twice a week there is a cooking class which helps the transition of this Mayr Cure into everyday life sprinkled with tips and tricks for healthy food preparation and ingredient choice.
Top Tip: Chewing and Drinking: Chew each bite thoroughly. (Yes, around 20 times!) This activates the enzymes in the saliva to help digestion. Eating at set times, with no snacking between gives the body time to digest. Water is drunk outside mealtimes and should be sipped 30 minutes before and an hour after meals.
What to do in the area
VIVAMAYR offers a range of activities such as an early morning activity class, painting workshops, evening health talks and Nordic walks in the forest. Further afield, excursions are organised to Lake Bled, Vienna and Ljubljana (Slovenia), one of the smallest capitals in Europe.
In the summer, there are boat trips around the lake which take around 3.5 hours with "hop-on hop-off" stops calling at places such as Klagenfurt and Velden. The walking trail around Maria Worth passes the famous pilgrimage church which leads through the Gildwald forest to Mt Pyramidenkogel and to the Pyramid observation tower (said to be the highest wooden observation tower in the world), with views over Lake Wörthersee and the Carinthian lakes & mountains.
VIVAMAYR Medical Health Resort Maria Worth
VIVAYMAYR, which opened in 2005, is a contemporary medical resort, elegant and spacious with lounge areas dotted around. The chillout zen area is a must, with a stylish multi-sauna area and relaxation lookout over the lake. There is an indoor pool edged with swinging chairs, sofas and loungers as well as an infrared cabin and relax chairs, soothed with caged candles along the passageways. The medical lounge and adjoining facilities are located on the first floor. There are 45 rooms in total with various categories from Comfort Rooms to a Villa. I stayed in a Deluxe Room which was airy with all the mod-cons and a breath-taking view out over the lake from the balcony.
---
Verdict:
After seven days, I return to the end of the jetty. The lake seems calmer, as I do. Nature is no longer staring back, instead, I feel embraced by and part of nature and the landscape around me. I'm balanced, focussed, energised and even a couple of kilos lighter with a renewed understanding of food, nutrition and a changed lifestyle routine. As I close the guest book, I read one farewell comment, "Thank you for taking me by the hand and showing me how to heal myself."
Getting to VIVAMAYR:
By air: Ljubljana airport (Slovenia) is just over one hour away or indirectly to Vienna and then to Klagenfurt and a 30 min drive.
About VIVAMAYR VIVAMAYR offers a number of programmes ranging from Weight Care, Post Covid, Immune Boost, Diabetes, Active Detox to Inflammatory Skin, but the Classic Program forms the basis for every stay. As we are all unique, each programme is flexible and customised and includes the necessary medical care together with a variety of tests and treatments as prescribed following the initial examination with the physician.